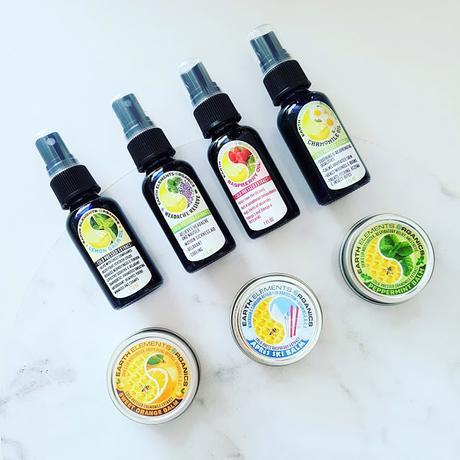 A little while ago I was sent a package of products from Earth Elements Organics. Earth Elements Organics  make organic based, environmentally friendly, multi-puprose products at affordable prices. Their oils are cold pressed to preserve and maximise the healing benefits of the herbs. All their products are multi-purpose which saves time

, money and space.
I've been using my products for about six weeks

now and I love them all. 
The standout product for me is Headache Relieve. It arrived just before I got vertigo and was a lifesaver. Headache Relieve helps headaches and nausea which is exactly what I needed. I rubbed a little on to my neck, behind my ears and into my temples and within minutes

my headache was gone and my nausea eased. 
I've been using the Lemon Balm Oil on Chai to help calm him down. He's an anxious little poppet who gets worked up easily. Lemon Balm oil helps to calm him down and help him relax at

bed

time. 
Now for the balms, oh the balms. They are lovely. It's no secret that balms are my obsession. These ones do not disappoint. I thought that Peppermint would be my favorite so was very surprised to fall head over heels with Sweet Orange, it's a beautiful, soft ora

nge flavor that I'm obsessed with.
If you are looking for effective, natural products I highly recommend you give Earth Elements O

rganics a try.

You can purchase

their

products here.