After a fortnight of not-going-very-far, I headed out to the south Cotswolds on Sunday and to meet up with a friend I hadn't seen in a while. Saturday was cold, grey, miserable and… Very cold! So, to awaken to sunshine the next day was a delight and, by the time we arrived in the village of Badminton by late morning, I realised I wouldn't be needing to wear my coat on top of layers consisting of a fleece and long-sleeved T-shirt.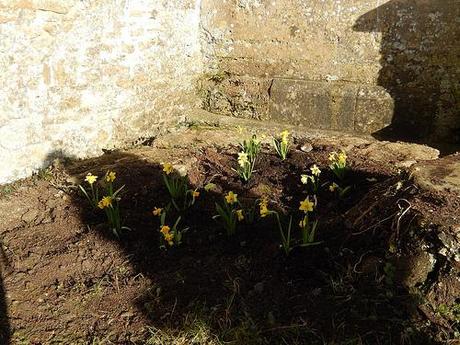 We'd agreed on a short walk that would avoid many of the 'known pitfalls' for winter walking – namely (in my opinion), riverbanks, woodlands and wetlands, which can all be incredibly boggy and/or slippery at this time of year. A route that spends 30-40% of its time following tarmac seemed ideal and there was no suspicion of any hills along the way.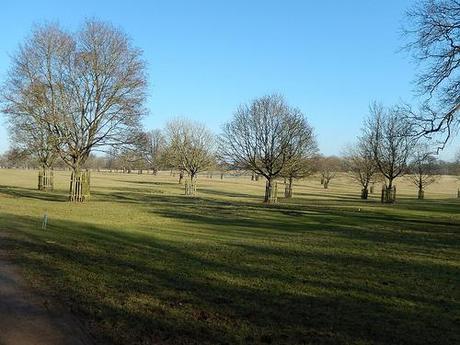 Walking through Badminton Park, which also houses a deer park.
My own mind tells me that Badminton is most famous for its horse trials – every time I cross the M4 to continue north up the A36, I see signs advertising just that. Neighbouring my walk in Sherston a few weeks ago; Westonbirt Arboretum (not to mention the Royals) is certainly within walking distance. We saw a number of horses along the way (quite naturally), including masked individual who was more than happy to receive some attention.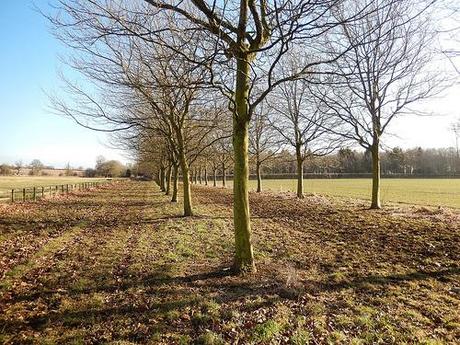 We did only seem to cross the one majorly boggy patch in the first half of the walk. Even the horse riders heading towards us decided to take an alternative route but we made it through by sticking to what was best perceived to be the high ground of this course.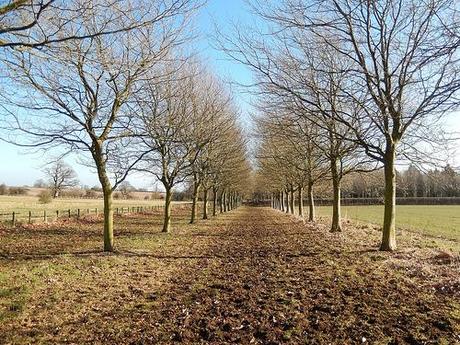 Closing in on the village of Luckington, where we would be looking to stop for lunch, we came up against a minor obstacle in the form of a field with lots of somethings freshly-planted-and-slowly-growing all over the ground ahead of us. I'm sure that landowners are legally obliged to maintain our public right of way in such a circumstance, unless I'm mistaken… I was halfway towards re-designating the forgotten path with my own two feet before I stopped to consider my friend's considerate approach and we basically following the hedgeline, looking to skirt around the majority of the crops.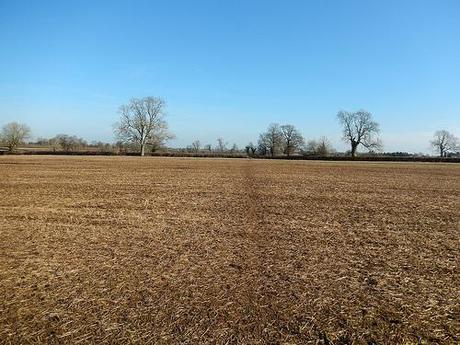 As we found a reasonable clearing and made our break towards the road, we found ourselves striding a good 3in taller, as this freshly tilled and moist soil attached itself to the undersoles of our shoes!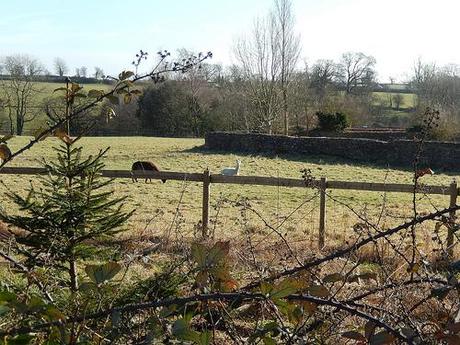 A llama, an alpaca or the other one?
We very soon after made it to the local church and, with a bench positioned conveniently towards the sun on the far side, we made a decision to stop here.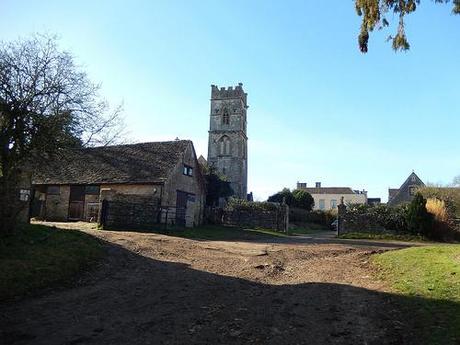 It must've been close to an hour having passed before we got up to complete the walk. Sitting in the sun – just like the old people we would later pass on the village green; such a relaxing way to unwind on a Sunday afternoon; marking perhaps the most earliest of symptoms for spring of 2015. I thought I could feel a little sunburn after arriving home.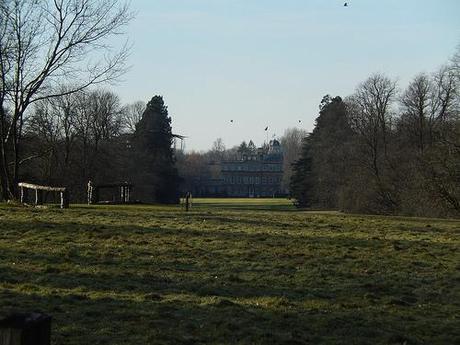 Badminton House.
Despite an immediate wrong turn, we made a swift return to our cars in the village of Badminton. You know you're close when you can spy the house above from a distance.
This was a rare walk where I didn't take very many photos, in spite of the fact that this land was previously virgin territory to me. But I enjoyed not being overly-snappy; simply noticing without submitting to that persistent urge to capture. To have good company and to share the experience made the walk extra special.
Thanks for reading – we only got around to finishing the walk as the sun disappeared behind a tree!