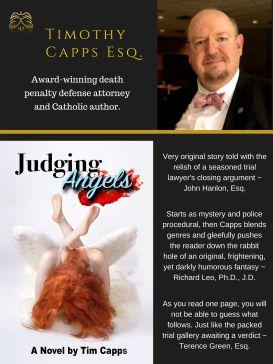 In my death penalty defense career, I frequently said, "You can't make this stuff up." Judging Angels proves me wrong. The author has made up a very original story told with the relish of a seasoned trial lawyer's closing argument. His depictions of the thoughts and workings of all players in the criminal justice system, including the forensic processes, immerse the reader into a high-adrenalin, high-profile case in a thoroughly accurate manner. Capps convincingly imagines a family and a criminal justice system confronted with realities they are ill-equipped to handle. A 'one more chapter' read full of twists and shocks and mordant chuckles - John J. Hanlon, Esq.
Executive Director, Illinois Innocence Project,
University of Illinois at Springfield.
George Able, a skilled criminal defense attorney with a faultless 21-0 record in saving clients from the death penalty, soon finds that such perfection cost him everything he held near and dear: his soul, marriage, children, right to practice law, and maybe even his life. Just when he thinks he is at his very end, Red crosses his path and he finds the journey has just begun. With her otherworldly beauty, irresistible charm, and skills of a special forces soldier, Red might be an angel or a demon - or the force that could lead George to get back all he has lost. As a former State's Attorney and now criminal defense attorney for over 30 years, I can attest that Tim Capps, the author and mind behind Judging Angels, is a skilled criminal trial attorney and acknowledged expert on capital punishment cases, having both prosecuted and defended those charged with murder where the ultimate sanction, the death penalty, is sought. Criminal jury trials are full of twists and turns and unexpected predicaments, and Author/Attorney Capps brings that same sense of the unforeseen and unknowable to his novel. Is this work a murder mystery, love story, science fiction tale, or a fantasy account? it is hard to say. What is easily said is that as you read one page, you will not be able to guess what is on the page that follows. Just like the packed trial gallery awaiting a verdict, you will be guessing at and anticipating what is written on the final page - Terence Green, Esq., former State's Attorney and long-time criminal defense lawyer.
Judging Angels starts as a mystery and police procedural by a highly-respected former death penalty lawyer. Criminal justice elements are expertly handled by an insider. But then Capps blends genres and gleefully pushes the reader down the rabbit hole of an original, frightening, yet darkly humorous fantasy. It is a story of ordinary people doing bad things for the best of reasons. Some are seized by love and all are caught in the middle of their own cosmic war. No character is safe. The novel is hard to put down as Capps teases you into 'just one more chapter.' It is not often that something as original as this is published. Do not miss it - Richard A. Leo, Ph.D., J.D., Author of Police Interrogation and American Justice, Hamill Family Professor of Law and Psychology, University of San Francisco.
Marvelous, in a style unlike anything else; entertaining and thought provoking. Ordinary people caught up in an extraordinary chain of events try to do right in the face of human frailty and temptation. Draws on police procedural, urban fantasy and heroic quest, to create something that defies easy labeling. Capps compels the reader to realize how often we misunderstand ourselves and our world, and the supernatural that lies beyond - Frank Magill, Esq., Corporate Attorney (ret.).