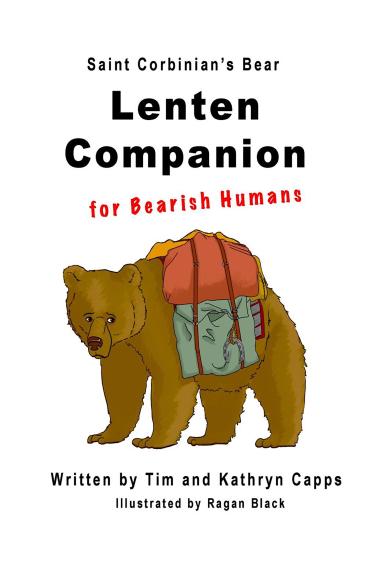 In the spirit of Lent, I am compelled to confess that I have only read about a third of the book. But I have an excuse: I am simply following the authors' recommendation, who advise that you only read one section per day. And since waiting until the end of Lent to review a book about the season would lead to others missing out on this fine work, I have decided to jump in early and supplement with a later review, as necessary, in the comments.

What can you say about Lent? It is probably the most frustrating, yet at the same time rewarding, of liturgical seasons, that time of penance and preparation for the Resurrection at Easter. And, boy, do the authors know that, keeping the "frustrating" part in helpful context. The Capps take the legend of St. Corbinian's Bear and run with it for 40 days. The devotional starts with the talking Bear of legend having taken up residence in a cave near St. Corbinian's monastery. Out of curiosity, the Bear asks about Lent and decides to dive in with "Father Corbinian" as his spiritual guide and director.

Of course, the enthused Bear immediately overdoes it, giving up honey, fish and meat for 40 days... with predictable results. Fr. Corbinian helps the uncomprehending Bear back on the Lenten path and guides the often-baffled creature through the pitfalls and, yes, joys of the forty days. And yet, it is not just the Bear who learns. Fr. Corbinian discovers some things along the way, too. Father is an especially astute guide, offering helpful distinctions between true and false mercy, the dangers of pride, honest repentance - the examples can be multiplied. You can count yourself identifying with the Bear and his stumbles (I certainly am), and the helpful questions at the end prompt a lot of thought.

The stories are deceptively short, but always meaningful. And often quite funny, as is the case with the Bear trying to come to spiritual grips with his eating of a barn animal, with an internal monologue describing it as "a suspicious death." This is a welcome addition to any devotional shelf as part of the preparation for Easter, regardless of whether you are familiar with Lent or not. Take and read.
(Source: Amazon)