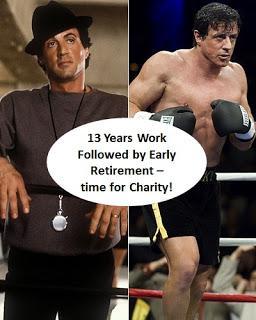 Evening fight fans your host for the evening is the THE FUTURE here on FREEDOM FIGHT NIGHT. This evening we are interviewing MUFF on his extraordinary decision to Retire Early. THE FUTURE wants to know is MUFF going to fade into the distance or stay in the spotlight?
Our champion glides into view floating like a butterfly onto the comfortable leather reclining chair. A hush comes across the audience all eyes are on MUFF.
INTERVIEWER: MUFF, so kind of you to take time out from your busy schedule looking after the kids:). Your retirement came out of the blue and has shocked a large number of people. Surely is is too early to hang up the gloves?MUFF: Taking early retirement from the ring is a blessing, I have taken some hard knocks down the years. I want to see the kids grow up and secondly I think it is time to "give back" to the the community.INTERVIEWER: Give back to the community..... MUFF you are recognized all over the world are you going to use your ugly mug for the Halloween?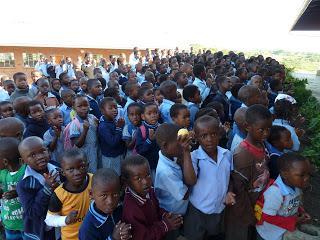 MUFF helped to put on a school sports day for this special bunch
Audience laughs
MUFF: Freddie's (Kruger) stunt double doesn't have to worry.  I want to be active in the community in a different way! I have been inspired by an orphanage charity project I was fortunate to participate in. As my face is well traveled and the kids were not scared easily.......
MUFF has seen poverty first hand. He doesn't think it has a place in the modern world. He has visited rural Africa on two occasions; Zambia and Zimbabwe followed by South Africa. MUFF has also seen poverty in Poland, Czech Republic, Thailand and good old Blighty itself in some London housing estates. It's not pretty and really in this day and age should not be there.
It is the Trip to South Africa MUFF would like to talk about today. The team that MUFF traveled with raised money for and worked on a much needed orphanage for 150 children (1/3 infected with HIV). It is a fabulous example of charity, learning and independence. It was a heart warming, sad, inspirational and joyful experience all at the same time. Is this what all early retirees could dedicate some of their time to?
Charity, Early Retirement and Poverty
MUFF did not really understand poverty properly until he saw it first hand. Yes MUFF had seen Live Aid and all of the daily horrific news stories on the BBC. MUFF had sympathy for them and donated to charity but never actively with his own time. Was this really making a difference?
Thinking back to my upbringing
I was dead fortunate
. I was brought up in a one parent loving family. Living in a declining coal mining area in South Wales. MUFF was happy. He ran free in the beautiful Welsh Valleys with his mates and kicked rugby balls around the playing fields. Even though as a family, we had little money, we did not go without. MUFF had access to a very good education system. He was heavily subsidised and had a sponsor to go to an exceptionally good University in Manchester studying engineering.
MUFF has benefited from resources a large part of the world population would bend over backwards for. MUFF has been given it all on a plate - he has been very, very, very (yes three times!) fortunate. Did MUFF know this at the time - perhaps - definitely now though.
A good education resulted in a good job and the amazing opportunity to be financially free by the ripe old age of 36.
Our little tribe has a very comfortable life that is easy to take for granted
. We have running water, electricity, rent a nice property, can go to the store and buy Alaskan salmon, French saussion, Italian Chianti heck our local market sells fish from New Zealand! (We think this is completely silly by the way and buy local as much as possible.) Lucky indeed.
Why has MUFF been fortunate enough to thrive like this? MUFF worked hard but was helped due to the specific advantages of a developed country. So what can MUFF do more of to give back to society which has helped him all these years? Can we be charitable and help where it is needed?
MUFF's first real experience of poverty, and how a little charity goes a long way, was his first trip to Africa. My sister was teaching in Zambia at the time. It is an amazing place - even more so if you are a foreign tourist! My sister took us to some places that were completely off the beaten track. This is where poverty first really became real for me. From the funeral parade of at LEAST 50 COFFINS each day out of Lusaka to the bush where they probably never see a white man. It was in a small isolated hamlet MUFF inadvertently scared a bunch of kids with a balloon - completely alien to them. Ooops!
These people had a roof over their heads, some small necessary possessions for cooking and gardening and that was it. No schools, no health care, no idea of money really - poverty to a westerner but MUFF only saw happiness in the eyes of this vibrant group. Sadly MUFF was sure their life expectancy was low. They they probably did not really know what health care was or what a hospital looks like and all the benefits it brings.
My sister is back in the UK and regularly provides donations of clothes and fills her suitcase up with essentials each time she travels back to Africa. Good one sis!
This brings me on to the main part of this post; how the skills MUFF has learnt were put to use in a charitable manner and how a modest amount of money can make a huge difference to so many (150 orphans in this case). Please read on about this exceptional project!
African Charity Leadership Challenge
As part of leadership training in work we were afforded the unique opportunity to combine it with a charity project in Africa. The project was to provide a new building to be used as a day care center for 150 orphaned children.Worthy indeed.
First we attended a residential training course to practice planning and leadership skills we would need for the charity challenge in South Africa. See
MUFF - What does Early Retirement, Lean and Maslow have in common?
for some of the key skills we were learning to use. The training itself was an amazing experience. Run by some exceptional people from the armed forces and emergency services.  It was their coaching and individual skills were were learning and putting into practice not just some textbook models. A really top bunch who MUFF will personally never forget.
Secondly were set the task of raising £15K ($24K) in order to build and decorate a orphanage. This was massively exceeded by outstanding efforts raising £35K ($56K). Result!
Finally off to Africa to deliver the orphanage. This was the second visit MUFF has made to Africa and again MUFF was struck by its beauty - a melting pot of life and opportunity. It is awesome. Unfortunately we were brought back to earth quickly seeing the difference between rich and poor. The rich have servants, land and status. The poor are the servants, or eek out a living primarily off the land.
We loaded our equipment into the mini buses and jeeps and headed out to the community we were working with. What follows is a summary at the incredible outcome from the project and how it is helping 150 orphans each day.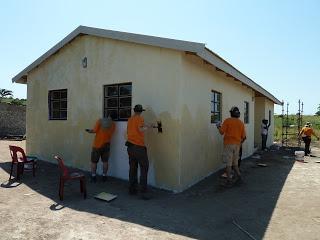 MUFF doing something useful
As we actually managed to raise extra funds the building was extended to add a paying creche. An office was added and furnished with a computer and internet access. A covered vegetable garden was made outside (excess produce could be sold at market). Finally a huge water collection butt was put in place to collect water from the roof of the building.
Our task was to paint and decorate the building inside and out and build the vegetable garden. We enthusiastically completed the task - a splendid building.>>>>>
The work on the building was split up with a visit the local school. Again the facilities were very very basic by western standards. We were surprised to be told we had to put on a sports day for them in 20 minutes to keep them entertained for the whole morning. 300 kids all ages - crikey! After negotiating that little surprise we were invited for lunch in the school.
It was decided that some of the extra money that was raised was spent on the school. It paid for a computer, to get the school connected to the internet (a phone line had to be routed to the school) and a year of costs. Some school uniforms were also paid for.
Understanding the Challenges of Rural African Life
Finally on finishing the project we had the opportunity to talk with some of the elders running the orphanage. Here we were from mythical England asking difficult questions to one of the elders of the community about their challenges. This is certainly one of the most humbling and delicate conversations MUFF has ever had. The elders were well and truly inspirational in their total commitment to the orphans and extreme difficulties they face. Revered in the community, they had a huge responsibility to bear.
Their wisdom, observations and knowledge that they shared with us was hard to listen to because of  the hardships they endure. One third of the orphans have HIV, health care was sparse and a long way away and there was a severe shortage of opportunities for the young. They did not dwell on these challenges. Daily they counted and prayed for their blessings, joined in singing and dancing and enjoying each day as it came.
The elders said the biggest problem was not the lack of an advanced education (early education was generally provided for). They needed to be taught advanced skills such as a trade (apprenticeships in metal work, bricklaying, plumbing etc.) or how to setup a business as well as the means to do so.  Education and jobs were at the top of their list as a significant cause of the number of orphans and lack of family structure in the area. Unfortunately without opportunities these young people were being denied a route to their aspirations. Family values were being eroded by alcoholism and crime was on the increase.
It was time to go.....
Back to cozy raining Blighty
Special thanks needs to go to my previous company for this wonderful piece of charity. They who continue to support the small community. The company also runs local community projects in the south east of England each year, which again I was fortunate to participate in as well. On all of these days the labor of less than 50 people can make a massive difference in a very small period of time. Unfortunately MUFF cannot state who the company is as he has parted ways to look after the kids.
The experience has left a lasting impact on me. It has changed me and made me a better if not wiser person. MUFF sincerely hopes charity and government will provide the education and opportunities to these poor communities need to help themselves to a prosperous future. Our family will do our part by being charitable and of help in the future.
My take away from this that all of this was achieved for £35K that is right £35K. In our street, very modest 3 bedroom terraced cottages are selling for £500K. That is 14 projects which would easily help 2,000 people compared to a terraced house that accommodates a family of 5? This borders on the ridiculous a massive miss allocation of resources and priorities. I sincerely hope this story has resonated with you as well.
The charity we worked with were on the ground in Africa. There were no middle men and all of the work was arranged in the local area. The main objective of the charity is helping the communities to help themselves and not to rely on hand outs such as food and medical care. MUFF would greatly appreciate if you could spare some spare change for the accounting for Africa charity at the following gift aid address https://www.justgiving.com/accountingforafrica
Key concept: Try some hands on charity for a new experience - perhaps a new passion in early retirement.
Peace and charity!
MUFF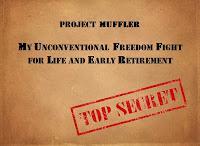 Project MUFFLER update
The PERL spreadsheet that will incorporate the PERL Planning for Early Retirement and Life model is taking shape. PERL is a upgrade to
MERP - M
UFF
E
arly
R
etirement
P
lanner:
New sheets have been added for creating life planning objectives
Plan Do Check Act Principles are being embedded to encourage a review process. 
Some basic stock analysis has been added to the financial planning tool. This is to help provide some information on the growth prospects of the shares and dividends as well as the sustainability of any dividend.
Yahoo money does not deal with UK shares (reported in pence) correctly. The PE and PEG are overridden and corrected in the PERL spreadsheet.
Improved analysis of the portfolio is being added.
SIMPLE and USABLE - always a challenge..... One to keep persisting at
Welcome New MUFF Readers!
Take a look around.
Start at the first article
, browse the
all posts
or just go for a
Random Post
. Please feel free to play with the FREE planning tools and checklists.
Keep in Touch:
  RSS Feed, follow MUFF on
Twitter
or
subscribe to posts by email: