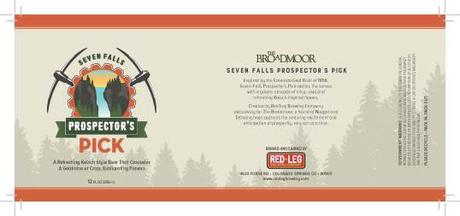 Earlier this year, a very special beer was brewed in Colorado. This beer was brewed by local Colorado Springs favorite and veteran-owned Red Leg Brewing Company in partnership with The Broadmoor's food and beverage team: Seven Falls Prospector's Pick Kölsch. This beer is special for a couple of reasons. The first is its historical significance in that it is inspired by the Colorado Gold Rush of 1858 and Colorado's "grandest mile of scenery" at Seven Falls. It's also especially exciting, as this is the first time in The Broadmoor's nearly 100 year history that it has worked with a brewery to create its own signature beer. 
Released in January, the brew is still available in cans and on draft at the resort and Red Leg's taproom.
I had the chance to try this unique beer, and it is a prime example of a how a 
Kölsch should taste. C
lean, crisp, easy drinking with a slightly dry finish. It's great for any time of year, but its light body and low ABV (5.3%) make it especially nice for spring and summer sipping.
Be sure to stop by Red Leg Brewing and/or The Broadmoor to get a taste of this one of a kind beer!