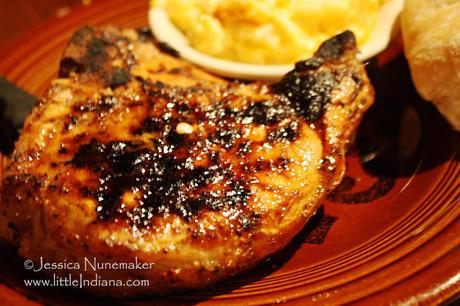 Earl's Dining and Catering in Brook, Indiana: Almost Norman's One Pound Pork Chop
I'd heard good things about Earl's Dining and Catering in Brook, Indiana. The 1 lb. pork chops, the Prime Rib, and the homemade desserts. little Indiana Facebook Fans have repeatedly mentioned the mom and pop restaurant but, let me tell you what: you have got to eat it to believe it!
Earl's Dining and Catering Downtown
Brook, Indiana is quaint or, to put it bluntly, very small. It has an old downtown that doesn't extend too much past a block. The humble exterior of Earl's Dining and Catering certainly belies the warm, cozy, and inviting interior!
Would you believe that in this small Indiana town we actually had to wait for seating and that reservations, especially on Friday nights, is just about mandatory if you want to get in? Earl's Dining and Catering is just that busy!
Since Brook is so small, there's the usual momentary lull in conversation as everyone turns to stare at the newcomers, namely, us! Of course, little Indiana managed to get her pant leg caught up in her heels somehow so she made quite an entrance by having to stumble to a stop and yank it down. Just a typical day in my life!
The Food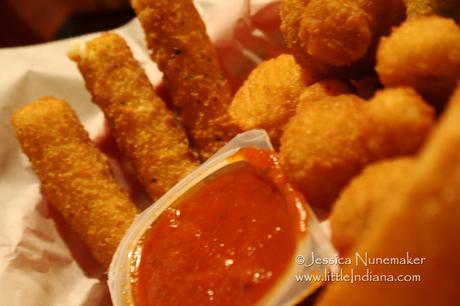 The Combination Platter at Earl's Dining and Catering in Brook, Indiana
We ordered the combination appetizer which consisted of mozzarella cheese sticks, breaded mushrooms, onion rings, jalapeno poppers, and fried pickle spears. I claimed "dibs" on the fried pickles and jalapeno poppers. Hubs took the breaded mushrooms and onion rings and we grudgingly shared the mozzarella cheese sticks. So far? So good!
Hubs ordered Almost Norman's 1 Lb. Pork Chop, a masterpiece of garlic and black peppercorns, along with the Saturday-night only hash-brown casserole, potato soup, and roll. I ordered the Queen Cut of Prime Rib, with the same sides as hubs (as you know, I hate when we do that, but neither one of us wanted to switch). It was also the first time we had been out together after dark in two years.
We received each one of our items rather quickly considering that Earl's Dining and Catering was hopping! Can you say, "Perfection?" Hubs was amazed by the big slab of pork chop awesomeness. Really, this monster was at least an inch tall. Most likely more than that! My steak was awesome. It was buttery, tender, and just an all-around superb cut of beef. The soup was good to, but we pretty much abandoned it once the main course arrived!
Dessert, Too?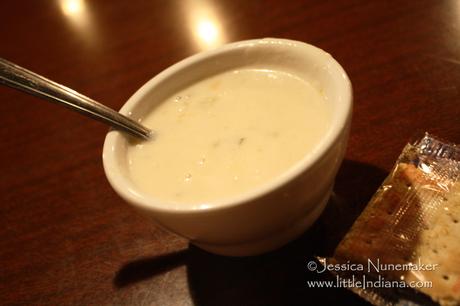 Earl's Dining and Catering in Brook, Indiana: Our Neglected Soup!
Abandoned soup and full bellies and yet, when it came time for a homemade Hoosier dessert: How could we say no? Well, we couldn't!
Instead of deciding between a Strawberry or Peach Twirl, a cream cheese filled flour tortilla fried to golden deliciousness, and topped with strawberries and whipped cream or a caramel brownie cheesecake, hubs decided on both. Moments like that remind me why I married him — a man after my own heart.
Joking aside, these desserts were stupendous! I snagged the cheesecake and hubs willing dug into the Strawberry Twirl. We ate most of our desserts, I am slightly ashamed to say. We then spent the whole car ride home bemoaning our lack of restraint and dreaming of the next time we can head to Brook, Indiana and eat!
There's plenty more images to share featuring Earl's but you'll have to wait until next week for that! This article is long enough as it is. Stay tuned to little Indiana and my Flickr photostream for Earl's Dining and Catering images! Earl's also has a Gluten-free menu. Connect with Earl's Dining and Catering on Facebook!
Earl's Dining and Catering
123 W. Main St.
Brook, Indiana 47922
219.275.4445

View Larger Map
little Indiana: Where to Stay, Play, and Eat in Indiana Towns. Discovering Indiana's best small towns!
LAST DAY TO VOTE! Help little Indiana win a $2000 grant for web design tweaks and advertising. Simply click here: It will take you to a Page on Facebook. In the right-hand corner click the green "Vote Now" and you're done! Vote every day until April 15, 2011. Thanks!