New to little Indiana? Subscribe for free to my RSS feed. Thanks for stopping by!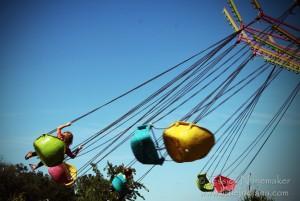 Earl Park Festival: Kid Carnival Rides
Earl Park, Indiana is the site of a ginormous Labor Day Festival! It's known as The Earl Park Fall Festival.
It's probably one of the biggest festivals I've been to yet!
Earl Park Fall Festival
Driving near the area you can't help but notice the giant billboard announcing the Earl Park Fall Festival. You also can't help but notice all the wind turbines!
You know all those Indiana wind farms? Earl Park, Indiana in Benton County was the site of the first Indiana wind farm! Is that neat or what?
Know what else you can't help but notice? The rows and rows of parked cars by Community Park! This place is just buzzing with activity.
Everyone is here. This festival is just enormous! From one end of the (very) large park to the other, there's always something going on!
Things to Do at Earl Park
Earl Park Fall Festival: Ever Wanted to Win a Bunny?
This isn't just a flea market type event. Sure, there's plenty of fun booths to browse through, but there's also a whole lot more. They have loads of kid-sized carnival rides and games.
Ever wanted to win a cute, fluffy bunny? Here's your chance! Don't you just wonder what the parents of the lucky kids say when they bring home a bunny?
There's also daily events like a demo derby, tractor pull, mud volleyball, dodgeball, and good old-fashioned bluegrass music.
The Festival Auto Show is held that Sunday during Labor Day weekend. They actually award trophies for the top 40 vehicles! Is that neat or what?
Fall Festival Food
But a festival wouldn't be a festival without food!
Earl Park Fall Festival has the bases covered on that one. There are always some sponsored dinners, like the usual chicken dinner, fish fry, and hog roast.
But you won't have to go without your lemon shake-ups or funnel cake. This Indiana town has that, too.
We Hoosiers know how to get the celebration started!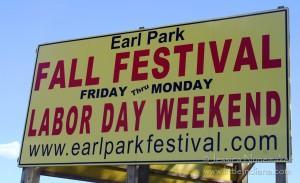 Earl Park, Indiana Fall Festival
End of Summer Celebration?
I don't like to think of it as the end of Summer! I'm not ready for Winter yet at all.
I'll have you know that I am totally prepared to drown my sorrows in fair food at the Earl Park Fall Festival. After all, it will be a whole season before we get back to outdoor festivals and that yummy fried food!
Find the dates and information for this and other festivals on my Indiana Small Town Events Calendar.
See more Earl Park, Indiana images and other pictures in Indiana on my Flickr photostream.
Earl Park Fall Festival Foundation
PO Box 123
Earl Park IN 47942
219.474.5081 after Aug 1st

View Larger Map
little Indiana: Where to Stay, Play, and Eat in Small Towns in Indiana. Discovering Indiana's best small towns! Now get little Indiana on your Kindle.
New! Offering affordable online advertising for your small Indiana business! little Indiana Businesses is the online presence that you've been looking for.