Hello!  Another Monday, another mood board.  One of my dear friends and her husband just bought a new house and they're basically starting from scratch with new furniture, accessories, you name it!  NDJ asked me to help her with designs for the living room, family room, dining room/kitchen, and master bedroom.  The first floor of the house has an entirely open floor plan so it was important that there was good flow between spaces.  My friend describes her style as rustic/comfortable and she wanted to use blues, grays, and wood tones.
The first space I designed for her was the formal living room.  I wanted to go a little less rustic and a little more modern with this space, but I still wanted it to tie in with the rest of the downstairs.  Fortunately, she really liked the modern touches!  They plan to use this room when having people over and it will serve as a piano/sitting room.  It was important to have enough seating for people to sit and talk or play games.
The walls are painted Benjamin Moore Tyler Taupe and they wanted to keep that color.  Here's the mood board I put together: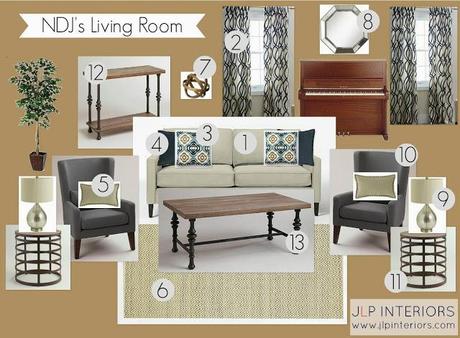 And the floor plan: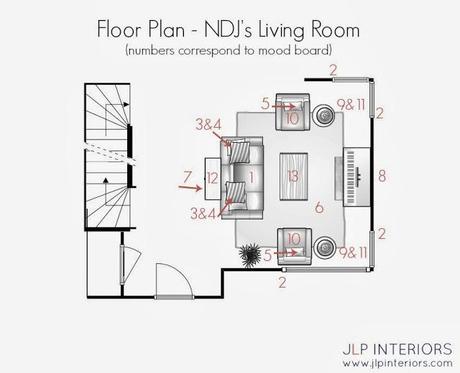 And an electronic "drawing" of the space: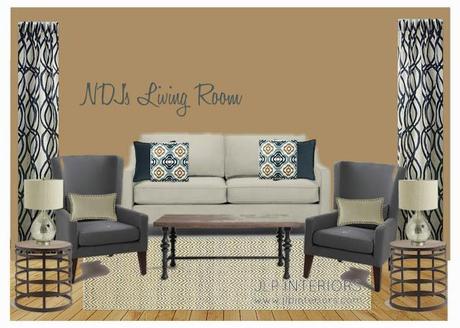 The living room flows into the dining area and kitchen.  Next week, I'll share with you the design for that space!