Happy Monday!  Wait, that's an oxymoron...Anyways, for Mood Board Monday I have another e-design to share.  A couple of weeks ago, I shared the design I did for AV's Family Room.  She also asked me to help her with her formal living room.  She had a great idea for a peacock-inspired space and she had started picking things out but needed help pulling everything together in a cohesive design.  I selected and swapped out a few new pieces for her and put it all together in a mood board and floor plan.
AV found this great peacock canvas at Pier 1: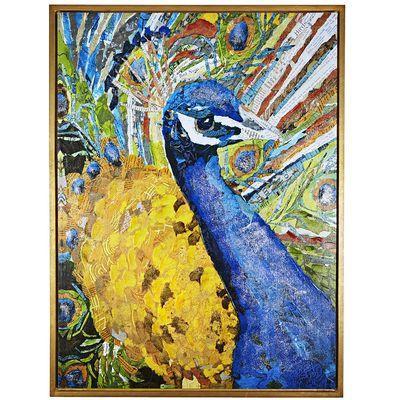 I used it as a jumping off point to pick some of the other colors and textures in the room.  Here's the design I came up with (click on the mood board to enlarge it):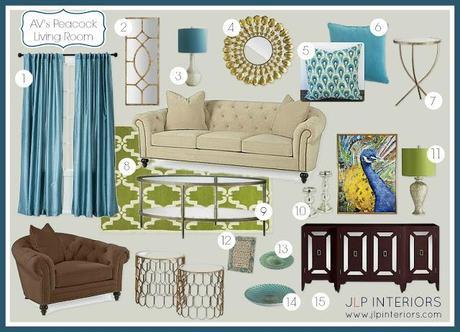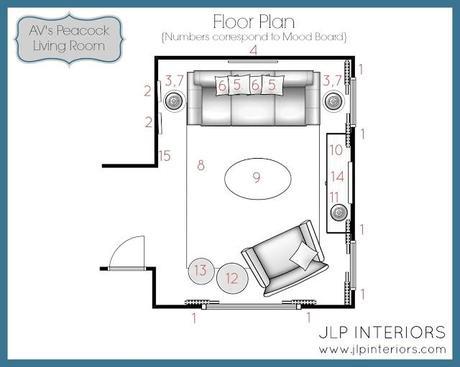 AV had selected the tufted sofa and arm chair, the peacock canvas, the console table, and the nesting tables and I selected some pieces that I thought would compliment them.  She expects to use the space only for entertaining or when first-time guests stop by so she wanted to run with a glamourous and dramatic style and was less-concerned with making it kid-friendly and comfortable.  We used similar colors as we did in her family room design but replaced the rustic touches with metallic ones.  
It's been so fun working on these designs.  I'm getting anxious to see these mood boards come to life!