Robert P. Jones writes for The Atlantic, Oct. 17, 2014:
Over the last few decades, there have been few more reliable voters for Republicans than white evangelical Protestants. This year, however, GOP candidates may be getting less help from this group—not because white evangelical Protestants are becoming less supportive or less motivated, but simply because they are declining as a proportion of the population, even in Southern states. 
White evangelical Protestants have remained a steadfast Republican constituency in both presidential and midterm congressional elections ever since the Reagan presidency, which marked what political scientists Merle and Earl Black dubbed "the great white switch." In 2008 and 2012, roughly three-quarters of white born-again Christians supported GOP nominees John McCain (73 percent) and Mitt Romney (78 percent).  In the 2010 midterm election, similar numbers of white born-again Christians (77 percent) supported the GOP House candidate in their districts.
[...] In recent years, for example, the Southern Baptist Convention, the largest evangelical denomination in the country, has reported steady declines in membership and new baptisms. Since 2007, the number of white evangelical Protestants nationwide has slipped from 22 percent in 2007 to 18 percent today.
A look at generational differences demonstrates that this is only the beginnings of a major shift away from a robust white evangelical presence and influence in the country. While white evangelical Protestants constitute roughly three in 10 (29 percent) seniors (age 65 and older), they account for only one in 10 (10 percent) members of the Millennial generation (age 18-29). In the last few national elections, however, because of high levels of voter turnout, white evangelical Protestants have managed to maintain an outsized presence at the ballot box according to national exit polls, representing roughly one-quarter of voters.
[...] there are currently five Southern states—Arkansas, Georgia, Kentucky, Louisiana, and North Carolina— where polling shows that the Senate race margins are less than five percentage points indicates that 2014 may be the year that the underlying demographic trends finally exert enough force to make themselves felt. These changes are evident in analysis based on the American Values Atlas, a massive interactive online map of demographic and religious diversity in America based on 45,000 interviews conducted throughout 2013, created by the Public Religion Research Institute in partnership with Social Science Research Solutions.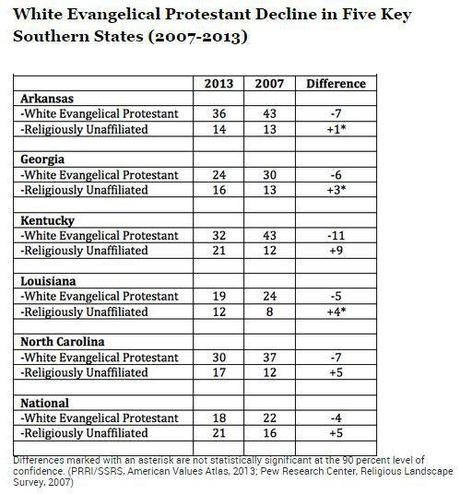 [...] Two forces account for the declining proportions of white evangelical and mainline Protestants: the growth of non-black ethnic minorities and, perhaps surprisingly, the growth of the religiously unaffiliated across the South. Notably, each of these growing constituencies leans decidedly toward Democratic candidates.
[...] So what does this mean for the 2014 elections? Certainly, events on the ground are still paramount; the campaign machines and peculiarities of candidates matter. And in low-turnout elections such as the midterms, the real weight of these demographic and religious shifts will not yet be fully felt at the ballot box. White evangelical Protestants have a strong turnout record, while non-black ethnic minorities and particularly the religiously unaffiliated are much less likely to vote. PRRI's pre-election American Values Survey found that while two-thirds (65 percent) of white evangelical Protestants report that they were absolutely certain to vote in the November elections, less than half (45 percent) of the religiously unaffiliated report this kind of certainty. But the underlying trends indicate that at least one reason why there are a number of close elections across the South is the declining dominance of white evangelical Protestants, the most stalwart of GOP supporters.
Do you get the feeling that we're losing the Culture Wars?  :(
~Eowyn