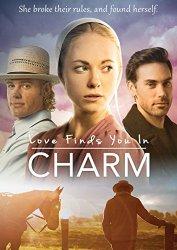 About the movie:
Young Emma Miller would appear to be the luckiest girl in Indiana: An Amish beauty with a loving family and a marriage offer from the community's most eligible young man, Emma's future seems right on track. Yet she yearns for adventure and romance, and when given the opportunity to spend the season helping her widowed cousin's market business in scenic Charm, Ohio, she jumps at the chance to see what else the world has to offer.
As she settles into life on her cousin's farm, she befriends local librarian, Kelly Bennett, and gets to know Noah -- a striking, well-read, young Amish man who helps work the farm. When Emma's popular homemade goat cheese attracts the attention of a local bed-and-breakfast and a handsome wine-and-cheese blog editor, Andy, she finds herself pulled between two worlds and two men. Emma must decide whether to stay amongst the Amish or leave behind everyone and everything she's ever known to venture out into the world.
My thoughts:
I love reading Amish fiction, so when I found out this movie is based on the Amish novel, Love Finds You in Charm, Ohio, by Annalisa Daughety, I was very excited to see it. And, indeed, watching this movie felt like reading an Amish romance. Even though I'm not Amish, I could relate to Emma's curiosity about the world beyond her community, wondering whether the "grass is greener on the other side." She had to get a taste of life outside the norm to learn to appreciate what she had and to learn her heart's desire. Love Finds You in Charm will definitely "charm" you with its sweet story and beautiful fall scenery!
Love Finds You in Charm debuts on DVD on January 12, 2016. Pre-order your copy on Amazon!

Disclosure: I received a complimentary copy of this DVD to facilitate my honest review, but all opinions are 100% my own. This post contains my Amazon affiliate link.