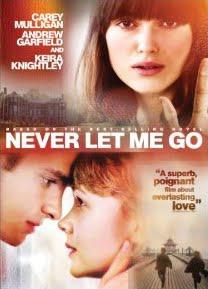 Photo: amazon.ca


Starring Carey Mulligan, Andrew Garfield and Keira Knightley. Directed by Mark Romanek. 100 minutes. 14A
Categorizing Never Let Me Go as a dystopian film sets off the wrong preconceptions: zombies, battles between man and machine, lasers. And calling it a love story does the same. But bringing the two together creates a genre in itself. It's not a flimsy love story alongside a dystopian narrative; it is, in part, the dystopia. Dystopian love. Poetic, right?
I can't tell you what's at the core of Never Let Me Go without giving away more than you learn from the trailer, and really, the most I can say is that it's thoughtful, reflective love story that rests heavily on a destructive, pre-determined fate set out by society. Kathy (Carey Mulligan), Tommy (Andrew Garfield) and Ruth (Keira Knightley) are scientific subjects of sorts, and are pretty much treated that way as they live out the roadmap written for them.
While it's undeniable that Mulligan, Garfield and Knightley work well together, it's Garfield who stands out in this film as the socially awkward though sweet Tommy. It makes you wonder why he was nominated for his role in The Social Network for a Golden Globe and completely ignored in this film where he played one half of couple where he misread feelings, fell to deceit, and fought to live for love, all the while balancing naivety with pure honesty.
What's surprising about this film is that's not overdone, as love stories easily are, especially when they are the main narrative. Although it's the love story that drives the film, weighing it against such a heavy, treacherous dystopia evens it out. And while the two aspects are very powerful on their own, and even more so when combined, together they work to create a real portrait of humanity in an unreal world, reminding us that despite our different situations, we all feel emotions just as passionately. A-
DVD EXTRAS: Behind-the-scenes featurettes and on-set photos.