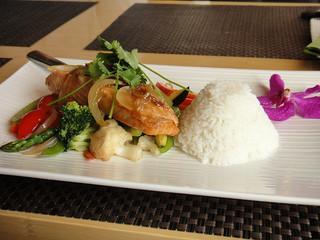 Flickr Creative Commons/Calgary Reviews
When you hear the word cuisine, you think French, Italian, Japanese. Your thoughts may even turn to the food of Greece, China, or even Africa. But the farthest country from your mind when someone mentions cuisine is most certainly the Netherlands.
After all, it's difficult to associate food one retrieves from a wall, pancakes of varying sizes, an assortment of deep fried fare, fries dipped in copious amounts of mayonnaise, and potatoes mashed with every vegetable known to man and served smothered in gravy or with a worst on the side cuisine.
That's not to say that Dutch food doesn't have its merits. It's a fun and easy, yummy indulgence and oh-so-great for nursing a hangover or a severe case of the munchies. But let's be honest here... cuisine, it is not.
Of course, press like this 2012 New York Times article lamenting Holland's lack of culinary heritage and Amsterdam's shortage of good restaurants doesn't help. Nor does it help that most of the restaurants in the Netherlands serve mostly foods from outside of the country. Greek, Chinese, Italian, Japanese, Indonesian, American, Turkish, Moroccan, French, Mexican, Spanish, African, and Indian restaurants abound. But very little attention is paid to Dutch cuisine.
As the author of the NYT piece does point out, the Netherlands is an international hub and trading post, so it is certainly no surprise that the country features food from all over the globe. But it would seem that the Dutch have lost their culinary identity.
Pioneers in the spice trade for hundreds of years, they certainly must have once had some fabulous food that didn't involve a deep fryer or an electric mixer. Or did years of surviving on potatoes and tulip bulbs during the World Wars deaden their taste buds?
The good news is that, according to a recent NYT article, things are looking up - at least in Amsterdam. The writer speaks extensively with Mark Schiefelbein, blogger at Dutch Grub, who says his list of "Best Amsterdam Restaurants" now includes six entries. Only one of those - Wilde Zwijnen - comes anywhere close to traditional Dutch cuisine, but it's a start.
Maybe there will be a revival of Dutch cuisine, not only in the Netherlands, but throughout the world. In the meantime, go ahead and pop a euro into a Febo wall and enjoy the bitterballen. It may not be haute cuisine, but it sure is tasty!
© 2013, Amsterdam City Tours Blog. All rights reserved. On republishing any part of this post, you must provide a link back to this original post