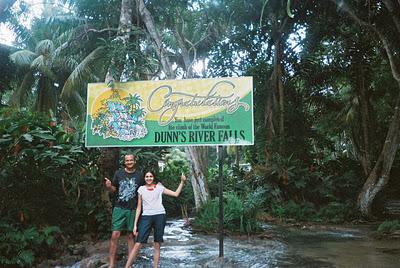 A little more than a year back, while on a Caribbean cruise, I (along with my wife and sister) decided to head over to Dunn's River Falls on my Birthanniversay (Birthday and Anniversary). Leaving behind my daughter and my parents are the wonderfully named Mahogany Beach, we took a taxi to the Falls. It's a good idea to inform the taxi driver not to leave the parking. As it happened in our case, thinking that we would take longer than we did, he decided to go someplace else in the meantime, and after waiting for him for a good 45 minutes, we eventually took another taxi back to our ship.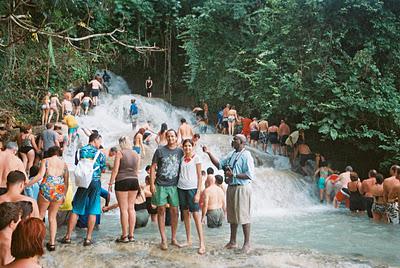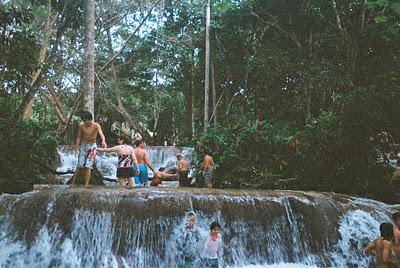 Dunn's River Falls is one of the primary tourist attractions in all of Jamaica, yet it was not over crowded. A ticket of US$ 20,- got us in and into a group led by a couple of guides. There are lockers inside the property to leave your valuables, and it's advised that you use them because the falls can be a bit challenging at times. Also, available on location are water shoes which can be rented for a small fee. Once again, it is advisable that you rent the water shoes as the rocks, while climbing up, are very slippery.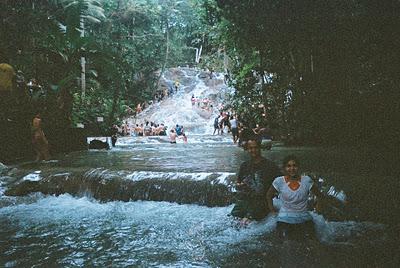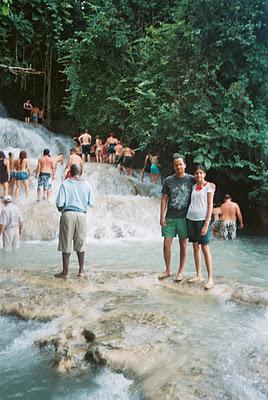 As a tourist attraction, the whole arrangement is well organized. There are groups of 12-15 people that are taken by two guides. It's essential that you use the service of the guides (included in the entrance fee) on your first trip up because they point out the plunge pools deep enough for you to take a back flip in and importantly the corners that should be avoided.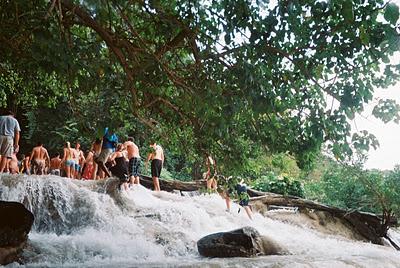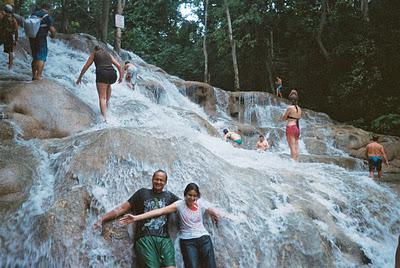 Carrying a video camera, the guides also make a video of your whole "expedition" up the falls which can be yours for US$ 40,-. A bit expensive, we gave the video a miss, but the guides were not at all pushy about it. They were friendly and as expected flirted with the girls, at the expense of the guys, but then that's a given almost anywhere in the world.
Dunn's River Falls is one of those attractions that you would want to say "Been There, Done That". The areas where flow of the water is too much, the climb a bit steep, or the rocks are really slippery; there are handle bars on the sides to support you. Moreover, walking in a group, a human chain is usually formed again to provide support for everyone.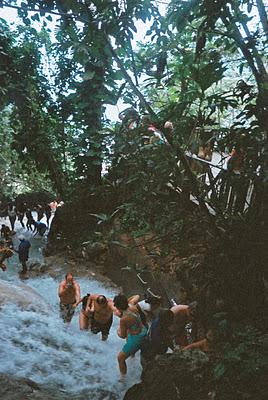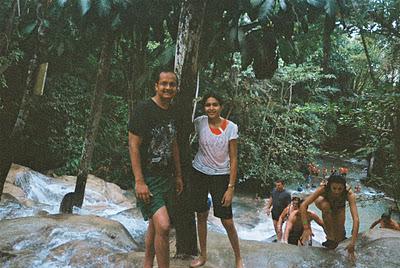 Although I saw people of all ages go up the falls, I would advice the really young and the really old to skip climbing the falls. There is a good chance most people will end up with tiny cuts and scratches by the time they reach the top, but that is not to say that this is a dangerous activity.
Our climb up the Dunn's River Falls was refreshing and something I definitely recommend for everyone visiting the region. Once you have had your guided climb, you can always go back down and climb up again if you desire. There is also a small beach at the bottom of the falls which is fun for the younger and older members of the family. The organizers are not at all pushy and you are free to take or not take the photographs and videos they make without any hassles.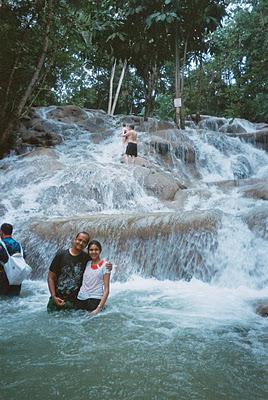 I would however apologize for my photographs not being of the best quality (and thus not doing justice to the Falls), but in my defense these were taken by a waterproof single use disposable camera.