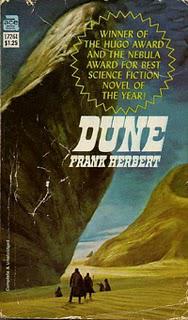 During the last three weeks, I have been participating in a group read of Frank Herbert's classic novel.  Here are links to those posts:
Week 1
Week 2
Week 3
What are my overall thoughts about the book?  Just click on "Read More" to find out...
First off I want to urge everyone to participate in the group reads at Stainless Steel Droppings.  This focused group reading where we consider the same questions each week was one of the best reading experiences.  I learned a lot by seeing how the various participants viewed each section.  Many times each of us would pick up on different parts of the narrative.
I loved this book when I read it the first time.  I am not sure of the exact year but it was sometime in the mid 1970s.  What did I like about it?  The classic hero's quest appealed to me.  As a teenager, I could sympathize with the transition that Paul was going through.  Granted, his change was much more traumatic.  Mine was the changes that everyone goes through as we move towards adulthood.  
The epic battles, the sandworms, the behind the scenes politics all captured my imagination.  But now I realize that I missed out on much of the best writing done by Herbert.  Upon re-reading the book at this point in my life (50 years old), I discovered the depth that was just under the surface of the epic story line.  Herbert's use of mythology and religion adds many layers that my teenage mind missed out on.  I have a feeling that every time I re-read this story I will discover many more layers.  
This is a book that should be read by every fan.  It deserves to be on every "Best of SF" list.
I definitely plan on revisiting the next book - "Dune Messiah"- in the near future.