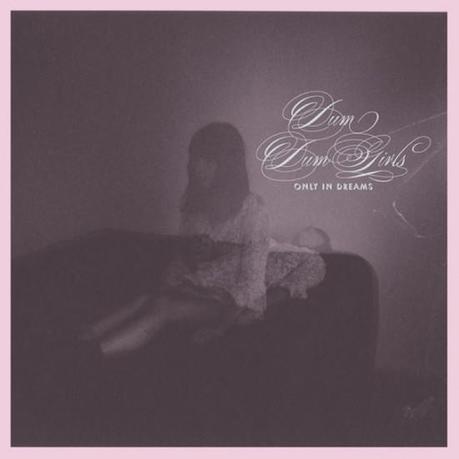 Bedroom Eyes – Dum Dum Girls
Early reviews of the Dum Dum Girls (@dumdumgirls) second full-length, Only In Dreams, have classified the album as their foray into dark territory. From my perspective, though, themes in Kristen Gundred's world have always been a bit dark (have you seen the cover art for the "Stiff Little Fingers"/"Dream Away Life" 7-inch). In fact, I've always thought that Dum Dum Girls would have longevity as a band based on their sophisticated, darker approach to songwriting and their mature sensibility. Unlike some others in the genre, they never tend to wax poetic on the juvenile themes of boys, weed, and cats.
That being said, Gundred, who goes by the stage name of Dee Dee, has had a lot to deal with in her personal life recently. While she and the rest of the girls were relentlessly touring behind 2010 album I Will Be, her mother (whose photo was featured on the cover art for I Will Be) fell suddenly ill and passed away. This unfortunate incident may account for the more somber tone on Only In Dreams.
The 1960s-inspired garage rock aesthetic is still present on this album, but Dee Dee has pronged into new stylistic territories. There are twangy, rockabilly guitars on "Just A Creep," doo-wop melodies on "Heartbeat," and middle-eastern inspired modal scales on album closer "Hold Your Hand". There are also more of the typical surf rock songs, including opener "Always Looking" and the insanely catchy (and current single) "Bedroom Eyes."
The standout track on the album is inarguably "Coming Down". With a more mysterious, less-driving rhythm than anything Dum Dum Girls have released before, the song's protagonist edges toward the brink of total abandonment while Dee Dee's echo-y voice jumps from melancholic and observational to a chillingly powerful wail. You can't help but feel sad when you listen to it.
Only In Dreams' possible downfall, though, is the lack of true variation between songs. Sure, Dee Dee has explored other influences and employed them with great success, but many of the songs sound very similar and use the same surf rock percussion. At times, the lyrics also border on predictable, though there's something to be said for familiar sounds and obvious themes. In the end, though, Dum Dum Girls do surf rock extremely well and shouldn't be punished for sticking to what they know best. Plus, there are some really brilliant moments on this album. A little bit of the familiar mixed with a few really original gems allow it to transcend time. Only In Dreams definitely has the ability to make me forget what year it is.