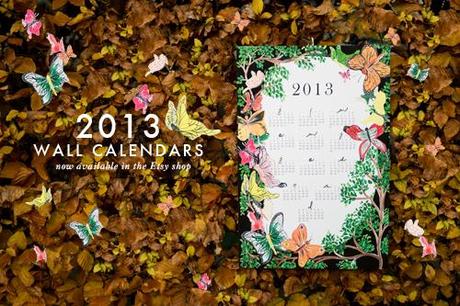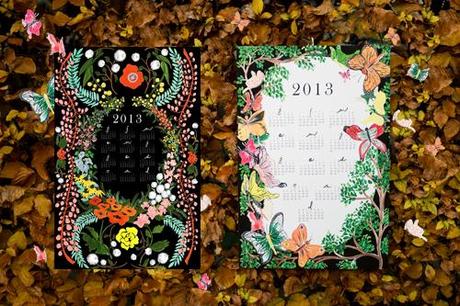 It's here! The brand new 2013 calendar is finally available in the Etsy shop. 
For the 2013 calendar, I was inspired by Hans Christian Andersen's Thumbelina. Living in Copenhagen, Denmark, Andersen's fairytales are still very prevalent and mentioned. After reading the fairy tale in the land it was written, the story took on a new life and became a bit more real. You know that I love the idea of playing with scale (everything oversized!) so Thumbelina's thumb size was a perfect image to recreate. I became entranced by the image of the butterflies that whisked the main character, Maia, away by her white sash as she escaped her arranged marriage to the ugly mole. For the calendar, I imagined a bouquet of butterflies clumped in lovely colors.
The calendar is 11x17" ready for a frame or pinned to a wall. It's a beautiful giclee print on cotton paper. The colors are super lush. Wait until you see it in person! Agh! Order the Thumbelina calendar here. The first batch come in with a slight overlap of printing. those are being sold for 1/2 price and you can find them here.
AND, the Language of Flowers calendar is back by popular demand. Order it here.
Photo by Lina Ahnoff