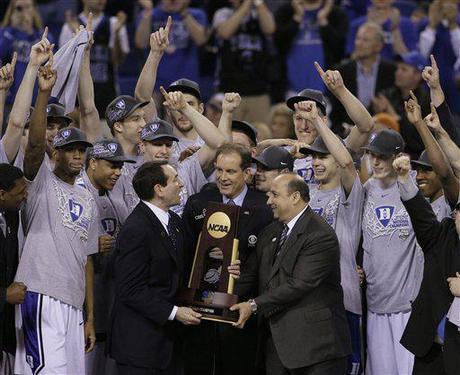 I had planned to write a sarcastic post about Hampton, in a "Somewhat Factual" style, but then I researched the school and realized that they just have too incredible of a history to mock it.  Hampton is a historically Black university in Virginia, which was founded after the Civil War to provide education to freed slaves.  On campus, you can even find the Emancipation Oak, where the Emancipation Proclamation was publicly read for the first time in the South.  So like? A+ to Hampton.  And it is unfortunate that today will be such a sad day for you.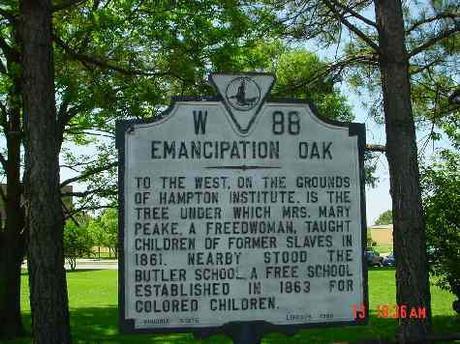 Hampton got to the tourney by winning the MEAC championship over Morgan State, formerly known as the Centenary Biblical Institute.  Other than Jesus Shuttlesworth, the Bible has not really produced many ballers, so I would not be surprised if Hampton is overwhelmed by Duke's fast, and aggressive style of play.  Not only do they have to contend with my ACC champion and reigning national champion Blue Devils, but if you haven't heard – Kyrie Irving is back. I think, in part, today will be an experiment, or a chance for Kyrie to get used to playing in game-type situations again. I do not expect it to be totally without its kinks.  At the same time, it should be a pretty smooth transition.  In the short time he played earlier this season, Kyrie Irving demonstrated that he is the most purely talented freshman in the nation; this will be like riding a bike to him.  He came to Duke to win a championship and now this is his chance. I am super interested in watching how Nolan Smith transitions to being a shooting guard again, his natural position and where he should have been playing all year.  And I am beyond excited to see Kyrie breaking ankles and embarrassing defenses again.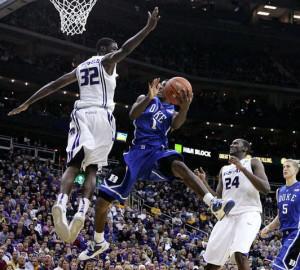 This afternoon (the game starts at 3:10 p.m. on the ridiculous truTV), the Hampton Pirates will try to become the first 16-seed to knock off a #1.  And they sort of have history on their side.  In 2001, Hampton became the fourth 15-seed in NCAA history to upset a 2-seed in the opening round by beating Iowa State; they are also the last team to pull off such a feat.  Hampton Coach Edward Joyner Junior said that: "Everything, I believe is timing . . . Trust me, they are going to see [the Iowa State tape] tonight, along with Miracle, Rudy and anything else we can find. They will see it tonight, along with anything else we can get to pump them up to try and come out and get a ballgame."  Aw, he is precious.  But watching the Mighty Ducks ain't gonna cut it. As Coach K said, Duke "prepares for Hampton just like we prepared for North Carolina or Virginia Tech or Maryland. We're approaching it as if this is a championship game for us." Which does not bode well for the poor Pirates. 
That said, the Blue Devils shouldn't take the Pirates lightly.  They have size, which Duke never seems to handle well.  They have a whole slew of giants, and in particular, Orin O'Bryant (happy belated St. Patty's day, buddy!) and Milade Lola-Charles, who are both 6'10".  They also have solid double-digit scorers in Darrion Pellum, who averages 17.7 points per game, as well as Kwame Morgan and Charles Funches, who score 16.5 and 10.7 points per game respectively.  In terms of the basics, Hampton averages 36 rebounds per game, shoots 32.5 percent from three-point range, and 40.7 percent overall. They pride themselves on defense and consider their offense "ugly;" in fact, they only shoot 65% from the foul line, which could hurt them down the stretch.  In a rather adorable manner, Hampton openly admires Coach K and Duke's program.  Brandon Tunnell, a senior guard, said that: "At practice, Coach Joyner uses Duke for a lot of knowledge about how we should play hard…how we should play like Duke. We understand that number 16 has never beaten number one. That's the beauty of it. It makes us play that much harder."  The Devils are well-aware that they have a target on their backs.  As Kyle Singler explained, "I think the main thing for me and the team is we've got to fight . . . The teams that fight harder and smarter end up winning."
So it all begins today. Last year, Duke surprised more-or-less everyone by winning the title.  While most people expected them to make it to the Final Four due to their alleged "cakewalk" of a region, not many predicted them to win.  This year, the Blue Devils are not flying under the radar.  They have a neon "hit me" sign taped on their backs and everyone is gunning for them, even more so than in most years.  But I will be damned if we are not ready to defend our championship.  We have two All-American seniors leading the way in Smith and Singler, oafish size in the Plumlee brothers, a whole treasure trove of shooting guards, Kyrie Irving, and the best coach in all the land.  It seems that even Hampton knows this.  While they have Cinderella dreams for a repeat of 2001, Coach Joyner quipped, "No disrespect to Iowa State…but it ain't Duke."
Damn right.