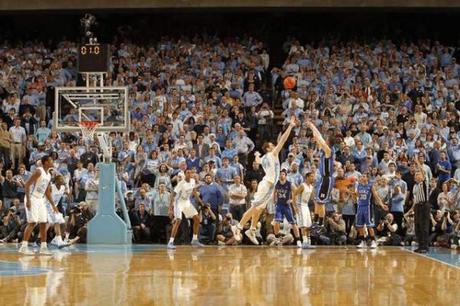 Photo: Bob Donnan /U.S. Presswire
It will be called the shot heard around Chapel Hill and the world. As time expired Duke's budding Superstar freshman Austin Rivers, connected on  a 3-pointer  over Carolina's Tyler Zeller, to win the game. Shocking, Incredible, Stunning, pick any adjective that describes utter amazement.  Zeller in particular, must be numb over this game.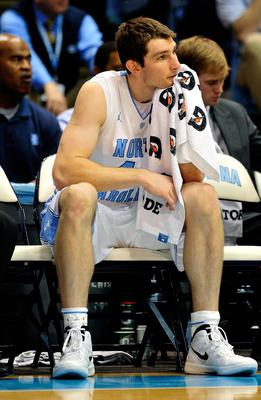 Duke doesn't win this game without Zeller's assist-literally.  Carolina was up 83-80 with just under 15 seconds  to play.  Duke's Ryan Kelly shoots an errant 3-pointer that Carolina's Zeller accidentally tips in, while trying for a rebound. WOW-when that play happened, everyone watching must've thought-Uh-oh, is the impossible, possible? The officials conferred  and granted Duke 2 points, Carolina 83-Duke 82.  Zeller is fouled and makes 1 of 2 free throws, Carolina 84-Duke 82. Duke grabs the defensive rebound, with no timeouts and 12 ticks of the clock, Rivers drives the ball down court and well, the rest is history.
Carolina was in complete control and led the entire second half , until Rivers shot went in as time expired. The Tar Heels were up 11 with 5:11 left in the game, up by 10 with under two minutes to play,  on their home court against rival Duke. Zeller, Barnes, Bullock were completely dominating Duke in the paint, having their way. Carolina had Duke right where they wanted them, or in actuality was it Duke that had Carolina positioned? I guess the final score best answers that question.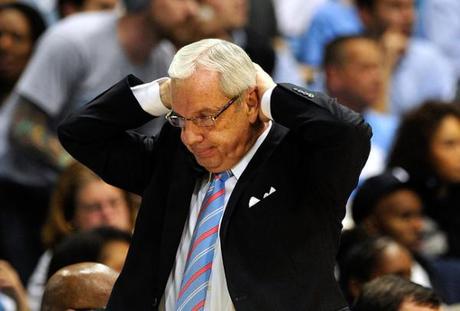 Carolina head coach Roy Williams is now 9-11 vs. Duke. The pain of the stunning loss was obvious in his post-game interview. He must still be wondering on the drive home, how his team lost this game, especially on their home court. The Carolina players especially Zeller , who was outstanding in the 1st half with 19 points, surely must be in a state of shock.
Austin Rivers- a superstar was born in this game! Rivers scored 29 points, the most points a freshman has ever scored against a Carolina team. With his famous Dad- head coach of the NBA Boston Celtics- sitting behind the Duke bench, Rivers willed his team to victory.
What a difference a few days and one game can make. Duke lost at home a few days ago to Miami, and looked completely deflated. Water cooler, had whispers of Duke being overrated. Conversely, the debate in the media was about Kentucky and Carolina  being the best, most talented and athletic teams in college today.  In reality, most thought Duke would be taken to the woodshed. Duke, Carolina and Florida State are now in a three-way tie for 1st place. Florida State lost earlier in the night to Boston College. Oh well…
Once again Mike Krzyzewski [Coach K] proved he is one of, if not the best coaches in the game. On paper, Carolina's players  are bigger and stronger than Duke's players. The game demonstrated that for all to see. What though does the final score show?
By the way, this game is the second win for the Duke basketball program in three days. Earlier in the week, the Duke Women defeated the Carolina Women 96-56. How do Coach K and Coach P continue to find ways to win? They just do!