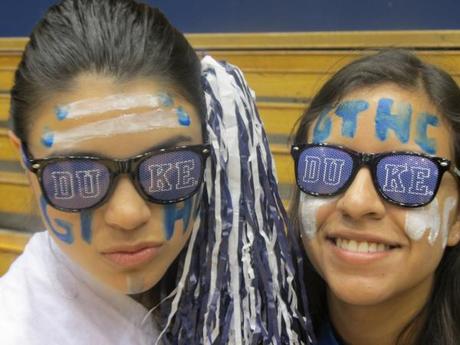 Duke Fans pre-game in Cameron Indoor Stadium
DURHAM, N.C. - The 2012 Duke -Carolina basketball rivalry was kicked off with the Duke Women hosting the Carolina Women in Cameron Indoor Stadium. Duke fans were in form, cheering on their beloved Duke team.
Carolina was the offensive aggressor for the first few minutes of the game, building an 8-4 lead. Duke was pushing the ball, playing with energy, almost hyper. As a result,  the Duke offense struggled for the first ten minutes or so, with their shooting percentage dipping  as low as 17% at one point in that span.  Duke head coach Joanne P. McCallie sent in Tricia Liston and Allison Vernerey off the bench and switched to zone defense. "For us, actually, I thought we were a little bit hyper early. And so I actually switched to that [zone defense] for us, not for our opponent, to settle us down because we were going fast."
Coach P's strategy worked and  a Tricia Liston 3-pointer- the first of four she made on the night- gave Duke a 12-10 lead with 11:26 left in the 1st half.  Duke had found their rhythm and never relinquished the lead. The halftime score was Duke 50- Carolina 24.
The Tar Heels were ranked #22 coming into the game. Carolina head coach Sylvia Hatchell defended her team, " I think we're a better team than what we showed tonight. Three-point shooting was unbelievable, they got 30 points from the three and we got 6. " Hatchell continued, " I kept thinking Duke was going to miss some shots once in a while, and they hardly missed any. Duke is a great offensive team, but I think we're a lot better team than we showed tonight. We have to keep working and getting better."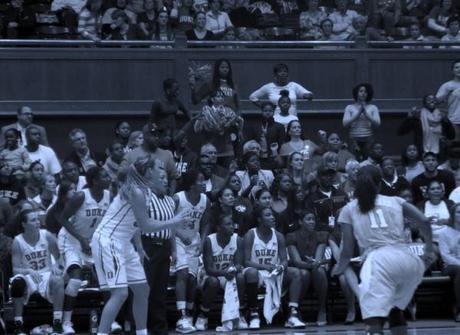 Tricia Liston sets to make her fourth 3-pointer  of the night
Tricia Liston and Chelsea Gray kept raining three's on Carolina, almost in spectacular fashion. One of Gray's 3-pointers seemed to be shot from the parking lot, ok, certainly from well beyond NBA 3-point range. Five Duke players scored in double figures led by Tricia Liston's 23,  Richa Jackson with 17, Chelsea Gray had 15, Elizabeth Williams totaled her fifth double-double of the season with 13 points and 10 rebounds and Shay Selby scored 10 points and dished out a career high six assists. Williams also blocked six shots and now holds the ACC single season freshman blocks record with 85 blocks on the season.

The final score says it all….
Duke fans were thrilled with the final score and look forward to the next game in the Duke -Carolina rivalry. The Duke Men visit Chapel Hill to face the Carolina Men Wednesday night Feb. 8 at 9 p.m.