http://voices.yahoo.com/article/9361264/duke-carolina-rivalryas-good-as-gets-10946734.html?cat=14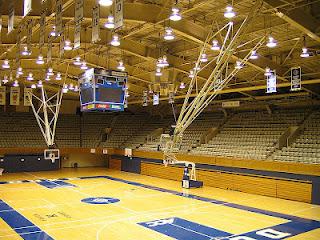 In my opinion, Duke-Carolina is as good as it gets in terms of sports rivalry. Round I of The Duke-Carolina Basketball Rivalry-2012 edition-was epic. Freshman Austin Rivers NBA 3-pointer, with no time left on the clock, won the game for Duke on Carolina's home court. Unbelievable game. Duke was down by 10 points with just over 2 minutes left to play. The Duke squad would not quit. They ended the game on a 13-2 run, and stunned over 21,000 screaming Carolina fans into silence. One play typifies Duke-Carolina. With just over a minute to play, Duke's Ryan Kelly launched a three-pointer. Carolina's 7-footer Tyler Zeller, while attempting to rebound the errant shot, improbably tipped it in the basket-2 points for Duke. I've never seen such a play in a game, with so much on the line. The assist from Zeller paved the way for Rivers game winning heroics. That's Duke-Carolina basketball. The impossible happening for all to see.
Outside of incredible, exciting games between these schools what makes Duke-Carolina the best rivalry in sports? Why does the rivalry captivate sports fans like no other?
Let's start with location. The truest, fiercest rivalries feature opposing teams located in each others backyard. Duke and Carolina are separated by 8 miles along US Highway 15-501. How many sports rivals coexist that close to each other?
Next is history and relevance. Duke and Carolina first played each other on January 24, 1920. Since then they've met 233 times. Carolina leads the series 131-102, inclusive of the most recent game. The Carolina basketball program has recorded the 3rd most wins in Division I history with Duke's basketball program the 4th most. Carolina has won 5 NCAA Division I Basketball Championships and been to a record eighteen Final Fours. Duke has been to fifteen Final Fours and won 4 NCAA Division I Championships, the most recent in 2010.
The players that have donned the uniforms of Duke and Carolina and what they've accomplished in the sport of basketball are remarkable. Larry Brown, Phil Ford, James Worthy and arguably the greatest basketball player of all time-Michael Jordan-all wore Carolina blue. Who can forget Christian Laettner, Bobby Hurley, Grant Hill, J.J. Reddick, Jayson Williams, and last years #1 pick in the NBA draft Kyrie Irving?
Last but not least-the coaches. Dean Smith and Roy Williams for Carolina. Mike Krzyzewski for Duke. Is there a need to say more about any of these legendary coaches?
As I've watched the replay of Round I of the 2012 Duke-Carolina rivalry and Duke's 85-84 win, I was struck by another thought. Carolina and Duke, although close in proximity are about as far apart in ideology as exists.
The University of Carolina at Chapel Hill is the pride of the state university system. Over 29,000 students are enrolled at UNC. The Carolina basketball team has consistently attracted some of the best athletes we've seen in sports. UNC basketball has produced 39 first-round draft picks in the NBA. Duke on the other hand is a private institution. Just under 15,000 students are enrolled at Duke University. Duke has produced 23 first- round picks in the NBA. Carolina teams have often, at least on paper, been more athletic, bigger, stronger, yet Duke somehow, someway wills itself to wins. It sometimes seems that fans watch Duke games to see them lose, get their comeuppance. How dare these prep school students, with their posh lives, even think they can compete with us.
Does the rivalry boil down to the debate of athletic superiority vs. academic superiority? Is how that battle plays out, what drives the intensity of the rivalry for fans? Hmmm…
What we all know now is, the 2012 Duke-Carolina rivalry is alive and well, with Round I going to Duke. March 3rd, the best rivalry in sports continues with Round II in Durham, on Duke's home court in Cameron Indoor Stadium. I'll be watching, how about you?