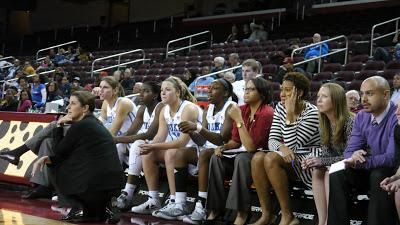 Duke Head Coach Joanne P. McAllie, Allison Vernerey, Elizabeth Williams, Tricia Liston, Chelsea Gray, Assistant Coach Candice Jackson, Assistant Coach Joy Cheek, Sarah Smoak and Hernando Planells watch intently during Duke's 97-63 win over CSU Bakersfield. Photo: Joe Nathan
LOS ANGELES -  The #4 Duke Women's basketball team has descended on Southern California to participate in the Women Of Troy Basketball Classic.  Their first opponent, CSU Bakersfield, was overmatched by the talented and deep Duke team 97 - 63.
Elizabeth Williams led all scorers with 21 points and 8 rebounds.  5 other Duke players also scored double figures  - Haley Peters (16 points.), Tricia Liston (14 points), Chelsea Gray (11 points), Chloe Wells (10 points) and Sierra Moore (10 points).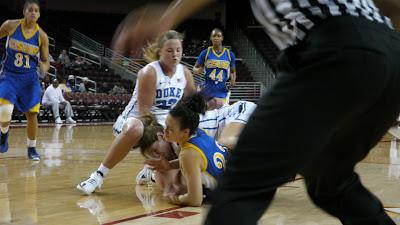 Duke's Tricia Liston and Allison Vernerey wrestle for control of the ball with CSU Bakersfield's Marilyn Naderhofffor.  Photo: Joe Nathan
CSU Bakersfield actually had an early lead and with 13:41 left in the 1st half the score was tied 15-15. After a timeout, Duke gathered itself and began to perform like the #4 team in the country.
Up next: Duke will face host USC at 3p.m. (EST) in Day 2 of the Women Of Troy Basketball Classic.