I watched it from the safety of the living room at my mother's house. A triple suicide bombing in Brussels, the (so called) European capital, on Tuesday morning, by members of (so called) Islamic State. I watched footage of ordinary people cowering on the floor of the departure lounge at the airport. Families embarking on holidays, older people on a city trip, business people, returning from the seat of European co-operation, to their own homes, to share the Easter break with their families.  Each of them, lucky to be have survived, perhaps with only minor injuries but now destined to spend their lives traumatised by what they have experienced, in a city that is home to NATO headquarters and should surely be the most secure destination on this continent.
I watched in disbelief, footage of an underground train, the middle carriage of three having been bombed, while passengers from the front and rear carriages disembarked into a smoke filled tunnel. A young child was crying and I cried too. A month ago I briefly thought about planning a short trip in Europe, trying to decide where I might feel is safe to travel in a politically turbulent world. I have to confess that I am running out of travel destinations. Today, Blackpool Tower shone brightly in the colours of the Belgian flag and I am glad to be here: safe at home. Simon Blackburn, the leader of Blackpool Council was with a small delegation in Brussels and unable to return immediately. I wish them all a speedy and safe return.
I have questions. In times when international airport departure halls are vulnerable to suicide attacks, why are all entrances not screened by armed guards with sniffer dogs?  I also ask why a man wearing a hat is not immediately asked to remove it by security in an international departure hall. You can't enter a public building anywhere in the UK wearing a hat. If someone had intercepted the man wearing the hat, they might also have noticed that the two men with him each wore a single black glove, concealing a bomb detonator. Perhaps the outcome would have been the same, even if the bombers were intercepted. But perhaps lives could have been spared.  We will never know. I can only hope that the security forces in my own beloved country are ten times more vigilant.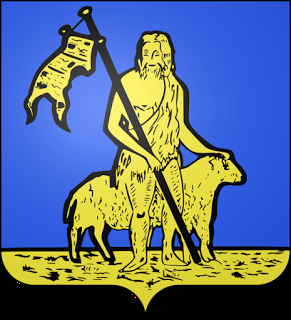 This is the coat of arms of Molenbeek Saint Jean, the municipality in Brussels, surrounding the buildings that are the headquarters of the European Union. This region is purported to be a hotbed of jihadist recruitment and activism. It is densely populated, some 16,000 people per km2, many of second and third generation Morrocan or Turkish descent. This is a poor community with a population that has increased by 25% in the last decade. Europe has just experienced an economic depression unlike any felt in the West since the 1930's.  I hope we are not in the throws of repeating the mistakes of the past turning our backs and our ammunition on minority groups because of the actions of a few misguided individuals. Europe cannot allow mistrust to develop as a companion to unsupported ghetto society.
In Britain, our legal system and our governance is true to the humanitarian values of fairness, forgiveness and compassion.  This Easter, my prayers are with the families of those who were brutally taken but also with the communities that fostered fanatical terrorists. May we all find the strength to forgive each other and live in peace.  
The Lamb of Molenbeek. 
He was unwilling as a witness,
He saw his everyday explode,
He was spattered with the blood of innocents
As limbs were ripped from travellers
on their journeys along the Easter Road.
He barely noticed death pass by him,
He felt a shiver course his spine,
As they walked with luggage trolleys,
Two in black and one in white.
Invisible, yet in plain sight.
Now he shudders with the memory,
A momentary curiosity,
A double-take that came too late
A single glove on each disguises
Their plan to detonate. 
And all his nights will fill with terror,
And all his dreams will fade away,
And he will mourn this long Good Friday,
For more than thirty people
Sacrificed today.
The lamb of Molenbeek lies dismembered,
The beating heart torn from its chest,
As the mast flown flags are lowered
and emptied streets still echo fear,
The promise of the resurrection,
Rests.
Thank you for reading.  Adele
Email This
BlogThis!
Share to Twitter
Share to Facebook
Reactions: