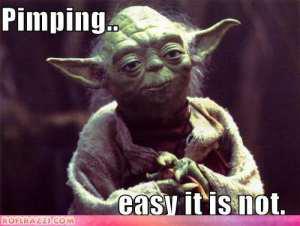 I am going to play pimp for the day and give a shout-out to a fellow True Blood fan and his blog! I took the time to read a few of his posts and the man has talent and made some very good points! I will give you a little sample of one of his Fangathon posts that I am sure you will enjoy!
Again, book Calvin was noble, wise, considered in his actions, yet stuck in a remote village. This remote village was populated by were-panthers who were odd, yes, but NOTHING like depicted in True Blood. They have cute , well maintained houses clustered around a cross roads. Now, enter Alan Ball…

Calvin Norris on True Blood is a snarling, in-bred, meth manufacturer/dealer and governed by rage. His underlings are visceral and primal. Hot Shot is an abandoned barn/garage with a cluster of ramshackle buildings. It's a wonder Crystal Norris has a full set of teeth. They arrange a graphic and prolonged gang rape of Jason and develop a V trade to supplement their income. Hot Shot on TB has no redeeming values and is a complete plague on Renard Parrish.
Spot on dude, that was one of my major problems with the treatment of Hot Shot and Calvin, I felt like I had taken a gut shot, literally! I think we all should subscribe to this blog to see what other goodies can be found throughout season 5 of True Blood as well as support a fellow blogger! To read more from this blog just follow the yellow brick road or ummmm just click here instead:Upstatetraildude'sBlog
Let us know what you think by sounding off below and don't forget to visit the blog. You really don't me to start handing out penalties, do you? We are known for that here! Just teasing but seriously check it out because this Pimping, easy it is not!

Thank you Master Yoda! Thanks to Serena from Sookieverse and Kissed By Fire.