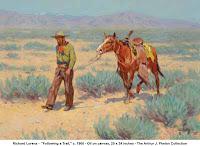 Don Juan's Temptation (1948)
"Good sex is like good bridge. If you don't have a good partner, you'd better have a good hand."― Mae West
The Plain Facts


Length:8 pages/li>

Genre:Irish Literature


Characters:



Gussie Leonards
School Girl



Setting:County Cork Ireland
So, what's It About Man?
We find a battle between school girl romance and Don Juan seduction.
Warning: Spoilers Ahead
First Words
Against the Gussie Leonords of the world, we poor whores have no defenses.
Last Words
Sons of bitches! That's what they are, to a man.

Favorite Quote
"But my dear young lady," he said offering a cigarette, "who ever said I have a poor opinion of women?  On the contrary, I have a very high opinion of women, and the more I see of them the more I like them."
What I Loved About the Story
 I hope to re-read this story in the future as its complexity made me go back and read it from the last page to the first page, a reversal, to find the moments when romantic school girl notions become involved with Don Juan's slyness. This story works for its dialogue, and reminds me of Hemingway's Hills Like White Elephants.