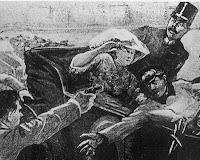 The Luceys
by Frank O'Connor 1931
"Happiness is having a large, loving, caring, close-knit family in another city."
―
George Burns
The Plain Facts
Length:13 pages
Genre:Irish Literature
Characters:

Tom Lucey:Catholic Priest
Ben Lucey:Brother to Tom Lucey
CHarley Lucey:Son of Ben Lucey
Peter Lucey:son of Tom Lucey

Setting:County Cork Ireland
So, what's It About Man?
The crazy dichotomy that separates a family and the children that unite them.
First Words
It's extraordinary, the bitterness there can be in a town like ours between two people of the same family.
Last Words
The real world was troubling enough for him, and he went slowly homeward, praying that he might see the blinds drawn before him.
Favorite Quote
God alone would ever be able to disentangle these, and meanwhile the only course open to a prudent man was to keep his mind to himself.
One conversation in particular haunted him for years as showing the dangerous state of lunacy to which could be reduced by reading old books.
What I Loved About the Story
One can see that this story is influenced by Shalom Aleichem, and Isaac Babel, in their Old Rabbi tales. Frank O Connor tells these rabbi stories in catholic disguise. He illustrates the seemingly madness of the clergy amidst the working class people of Cork; the dichotomy is divisive.