It's been ages since we've gone on a proper family holiday. Sure, we have done the occasional trip to my family home in Chennai, the odd detour to Pondicherry, and a Snubnose and me (+ friends) trip to Goa. However, a family trip has not happened in ages (to be precise, since Piglet was born).
This summer both Snubnose and I both had a bad case of itchy feet and to pacify us and prevent us from running off to Scotland (a long story, which I am not going to get into here), K rather rashly promised a trip to Dubai, and possibly Turkey/Greece later in the year. Well, Turkey/Greece is not happening, but Dubai certainly is.
We have family there, and so accommodation will be a breeze. However considering this is Piglet's first journey anywhere, we are all a little apprehensive. He's the sweetest boy, but his sleep is all important for him, and any disturbances in his sleep brings about a huge furore in the house. Considering we have booked a flight in the wee hours of the morning, I expect to deal with tantrums at 4am in the airport. Oh Joy!
As you can gather, this is more a break for the kids than for me or K. We are primarily going to do kid-oriented activities, and give Dubai's more sophisticated offerings such as shopping, and fine dining, a miss.
With some preliminary googling, I discovered TimeOut Dubai Kids, and it's a fabulous resource for kid-friendly Dubai fun, and I have already earmarked some places that we are considering visiting.
Party with Penguins in Dubai
Of late, Piglet has suddenly demonstrated a lot of love for animals – right from the neighborhood cat to the wild animals that he sees in his board books. He is particularly fascinated by penguins, and so I think a visit to Ski Dubai to play in the snow and visit with penguins will blow Piglet's mind.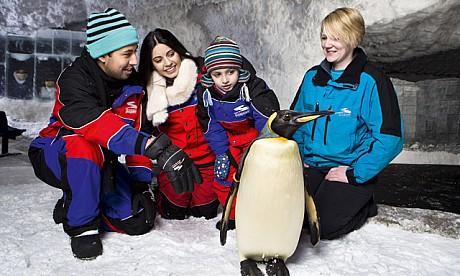 I just know Piglet will love this
Dubai Aquarium
Again, this visit is to indulge Piglet's newfound interest in animals. I look forward to showing him the underwater tunnel and the king croc, which is a new addition to the aquarium. I am sure the water baby that is Snubnose will also love the aquarium.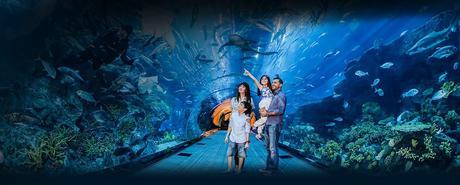 The underwater tunnel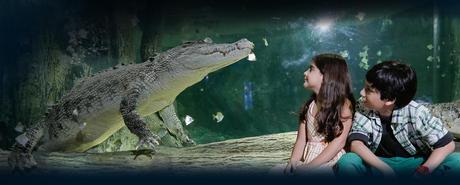 Face to face with the king croc
Aquaventure
This is for Snubnose primarily. She loves water and she loves rides (she's totally fearless!), so I know she's gonna have a blast with this one. Plus, from what I see on the web, it seems like they have added a lot of family friendly rides for small children, and so I hope there is something for my timid little Piglet as well. He's not very fond of rides and stuff, but if there is nothing that he feels comfortable on, he can kill time with his dad in the wave pool, or a lazy river boat ride, or on the beach. Fingers crossed on that!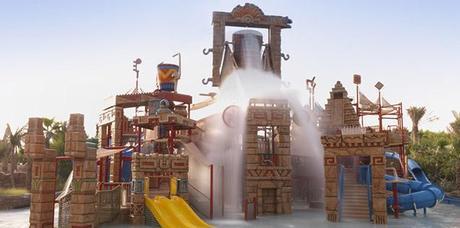 Doesn't it look so much fun!
Swimming with Dolphins
One of Snubnose's friends went to Singapore over the summer and had a blast swimming with dolphins over there. She came back and gushed to Snubnose, and ever since Snubnose talks about wanting to swim with dolphins.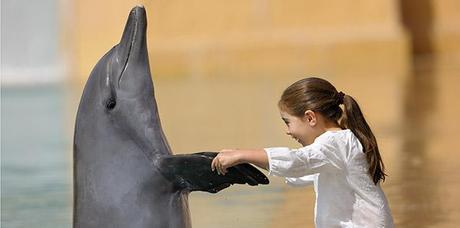 A photo op with a dolphin
I could satisfy her craving in Dubai as there is swimming with dolphins at The Atlantis, but I am not very sure it is worth it. Are dolphins really all that safe? There were recent newspaper reports about a dolphin biting a girl in SeaWorld. Plus I feel we are overdosing on the animals here.
The Tallest Buildings in Town
Apart from the above, we are looking forward to doing the regular tourist attractions as well.
Last year, Snubnose learnt a lot about Dubai's tallest buildings, and so we will make the rounds of all the burjs in town – Burj Al Arab, Al Jumeirah, and whichever tall building Snubnose fancies taking a closer look at.
Another idea Snubnose is putting forth is doing a helicopter tour of Dubai so that she can see the Palm Islands from Dubai. I am going to nip this one right in the bud, and show them to her from the plane itself

. None of these activities are a bargain, and when you are paying in dirhams times four (for all of us), this is definitely not bargain travel.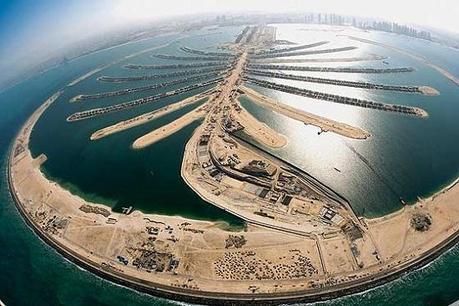 While I plan this adventure, I am just so bogged down by how much luggage we need to take with us. I am a pretty minimalist packer when it comes to me, myself, and I. But when I add Snubnose and (particularly Piglet) to the mix, I just know we are going to be carrying almost half our house along with us when we go. Just the thought of doing international travel with Piglet's diaper kit, his stroller, his toys and books, I know he's going to add them all to our bags, why he does it even when we go for short outings within Bangalore itself! and possibly his car seat? I don't know, are car seats mandatory in Dubai? Sigh! So much work and research still left to do! I am getting tired just at the thought of it.
Have you been to Dubai? What places have you visited and recommend? Right now we are just in the process of planning the trip. Only our flight tickets are booked, we still need to get our visas, and possibly pre-purchase tickets to the attractions, so recommendations on places to visit are welcome

.