Since college I had been trying out different shampoos, conditioner, lotions and soaps specially when something new comes out in the market. Now I have decided to stick to one particular brand or product so I'd smell the same everyday and people would remember me for that.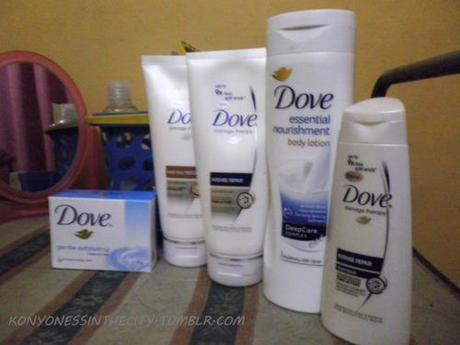 When Dove came out in the Philippine market I took months to observe if what they advertise was for real.
Here's my unbiased observations…
I love dove products because:
1. The soap doesn't give me a flaky skin.
2. The shampoo and even the deodorant smells great, it lasts up the whole day.
3. The conditioner gives my hair a shiny effect plus no split ends.
4. Deodorant is fast absorbing.
I hate it because:
1. The lotion is sticky and takes time to be absorbed.
2. The soap has fake counterfeits. I was once a victim too when I tried buying from a grocery store. I threw it away because it smells awful.
The good factors are much more than the bad so I think I'd be sticking up with Dove for a long time.