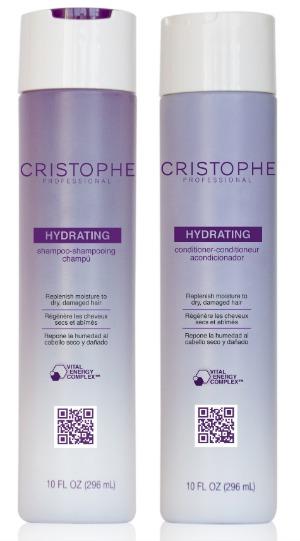 I have a confession: one of my favorite past-times is to head to my local drugstore and peruse the beauty aisles for awesome products (or what I like to call Drugstore Discoveries). Nothing beats discovering an awesome product that performs like an expensive version…for a fraction of the price. Total. Shopping. Nirvana.
This week's discovery? Christophe Hydrating Shampoo and Conditioner. Beverly Hills celebrity hairstylist Christophe recently launched his first hair care line, Cristophe Beverly Hills Hair Care, offering amazing salon quality hair care line at drug store prices (a man after my budget-saving heart)! Here's the strand-loving skinny, beauties:
Tresses 411: Cristophe Professional hair care products feature high-performance ingredients including UV protectors that protect against sun damage and color fading, creatine to provide strength and improve elasticity and vitamin C for shine and vibrancy (emphasis on shine!). This shampoo and conditioner add mega moisture and nourishment to create soft, silky tresses. And the best part? These gems are paraben-free.
Why you'll love 'em: This shampoo and conditioner perform like high-end, paraben-free versions for a fraction of the cost. For around 8 bucks each you can buy salon quality products that will provide major hydration and uber shine (win, win)!
You can find these drugstore gems ($7.99 each) and the rest of Christophe's hair care line at your local CVS. Happy hydrating, locks lovers!
Any drugstore discoveries you're obsessed with right now? Share 'em in the comments box below!
Crows' Feet, Cupcakes, and Cellulite does not accept compensation for reviews. Samples may have been provided. Opinions are 100% the author's own.