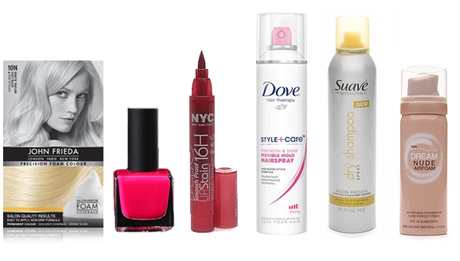 A few months back, I did a post about my favorite drugstore beauty products. Since then, I've discovered a few more fantastic gems that don't break the bank.
(From left to right)
John Frieda, Hair Foam ($11.99):  In general, the new breed of foam hair color has completely changed my life. I've been coloring my hair for years now (for the record, yes I'm a natural blonde but I'm not THIS blonde!) and while I was decent with the old school bottles, this simplifies things like whoa. And the John Frieda brand (in extra light blonde) is my current favorite -- if only because the post-color conditioner is amazing.
UO Nail Polish in Hot Tub ($5 or 2 for $8): Ok fine this isn't from a drugstore but it's $5 at UO and it's seriously the best neon pink. It's a bit matte so I recommend a topcoat to finish it off.
NYC 16H Lipstain in Rock on Ruby ($4.49): I love red lipstick but it's challenging to wear during the day when you have a gazillion meetings and lunches. This lipstain makes me looks super cool and I don't have to reapply all day long (though it doesn't actually last a full 16 hours -- more like five or six, which I still think is plenty). 
Dove Style + Care Flexible Hold Hairspray ($4.89): Hair spray is my jam. I wear it everyday -- even when I don't really need it. (I may have a slight addiction). This Dove spray gives me fabulous volume without stickiness.
Suave Professionals Dry Shampoo ($3.49): If you haven't heard about this rockin' dry shampoo (and its fantastic smell) -- you must be living under a rock. Because it really is the greatest thing ever for refreshing day-old, dreary hair (and oily roots).
Maybelline Foam Dream Nude Foundation ($10.99): I've heard mixed reviews about this foam foundation but I'm a huge fan. It offers sheer coverage -- more than a tinted moisturizer but less than a typical foundation -- and blends nicely with my skin tone.