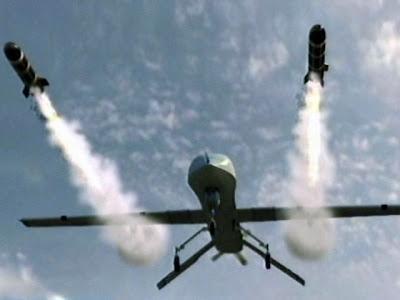 Unless you've been living under a rock somewhere, you know that the United States uses drones (remotely-piloted aircraft) to attack persons considered to be an enemy. I personally don't have a problem with the use of drones in a war zone (although I generally disapprove of war itself). If war has been declared, then there is going to be killing in a war zone (by soldiers of both sides). It just makes sense to use a method of killing that protects your own soldiers.
But the United States doesn't just use drone attacks in a declared war zone. We have used drones to attack people considered to be enemies in many countries -- countries that we are not at war with. And many times it is done without the knowledge or permission of the country in question. That is an act of war -- and the only way we get away with it is because we are the richest and most powerful nation in the world. And a tiny country is very unlikely to try and strike back, especially if we pay them off.
But there is another, even more important problem, with using drones to attack people we don't like. While the government might like to think drones are a precise instrument that targets and kills only those we want dead, that is not true. It is not uncommon at all for innocent men, women, and children to be killed in the drone attack (collateral damage). And even if one was to consider drone murders to be an ethical way to dispose of an enemy (without charges or trial), there is just no way to defend the killing of innocents when targeting an enemy.
That is my personal opinion, but sadly, it does not seem to be the opinion of a majority of Americans. The Gallup Poll recently surveyed a national random sample of 1,020 adults on March 20th and 21st. The poll had a margin of error of 4 points. Here are some of the results (with the number given being those saying "yes"):
SHOULD WE LAUNCH DRONE ATTACKS AGAINST SUSPECTED TERRORISTS IN OTHER COUNTRIES?
General public...............65%
Democrats...............55%
Independents...............61%
Republicans...............79%
SHOULD WE LAUNCH DRONE ATTACKS IN OTHER COUNTRIES ON U.S. CITIZENS SUSPECTED OF BEING TERRORISTS?
General public...............41%
Democrats...............41%
Independents...............35%
Republicans...............50%
SHOULD WE LAUNCH DRONE ATTACKS ON SUSPECTED TERRORISTS IN THE UNITED STATES?
General public...............25%
Democrats...............21%
Independents...............24%
Republicans...............31%
SHOULD WE LAUNCH DRONE ATTACKS IN THE UNITED STATES ON U.S. CITIZENS SUSPECTED OF BEING TERRORISTS?
General public...............13%
Democrats...............10%
Independents...............12%
Republicans...............21%
The results of this survey of Americans is very troubling. While the Republicans seem slightly more bloodthirsty than the other groups, the truth is that all groups surveyed show Americans are quite willing to kill foreigners in other countries suspected of being terrorists (in spite of the probability of killing innocent foreigners). It is only when the person being attacked is American, or the attacks are located in the U.S., that the majority begins to oppose the action. Why? Isn't a terrorist still terrorist regardless of where he/she may be living?
I can only think of one reason. Far too many Americans think the lives of innocent Americans are more important than the lives of innocent people who are not Americans. That is very troubling. Why should the life of an innocent person be valued less because they were born and live somewhere outside the United States? What (other than selfish interest) makes the life of an American of more value than the lives of people in other countries? Is that even a moral position to hold?
Life is the most precious commodity that any human can have. And that is true regardless of where in this world that life exists. If it is moral to use drones to kill people (many of them innocent) in other countries, then it has to be just as moral to do that in this country. And just the opposite is true -- if it is not moral to use drone attacks in the U.S., then it is not moral to do it in another country. Life is sacred, regardless of citizenship or country of residence.
In short, the morality of using drones to murder civilians is questionable anywhere. The only exception is in a war zone (where the morality of war itself comes into question).