"I drive my car, it is a witness. My license plate, it states my business." The words are from a song by one of the most creative Christian Rock groups ever, Daniel Amos. While I don't listen to Christian Rock much anymore, I've always appreciated the fresh outlook of this particular band, which was, at least in the '80s, ahead of the curve. The lyrics came back to me when reading about a legal suit in New Jersey concerning vanity plates. Like many states, New Jersey has rules against offensive words being spelled out on license plates. When a woman applied for a license reading "8THEIST" it was rejected as "offensive to good taste and decency," according to a story in NJ.com by Thomas Zambito. Trying the application with "BAPTIST" led to no objections. Others have tried other variations on the word "atheist" and have come up with rejections as well. In a country that prides itself on religious freedom, this is ironic, to say the least.
I'm a bit too pragmatic for vanity plates, or even bumper stickers. Having had to commute long distances after being dismissed from my post at Nashotah House, I often thought that I didn't want people to know too much about me by the decoration of my car. The culture wars, played out a few years ago by Jesus fish, Darwin fish, Jesus sharks eating Darwin fish, and so on, seemed an opportunity for aggression to me. Already when I'm driving and someone cuts me off or does some dangerous maneuver in traffic, they frequently bear some paraphernalia advertising Jesus on their bumper. Maybe it's a prayer for protection that allows for stupid driving. It certainly isn't a witness to the "others first" theology that characterized Jesus' teaching.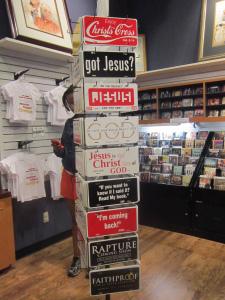 Is it an affront to decency to be an atheist, or only to advertise being one? The culture wars that plague the United States are based on instant prejudices that make decisions about a person without bothering to witness their behavior. Behavior, after all, is the true measure of goodness. Even higher education is not immune to this system, especially in religion departments. We only want to be surrounded by those who believe like us. Somewhere in this unholy mix is the neglected idea of doing the right thing. Ours is a culture in love with appearances. We object when Muslims want to build a mosque. We object when Roman Catholics run for President. Weren't not even sure that we really trust the Presbyterian next door. Our differences, one of the historic strengths of this country, have become a liability. Especially when behind the wheel. How different driving would be if we'd just assume that no what the vehicle says, it is piloted by a human being just like us, no matter who they believe the co-pilot might be.