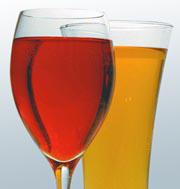 This is some exciting news for international travelers – American Airlines announced that starting February 1, they will begin serving complimentary beer and wine to customers flying in the main cabin on certain international flights.
That's right – free beer and wine will be served on American's flights between the U.S. and Europe, Asia, and certain countries in South America. Hard liquor is not included in the deal. American collaborates with classically trained winemaker and viticulturist Ken Chase on its award-winning wine program, and pays special attention to pairing it appropriately with its food menu.
So this could be a pretty tasty deal
But before you start envisioning the chance to launch your own flying frat party, consider the implications of free drinks on how you'll feel when you arrive at your destination. Doctors consider alcohol to be a key contributor to jet lag. The effects of alcohol are multiplied at altitude, so drinking even small amounts in the air can exacerbate tiredness and make that hangover a little more intense.
The other consideration is dehydration – the air on planes is very dry (they keep it that way because it helps preserve the interior of the plane), and will leave you feeling dehydrated when you land. Alcohol is going to increase dehydration, and make you feel more jet-lagged. So it makes sense to drink plenty while you're airborne – plenty of water that is.
So, if you're flying American internationally, feel free to drink up. But also drink water, and don't get too crazy.
Author: John Miller
John Miller is the president of Miller Media Group. He is an avid traveler and web-surfing junkie.