I managed to spend the previous weekend without taking a single step in to the workshop and yet, I'm still behind on updating you with the little goings-on that I have been progressing with in there. I've found it hard to even find the time to keep my client up-to-date with details for the chopping boards I'm planning to make soon and I'm also aware that I'm already behind with my intention of uploading one YouTube video on a weekly basis… I have plenty of short films in the pipeline so, I'm sure I can catch up before too long.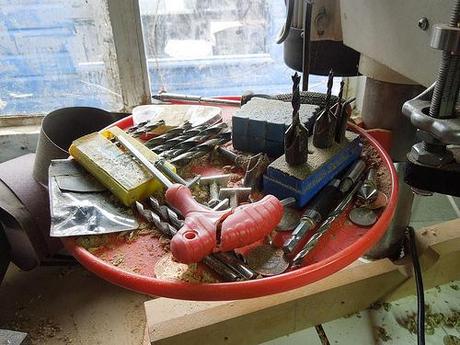 Not-so-drill tidy…
While trying to finalise the arrangement of the mobile base for my site saw/table saw, I spent a bit of time trying to tidy up the storage situation with my drill press…
That's the standard type of drill tidy that you can buy from one of several catalogues and websites, designed to keep important bits (chuck keys and smaller bits) very close to hand. There are holes drilled around the perimeter for the fitting and holding of various common drill bit sizes but, as you can see above; I do not use them.
One issue is presented by the fact that most drills bits sold in a set will come within their own package and casing. For me, it's only become another convenient surface on which to 'dump' things and also, it's the kind of place that attracts many dust particles and chips.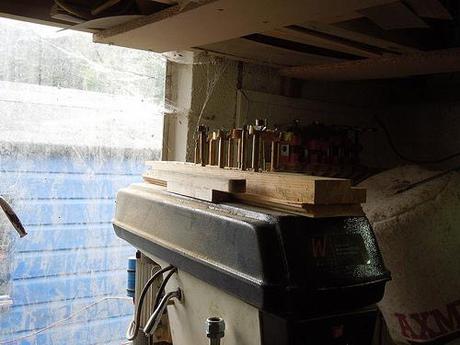 Old forstner storage.
I've amassed quite a collection of cheap forstner bits and, even if I cleared on the drill tidy, I would never be able to sit even a quarter of them on there neatly. Last year, I ended up drilling a length of 4x2in with holes and sticking it to the hood of my drill with rare earth magnets… This neither looks attractive, nor does it provide the most convenient means of storage.
Beneath the table lies a space with storage potential…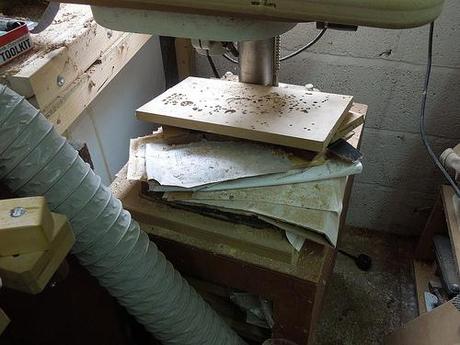 Beneath the table, lies storage potential…
Until recently, it had only been a place for me to dump opened jiffy bags and the odd scrap of MDF I might have used for drilling clean holes without breakout underneath. It's not a 'level' surface with protruding nuts that are used to fix the drill to its plywood cabinet stand so, I decided to look at altering the arrangement.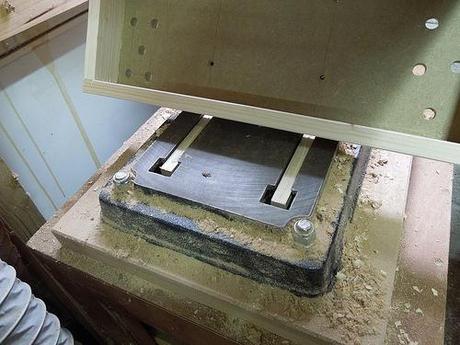 Fitting in to the base.
I started off by cutting and planing two softwood strips until each was a snug fit in its respective slot in within the drill's base. I was surprised to find that one slight varied slightly in width to the other but, as a woodworker, this wasn't an obstacle that was going to stand in my way for too long!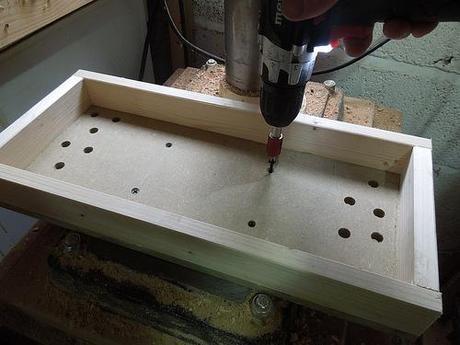 Next, I took a sheet of 12mm MDF – this was actually a cut from the board I used to temporarily bridge the hole in our bathroom floor, before we could get around to replacing it. Around the edges of this board, I fixed a frame of 2x1in battening (each stood on edge) to keep the contents contained within. This construction was screwed down in to the two strips I cut earlier and, in each end of the board where it overhangs the metal base of the drill, I added a series of holes (possibly 12mm?) that would allow for the shank of each forstner bit to drop in.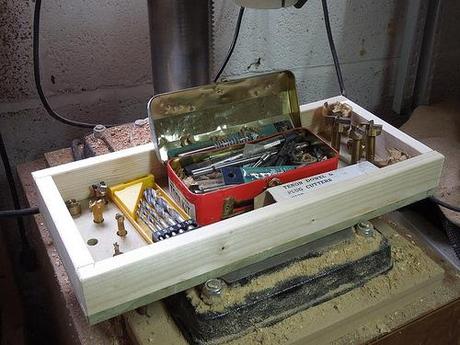 Looking tidy!
I think it's looking tidy, even if I haven't had a chance to 'abuse' it yet.

I sized the tray so that it does not overhang the width of the base unit. To overcome the slight issue of the bolts and nuts sitting proud infront of the tray, I could've fitting a thin packing piece of ply or MDF underneath, which would also allow you to fit a deeper width of tray beneath your own drill. I happen to have just enough holes for my forstners, plus one to spare! That metal/tin box came with a set of chocolate tools I received a few Christmases ago but I wouldn't consider making anything much taller than this as there's then the risk of it fouling the fall of the table, if you need drill a deep hole or work with something quite large. At least this tray isn't fixed to the machine as such. With a little care, you can lift it out of the slots but it doesn't wobble or move freely on its own.
There's still the question of whether or not to do anything with the other drill tidy but then, I also have a stash of drill bits there that I never seem to use anyway. I've seen an alternative upgrade to the drill tidy using an MDF disc – have a look here.
Thanks for reading.
51.455313
-2.591902