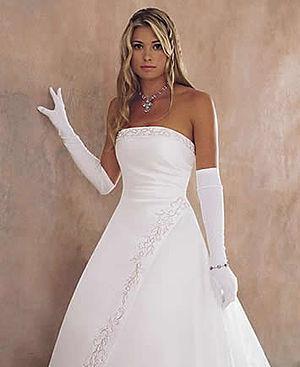 A débutante wearing a traditional white evening ball gown (Photo credit: Wikipedia)
Ah the high school prom – this is what it's all been leading up to. This is the night to impress fellow classmates, jealous ex's and prove that you can scrub up well for a formal occasion. So what are the key things to consider when dressing to impress at the prom?
Well obviously it's a bit different for the guys than it is the gals. Guys, go rent a tuxedo, polish up your shoes and, if you have a date, try and incorporate an item into the same colour scheme as theirs (I went for the bow-tie).
Ladies, it's going to be very different for you – this isn't some standard night on the tiles. Heck, my girlfriend at the time had picked her dress 3 months in advance, 2 sizes too small (so she would be encouraged to lose weight) and had it displayed on the back of her door so she would be constantly reminded.
Now I've consulted my dear friend Jackie on this subject and she's offered this info (sort of like a guest post within a guest post!)…
The dress:
Well this is what it's all about – you could wear camouflage face paint or paint yourself blue and people will still pay the most attention to your dress. However, it's not about making your prom dress overtly noticeable or extravagant – it's all about exuding a natural class and elegance.
The easiest way to achieve this is with a simple ball gown – a flare cut ensures you have the perfect shape without dragging it along the floor. Accessorising with a bolero can you give you that extra edge to look like the belle of the ball.
The shoes:
Heels might seem like a logical choice, but often they can ruin the flow of a ball gown, and since you're going to be dancing all night, there's little worse than having to take them off to apply plasters. Stick with a pair of sandals that match the colour scheme of a clutch bag to tie the whole outfit together.
The make-up:
Finally, stay calm and don't overemphasise. It's fine to accentuate lips with statement lipstick or make your eyes smoulder with smoky eye shadow. Ensure that your make up doesn't clash with ball gowns, as even something as simple as this can throw it all off.
So there we go, now you're sorted for the prom. You've probably still got a few months left until the prom actually hits – ample time to start preparing, budgeting and working up the confidence to ask your sweetheart to dance!
Guest post contributed for UK ladies fashion retailer SheLikes.com home to a fabulous red skater dress.