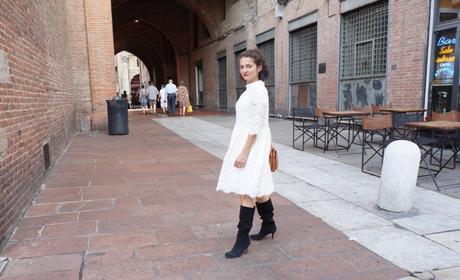 You may remember way back in April I blogged about how my man and I were going to make more of an effort to spend time together and have more experience just the two of us. He usually works until 10/11 pm during the week and we just don't seem to have much time to connect lately. Since decided to put in the effort we've managed to have a few dates and day trips together....alone...as in sans child!
So far we've gone to the ancient port town of Cesenatico, we went to see the incredible installation of massive fabric colored floating piers by the artist Christo on Italy's Iseo Lake and last weekend we spent this lovely day in Bologna and ended up seeing the Edward Hopper exhibit between cocktails, shopping and hanging out.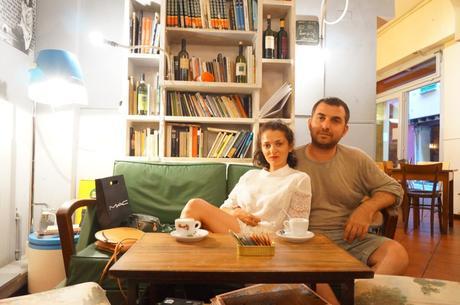 On this particular Saturday we headed to Bologna where we spent the morning with our friend Mauro Poluzzi, a big shot in the Italian fashion world, he owns one of the most fashion-forward luxury shoe boutiques in Bologna - The Mauro Poluzzi Boutique. I've known Mauro for the past 8 years or so, we've had a chance to slowly build our friendship over gourmet Chinese food in Paris and brand scouting in Milan. I am so proud that his latest adventure is taking off in a huge way so stay tuned on the blog for the interview and I'll introduce you to the brand that is under his direction, Mina Buenos Aires. If you want a behind the scenes look at my visit with Mauro checkout my facebook page in the meantime, it was an incredible experience!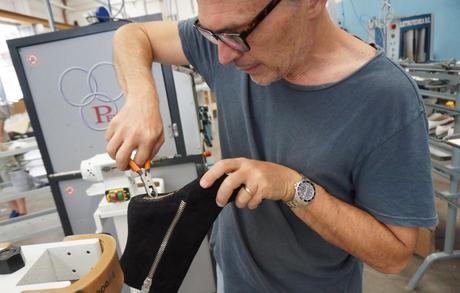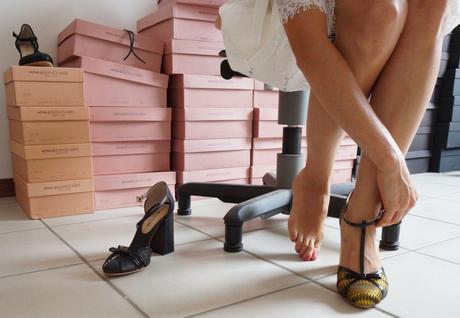 After a morning talking "Made in Italy" and all things luxury with the artisans in his factory, my man and I headed to the centre of Bologna. I've blogged a bit about Bologna and you can find a few different posts that talk about my new found love for this incredible Medieval city here, which in my humble opinion, remains one of the most beautiful and authentic in Italy.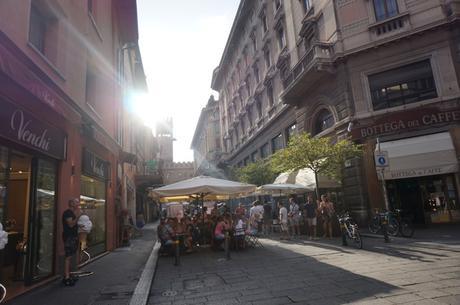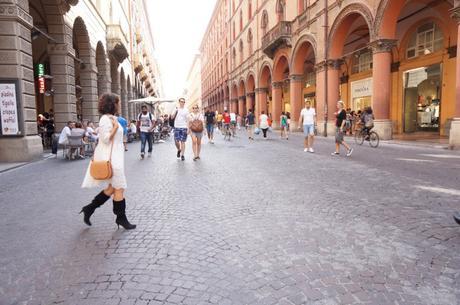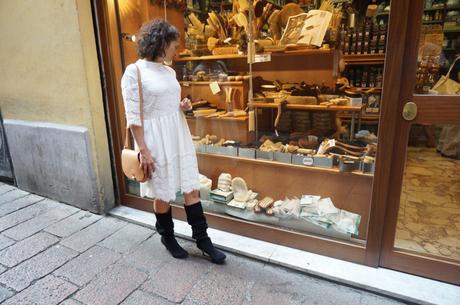 We lived in Bologna for over a year and now, when I visit as a tourist, my awe is reignited in the coolness of this city. It is home to the very first University in all of Europe so subsequently has tons of cool spots to hangout in. It is perpetually changing and reinventing itself, and you can find incredible food, shopping and culture. This also means that there is a rather raw and gritty side to the city that is actually a nice contrast to the polished and "peripheral" vibe in many other parts of Emilia Romagna.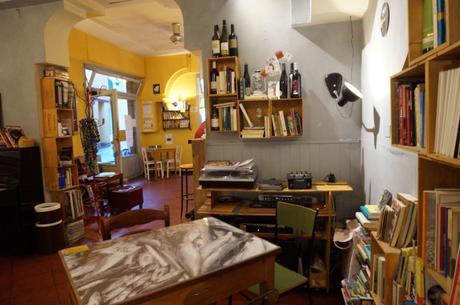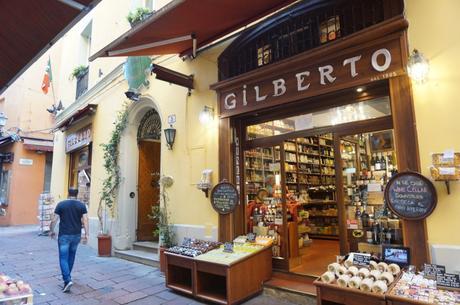 We lunched at a wine bar, had coffee in a urban student spot and had a crepes and an aperitivo in one of my favorite neighborhoods for chic evening cocktails and patios where everyone is seen and everyone is looking!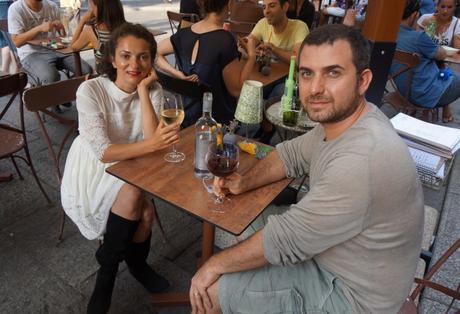 What I Wore - The White Lace Babydoll Dress Trend
It was a little chilly in the morning because of some light rain and since one of the biggest trends right now in the blogger world is the white lace babydoll dress I thought I would take the opportunity to wear my beautiful new lace dress with boots! When I originally wrote this post I went into great lengths about this trend so I just ended up writing another post which I'll publish soon!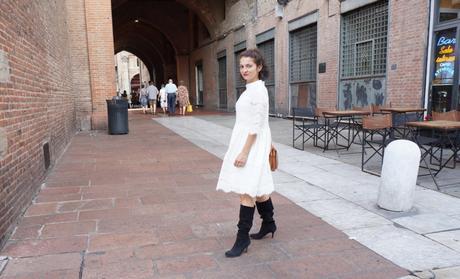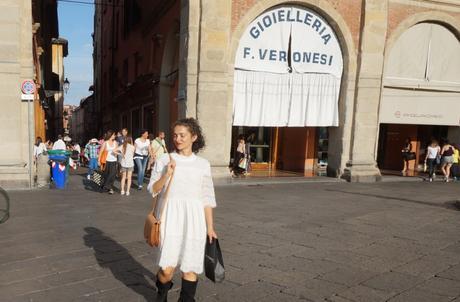 In the fashion blogger sphere and on Instagram this look is making serious waves right now, especially when paired with nude colored sandals or peeptoe heels, but also with simple flats. It is such a romantic and fresh look, and a lot of major bloggers (Chiara Ferragni included) have been loving it.
Working in fashion I see that these trends are actually not so quick to fade and rest assured that this will be around in the fall. The way to wear this trend when the weather starts to change is with slouchy suede boots or over the knee boots and I've started a Pinterest board that looks in-depth into some inspiration ( you can follow me on Pinterest here), but all of this will be in my "Trend Forecast" soon enough!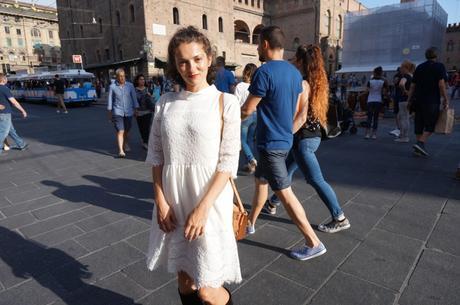 My dress is by the L.A. based brand WAYF - Where Are You From, it is a delicate crepe fabric accented with vintage inspired lace and soft gathers with a wide, banded neckline. This exact dress is still available here ON SALE for 50% off (down from $88 to $44) and available in S,M and L. I am in an S and it was roomy without being too large.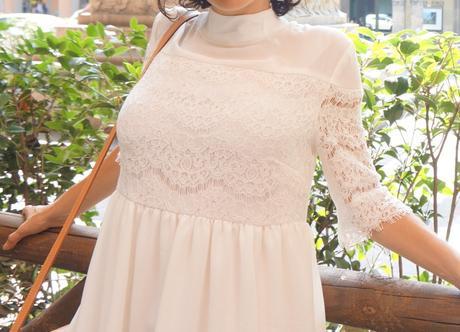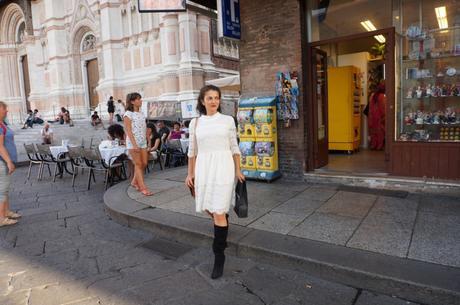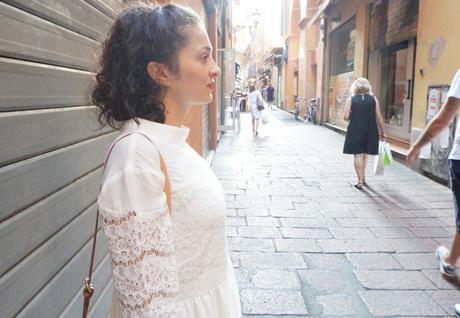 The Demi-Cuissardes - Soft Suede Thigh High Boots
These boots are from the Mina Buenos Aires Collection and I LOVE THEM! Designed by Mauro Poluzzi whose vast experience in women's luxury shoes lends him an incredible sensibility to what women need, what women love and what women want to wear, they are available online via his boutiqu e!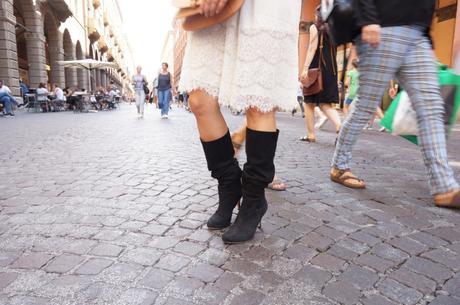 Cuissardes is the French term for a thigh-high or over the knee boot, these "cuissardes demi" arrive at just below the knee. They are entirely Made in Italy with the absolute finest and softest suede so that they can also be worn scrunched up around the calf, folded or high up on the knee, without being bothersome.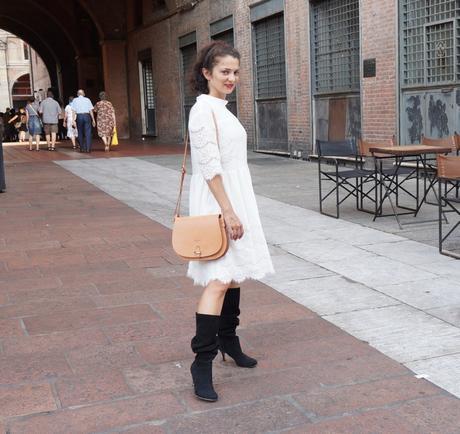 Ask me how I felt in these Mina Buenos Aires boots ....go ahead...ask me!
I felt SEXY! And they were so comfortable (and are true to size, these are a 37 and I am a 36,5/37), plus I was able to wear them for a full 10 hours of walking and sightseeing! Since the suede is the HIGHEST possible quality they are unlined, and the same softness that is found on the exterior of the upper (the leather you see) is the same softness you find on the inside as well. It was like having a soft hug around my legs, and they were surprisingly not hot and could easily be worn in hotter climates like California year round.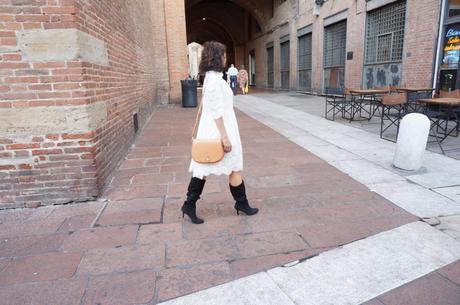 The Real Leather Saddle Bag
My real leather saddle bag is by the historic luxury saddlery brand Boldrini and is exclusively available in Modena through the Francesca Cuoio e Cashmere boutique. You can read all about this boutique, located in one of Modena's most picturesque streets in this post! They do phone orders and will deliver internationally, plus this bag is currently on sale for 164 euro! You can find their phone number and all info here and they speak English!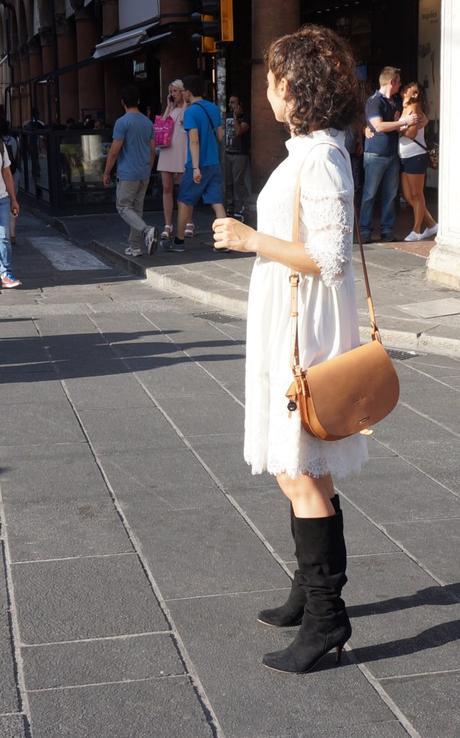 I am actually a bit of a snob when it comes to matching my bag to my shoes and think that too often women over look stunning combinations because they think that they shouldn't wear "brown with black". So let me just share a personal thought.... In my humble opinion dark brown and black is a NO NO. Do not wear black boots with a dark brown bag...please!
However, that being said, tan, light beige, or even monogram printed (think LV) with black is fine as long as no other leather accessories are contrasting. A great combination is always a neutral leather color, and by neutral I mean grey, burgundy, green, taupes and even metallics with either brown or black. But don't be afraid to combine two different leather colors just make sure they are working with each other and not against each other. They should be on the same team - not opposing teams!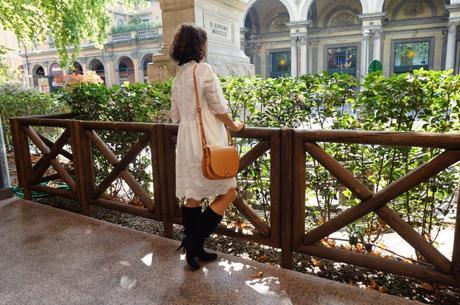 Can't wait to share an in-depth look at the white lace babydoll dress with leather boots trend with you this week and also the interview with Mauro Poluzzi and the new luxury Mina Buenos Aires brand!
I am going through one of my busiest moment EVER right now so please excuse me if I'm not that social or active. I just bought a house, got a new work contract, my son was just operated on, I'm taking him to the beach on Friday, then a day after we get back home we're all going to Canada to see my entire family which hasn't been together in something like 4 YEARS! Oh and I need to organize all of my taxes, mortgage documents, luggage and the list goes on and on and on ... I'm not a very good multi-tasker, and am finding it a little hard to stay on top of everything while prioritizing things like spending quality time with my son and making yummy, delicious food. #help !
I honestly wish I could make more time to comment and be a better blogging friend and a more social blogger, but for now I'm going to have to be content just doing what I can.
Feel free to linkup your looks with me this week and I hope my readers (last month was one of my BEST months for traffic) will love you!
#REASONSTODRESS DRESS TO IMPRESS FASHION BLOGGER LINKUP
Welcome to the #REASONSTODRESS DRESS TO IMPRESS LINKUP for fashion and style bloggers!
This linkup is hosted by REASONS TO DRESS - An Italian lifestyle blog about an expat-Canadian married to an Italian leather artisan. Part of this new linkup is sharing up and coming style bloggers and we're always looking for fabulous co-hosts who will be interviewed and featured - email [email protected] for info!

SHARE YOUR POST ON TWITTER with the hashtag #REASONSTODRESS & you'll get a retweet!
REASONS TO DRESS - An Italian Lifestyle Blog About Fashion, Travel & Life in Italy
THIS WEEK'S BANNER / INSTAGRAM IMAGE :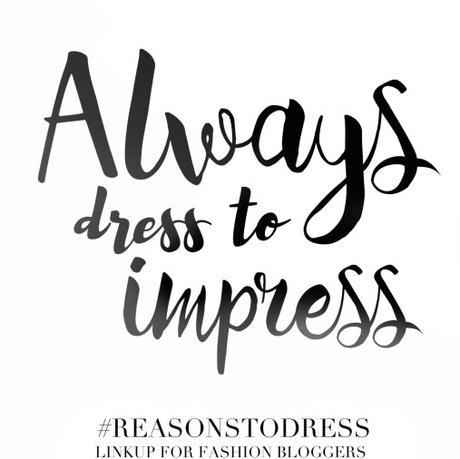 Grab the 200 x 200 version of this banner for your blog post with the code below!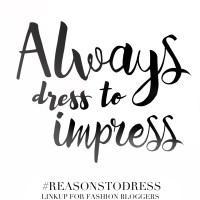 PLEASE : Linkup your STYLE related posts, new and old! Or Linkup a FASHION related picture from Instagram with the hashtag #REASONSTODRESS
PLEASE: Add the badge or a link back to EITHER of the weekly hosts
PLEASE: Follow each host on at least 1 social network , we're friendly, social and generally over-sharers! Let us know that you've followed so that we can share the love!
PLEASE: Please be social and visit a post that interests you. Don't forget to use the #REASONSTODRESS hashtag to let people know how you found them!