I think you've heard by now I'm on vacation with my son in Cattolica.  I wrote about why we're on vacation alone here, and what a day in the life of the Riviera Romagnola is like here.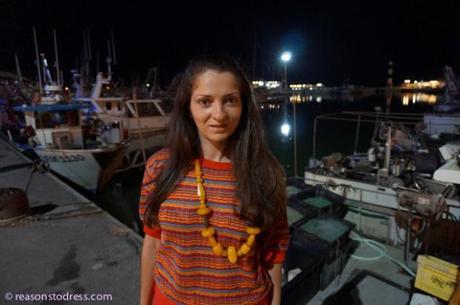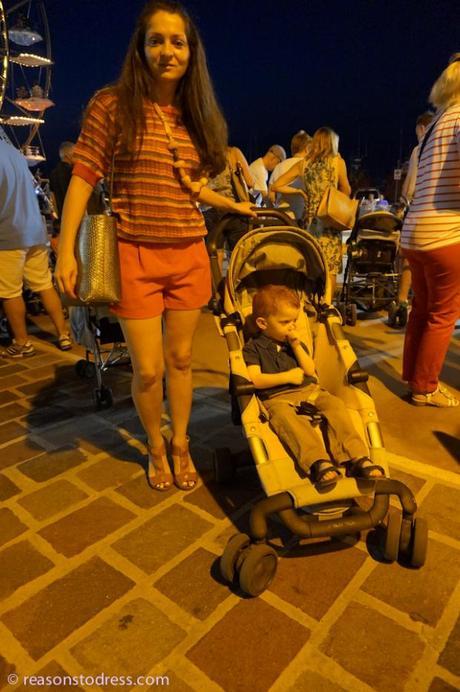 Basically on Friday night we drove from Modena to Cattolica as a family, my man stayed until Sunday and then drove back home alone.  FEAR NOT! I have company, because a girlfriend of mine, from Modena, is also here with her 15 month old son.  Both of our men were with us on Saturday night so we took a walk together to explore the area.
The Reason I Dressed
Last year we were in Cattolica for a week, however, I'm sad to admit I didn't really explore the city much.  I stayed in the more touristy part of the city, which incidentally I also thought was lovely, but it had a completely different vibe from where I am now.  This year, I wanted to find the absolute best bargain, since I'm on a tight vacation budget, so I booked the first place that had the right price.  When we arrived I was pleasantly surprised to discover that we are staying in Cattolica's historic port area.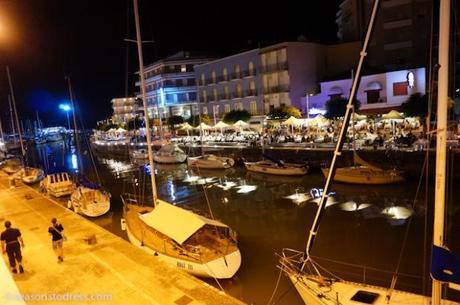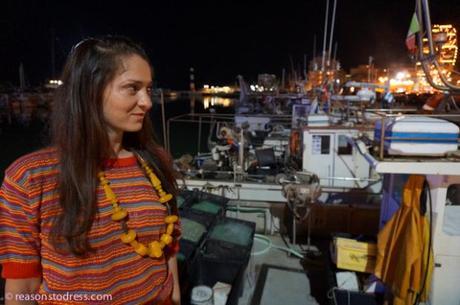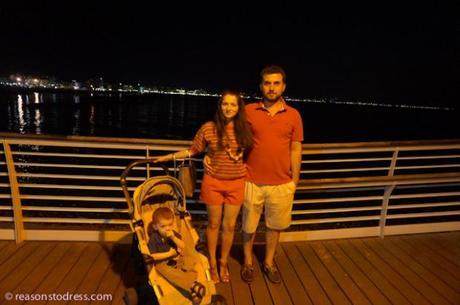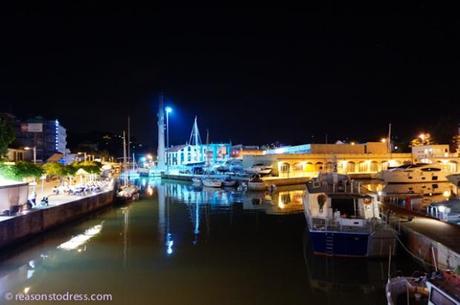 We spent the evening exploring the port area with our friends and I was shocked to discover how beautiful it is!  Did I mention I am fascinated by fishermen, fishing boats and all things fisheresque, even though I don't know anything about fishing?  The dock extends out into a boardwalk that goes out into the sea, and there are bridges all around that connect Cattolica to the next city over.  JUST STUNNING!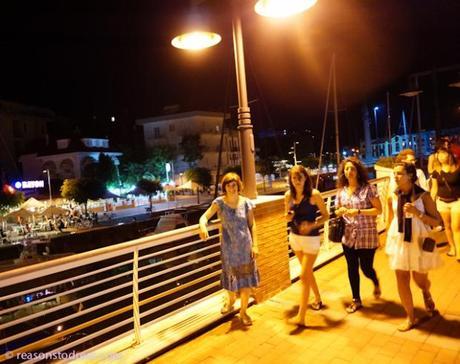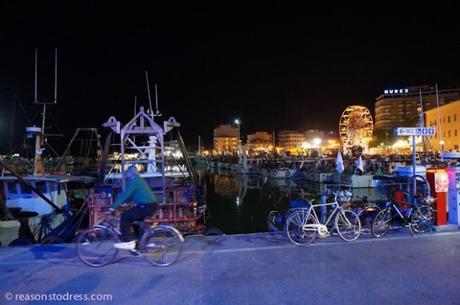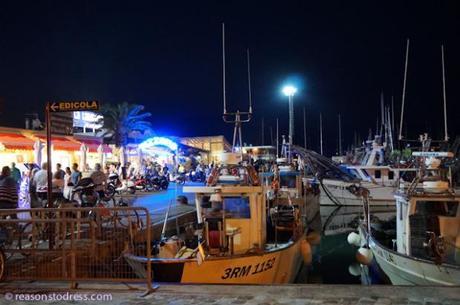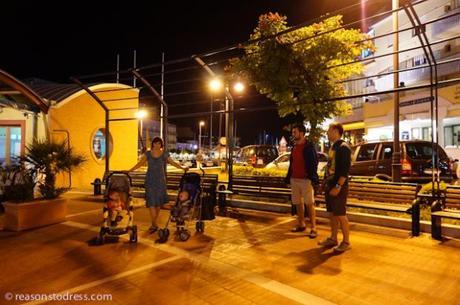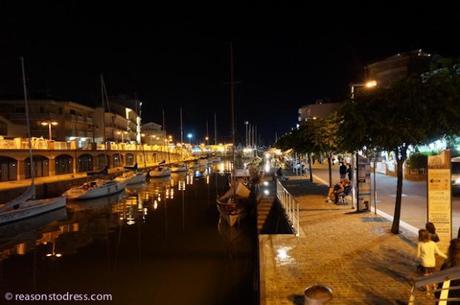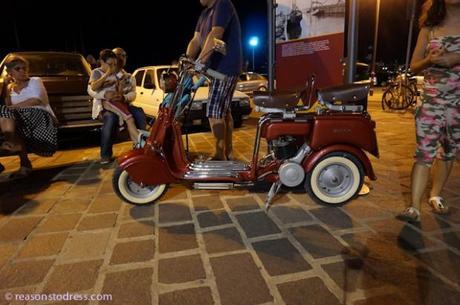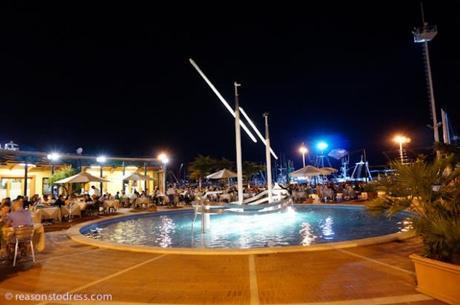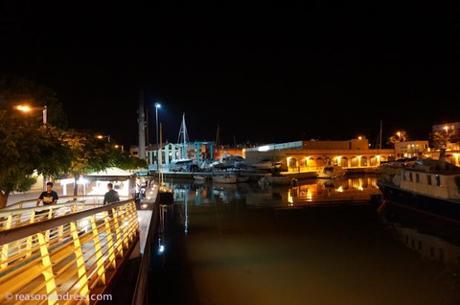 With a name like "Cattolica" I guess I shouldn't be shocked that we stumbled across an outdoor mass, that was being held in one of the Piazzas at the Port with hundreds of people in attendance.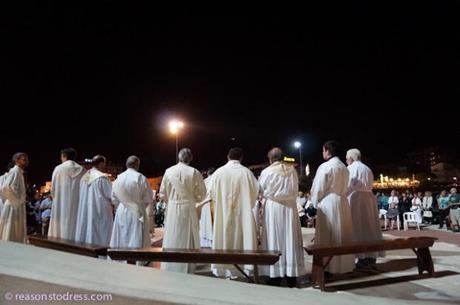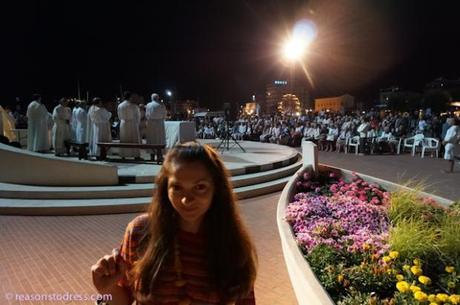 If you are ever in this part of Italy and you are dying for a donut, the people of "Romagna" have something very similar called a "Bombolone"!  It is shaped just like a donut (but is yummier!) and you can get it stuffed with pastry cream ("alla crema") or with sugar.  There are street vendors all around that sell fresh bombolone and the smell is intoxicating!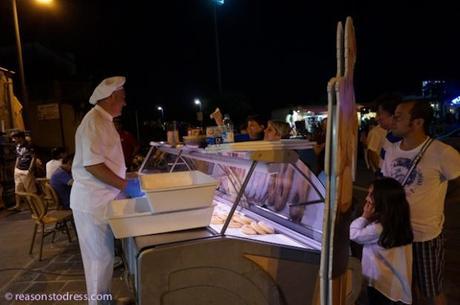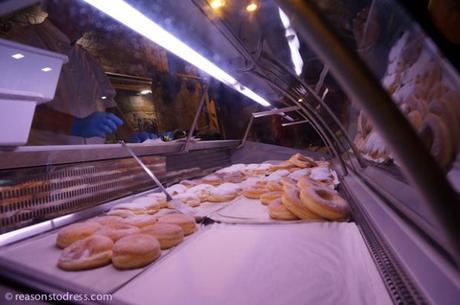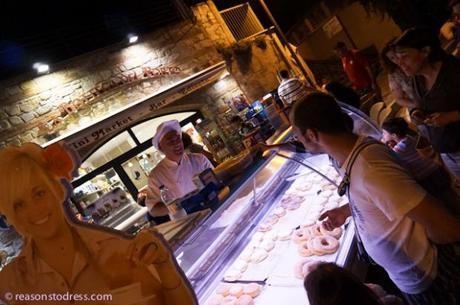 The Riviera Romagnola is a kid mecca (I wrote a bit about it here), and in the evenings you'll find ferris wheels, kiddie arcades and mini baby go carts all around.  Most things cost one euro, just be prepared to spend at least 10, since one ride is never enough!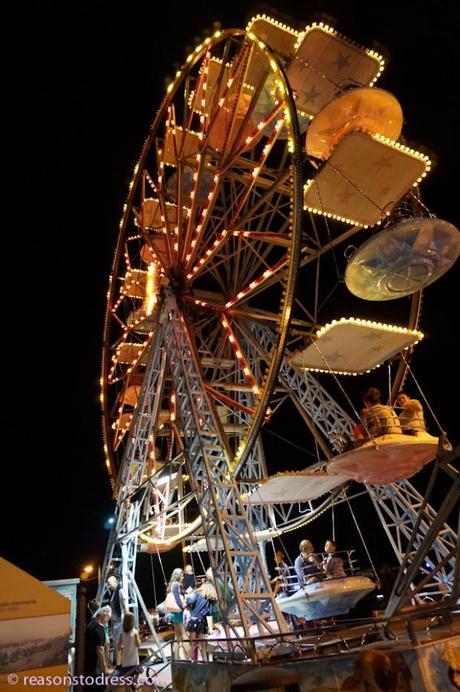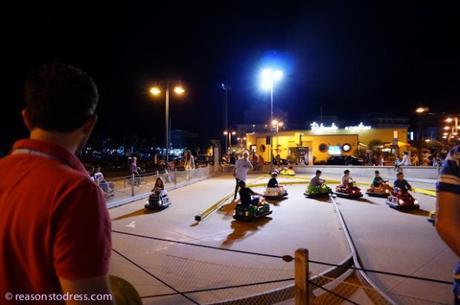 What I Wore
As with any good vacation the evening should be that special time when all moms have the chance to wear heels, make-up and a real purse and not feel silly.  I think this is why cruises remain a popular choice for people, because the evening dinners are usually a little more formal, and people look forward to the opportunity to doll themselves up.  One of the things I love about Italy, is how most woman get dolled-up in the evenings, take this and multiply it by 10 when they're on vacation!
I wore this Missoni inspired knit cropped sleeve sweater.  It is Italian vintage that I found with the original tags still attached (if you want to shop vintage while in Italy I wrote a post to help you find a vintage market!), handmade and hand-dyed!  Oh and I paid 1 euro for it!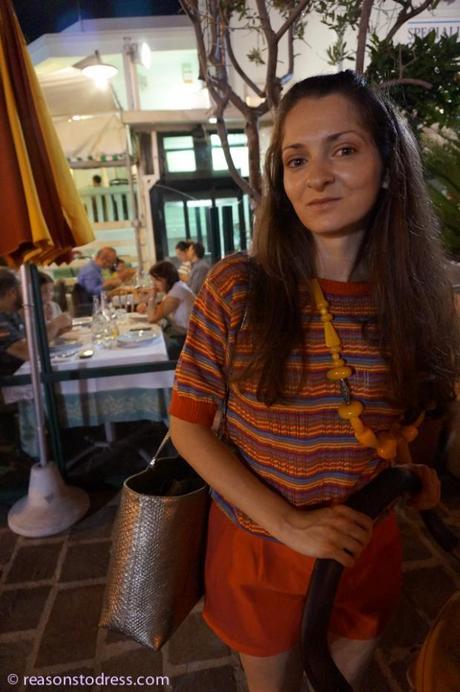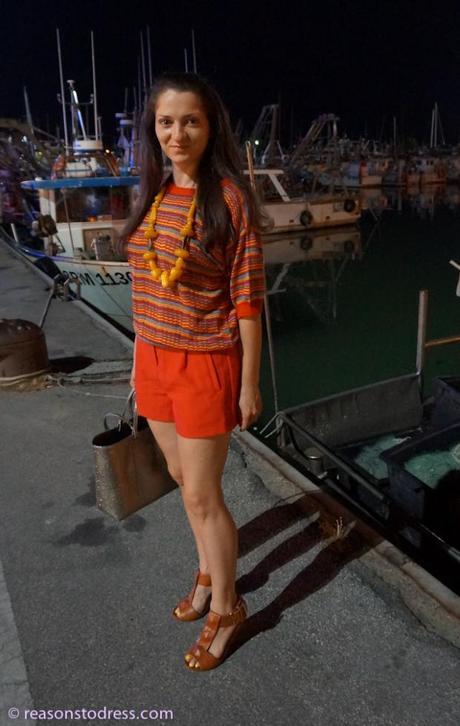 I bought my shorts new online here, they were discounted, and with a temporary online flash sale, ended up being under 10 euro!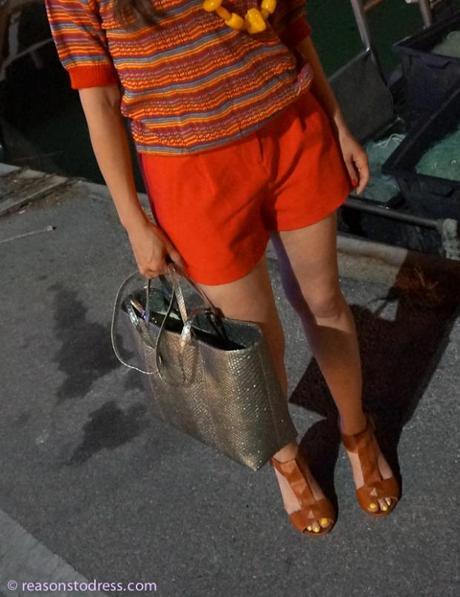 My shoes are by the brand Mea Shadow, they are real leather, incredibly well-made and available here.  They were on sale for under $150!! I bought them for my best friend's wedding and still love them!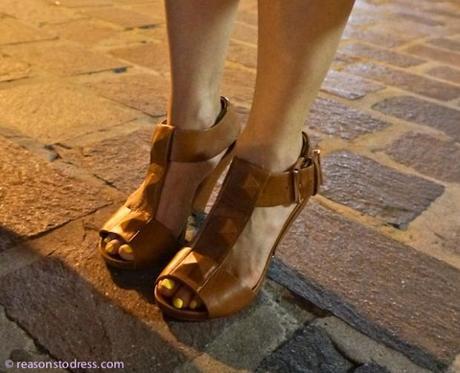 here " class="aligncenter size-full wp-image-4859" data-recalc-dims="1" />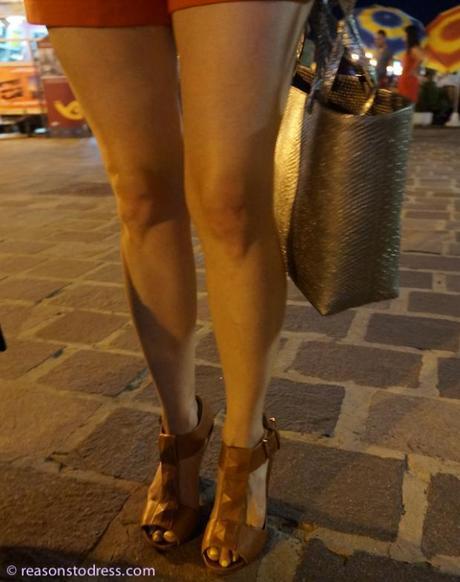 here " class="aligncenter size-full wp-image-4860" data-recalc-dims="1" />
My bag was a gift from my man, it is real python leather and was his design……I guess there are some perks to being married to an exotic leather artisan!
Drive a Hard Bargain
My necklace was bought when I was three months pregnant with my son.  We were on vacation in Sardegna and went to this beautiful market called San Pantaleo.  It jsut so happens that in my blogging journey I have made an online friend!! Her name is Madaline and she blogs over at Pretty Thing & Co,  she is an American expat, also a fashionista, she is also a mom to a beautiful toddler who also happens to live in ROME!!! A while ago she wrote about San Pantaleo, and if you want to see what this stunning Sardegna market looks like, please hop on over to her blog!
You could say I have an online girl crush on her!
In San Pantaleo the market is very chic and for "V.I.P.s",  I couldn't seem to afford anything, but I was approached by one of the illegal African sellers.  Usually, they have a lot of counterfeit LV purses, Gucci sunglasses etc, that don't interest me at all.  But this time he presented me with this necklace.  I don't know what the stone is, but it is very heavy and beautiful.  He wanted 60 euro for it.  Considering I only had 20 in my pocket I said "no thank you" and moved along.
Have you ever been in a situation where you involuntarily start to bargain with a person?  He said "cinquanta" – "50″, and again I said "no, really I only have 20″.
Then I walked away and he came after me and said "ok, va bene, 20, here".  Ummmmm.  I didn't mean to drive such a hard bargain,  really I didn't.  I really only had 20, and I gave it to him and bought this beautiful yellow stone necklace.  It remains one of my absolute favourites.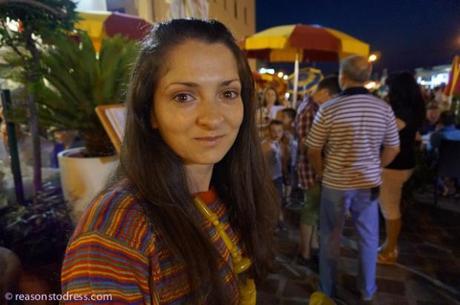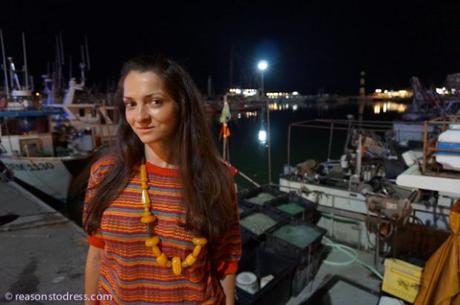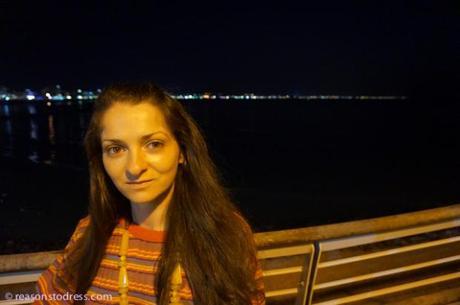 Ok my little guy just woke up from his nap!  If you follow me on Instagram you know that we were the first ones at the beach this morning at 8am and walked the whole shore alone together…..needless to say I tuckered him out.  Now we are going to take the mini train that leaves Cattolica every 30 minutes for the seaside mountain town Gabicce Mare and try to head back before dinner starts in the hotel.
Have a great wednesday and I thank you again for your comments. I will respond to each of them, I read them all MULTIPLE times with a smile on my face, and be sure that if you are a blogger and you leave a link I will definitely visit your blog.


Follow Reasons to Dress through Bloglovin' & get 1 email a day with all the most recent posts from the blogs you love.
 You can find Reasons to Dress on  Facebook, Google +, Twitter, Instagram, Pinterest and Bloglovin'! I love hearing your comments and suggestions, please feel free to share any of my posts with your friends and don't be a stranger!
I'm a Top Mommy Blogger! Reasons to Dress is ranked as a top Fashion and Style Blog for moms, if you'd like to leave a comment about this blog or vote please visit TopMommyBlogs.com …THANK YOU!
Link-ups!
Every week I try to link-up my with these fantastic ladies.
Visit their sites for some inspiration & to discover new bloggers!
Momma in Flip Flop's Real Mom Style, Mama and More and Mother.Wife.Me's #AllAboutYou, Style Elixir's Style Sessions, and her Fab Favorites, The Pleated Poppy's What I Wore Wednesday, My Girlish Whims' Your Whims Wednesday, Because Shana Said So's Random Wednesday, Get Your Pretty On's I Feel Pretty, Perfectly Coutured's Three-fer Thursday, Her & Nicole's Lovely Thursdays, The Life of The Party's Fashion Informant, The Penniless Socialite's Look What I Got, Rachel The Hat's Passion 4 Fashion, Mummy's Got Style's Fashion Friday, Musings of a Housewife's Fashion Friday, Vodka Infused Lemonade's Tres Chic Thursday, Fry Sauce and Grits' Be You Tiful.