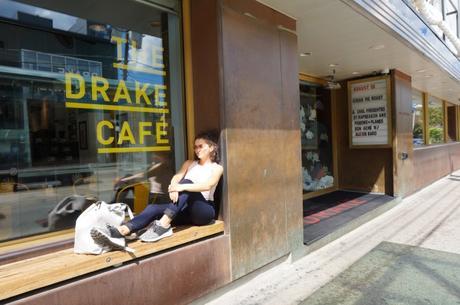 Once upon a time Toronto was filled with factories. Thankfully, many of the old factory warehouses have been converted into cool lofts, commercial spaces, architectural offices and nice areas for a cup of coffee... if nothing else.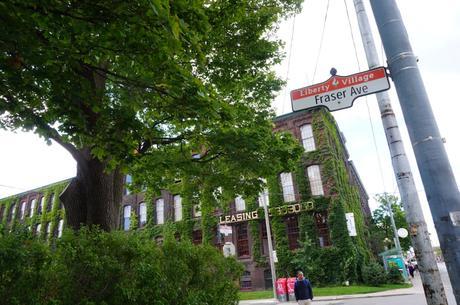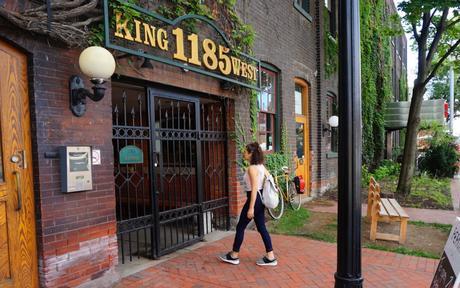 I'm working on a post all about my love of The West End and areas like the Liberty Village, W Queen W, Roncesvalles, Ossington and Bloor W. (As a side note if you know of anyone that happens to be looking for a two bedroom+den townhome in Roncesvalles with 2 bathrooms, parking, a granite counter top and full living room, a pool and all utilities included I can hook you up!).
On this particular day, Marco and I went from area to area, shopping, having coffees, pretending we had places to go and people to meet and gallery hopping. We even sneaked our way into the fancy factory turned advertising agencies of the Liberty Village area just to have a sneak peak at the New York style interiors.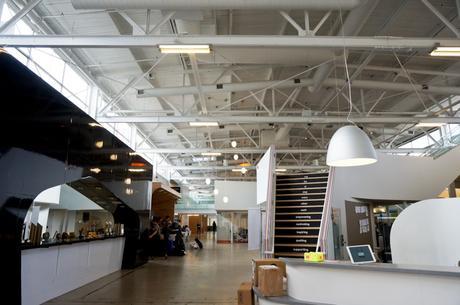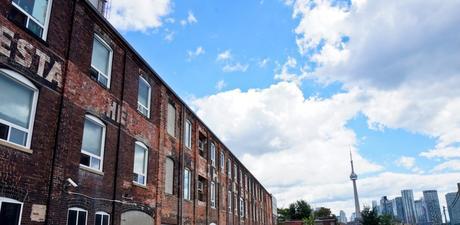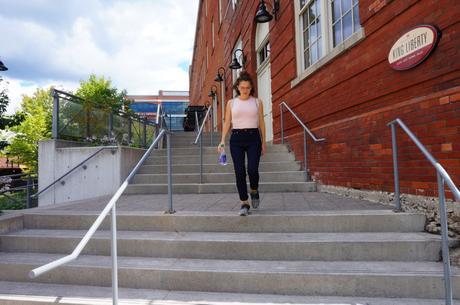 What I Wore
I decided to do some research into Canadian brands this visit and Canadian stores that are up and coming in Toronto. One store/brand that really caught my eye is Muttonhead Apparel, Made in Canada and perfect for the west-end hipster in all of us, they have a great store on Roncesvalles that I will be profiling soon.
Their clothes are a mainly unisex selection of plaids, t-shirts and jeans sold alongside tin cups, leather 6-pack beer holders and men's beard accessories....swoon! My jeans are via Muttonhead but are actually by the brand Naked and Famous Denim. Available here for $130 (Canadian), they are Made in Canada from Japanese (meaning exceptional quality) denim with a high waist that tapers down through the leg.
I LOVE THE FIT of these jeans, and am seriously considering getting them in black (I'm wearing the dark indigo in these photos).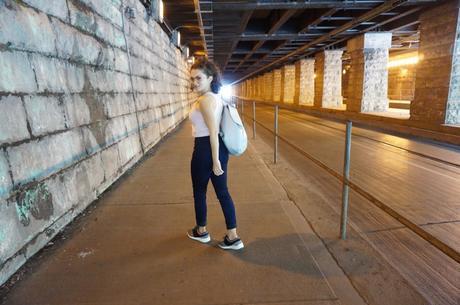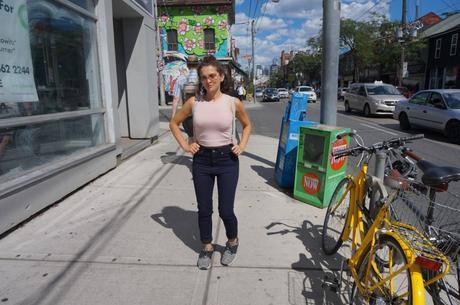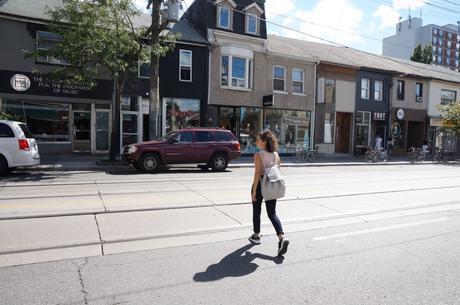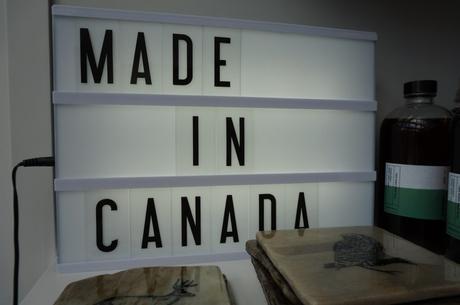 My top is from another Made in Canada focused store that is actually just up the street from Muttonhead in the Roncesvalles area of West Toronto - Ardith. I'm not really one for showing my belly or wearing cropped tops without feeling incredibly uncomfortable, however, this year for some reason I've just said "screw it" and set the belly free (without exaggerating).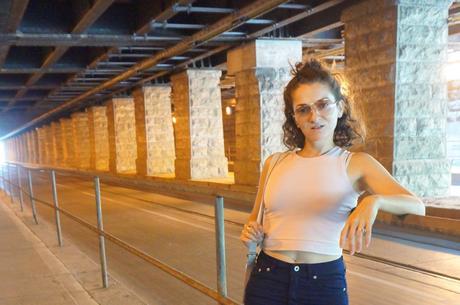 Ardith's items are a little on the pricey side, however they are pretty good quality and it makes me feel good to support local Toronto stores and items Made in Canada. I have a dream that one day the fashion scene in Canada will become increasingly popular, lest we forget that DSQUARED2 are CANADIANS from Winnepeg, and I know a guy who once bought jeans from them from the back of a truck back when they were simply Dean and Dan Caten, two weirdos obsessed with denim!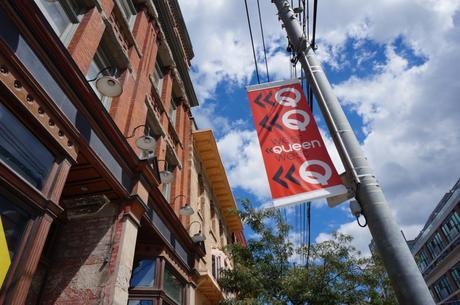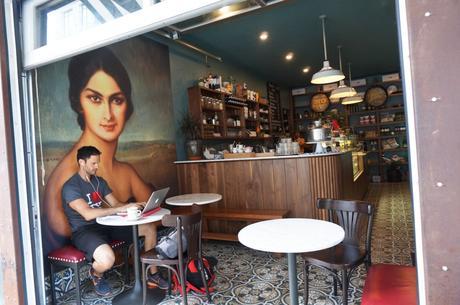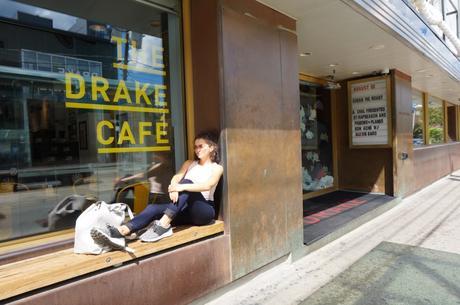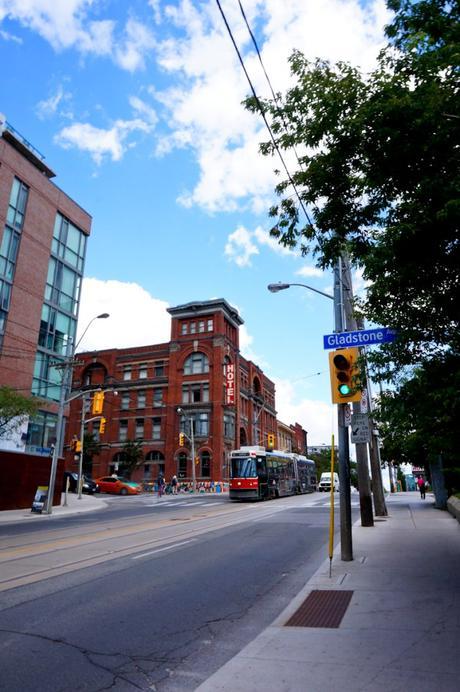 My shoes were bought from a cheap store in Modena because I needed new kicks and these were comfortable enough for running. To be honest they are not that supportive or comfortable for everyday running and next on my list of purchases is a new pair of good quality running shoes, but I just haven't fallen in love with anything yet.
My backpack is from Zara and I an honestly say that it was a great investment as I've used it more than any other bag this summer and EVERYTHING fits inside! My glasses are real crystal lenses with a gradient tint bought at a luxury consignment store. They have the same pair available in a grey tint and I think this week I'll go pick them up because they are my absolute new favorite pair of shades.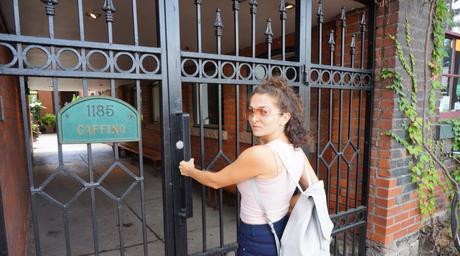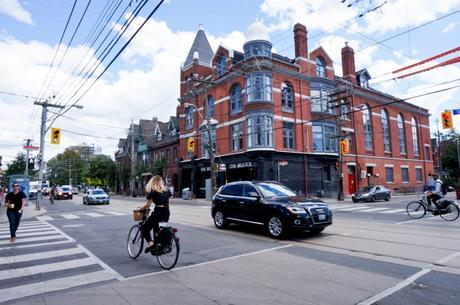 What To Do in the West End of Toronto
Toronto much like other big urban metropolis type cities is a place where you'll want to shop, eat, and of course take selfies in every store mirror you happen to pass! So I present to you the Selfie Guide to Shopping in the West, since I didn't actually buy anything, but I did take a lot of selfies.
SELFIE STOP SHOP N°1 :The Drake Hotel & The Drake General Store
The Drake hotel is a boutique hotel that really started to make a change in the West Queen W area when it opened. It was a totally new concept in Toronto and offered originally designed rooms, a basement space for live events and concerts, a roof top bar, restaurant, cafe and store. Since its original opening the store has branched off and become it's own retail spot across the street from the hotel.
In the store you'll find tons of items that are Made in Canada along with Toronto Blue Jays apparel, gourmet food from around the world, niche sunglasses, clothing and jewlry brands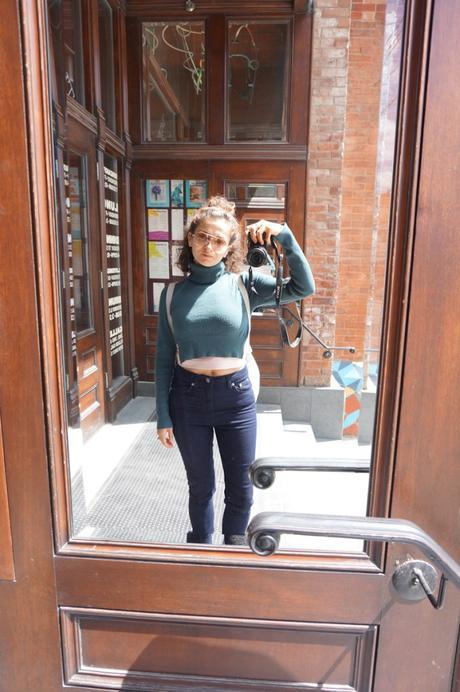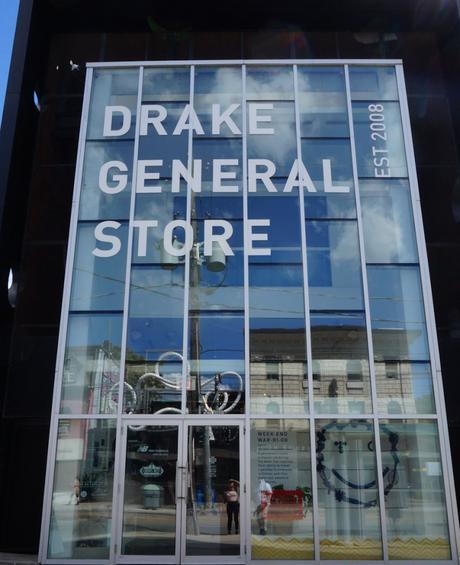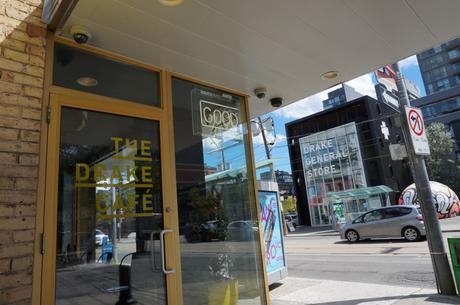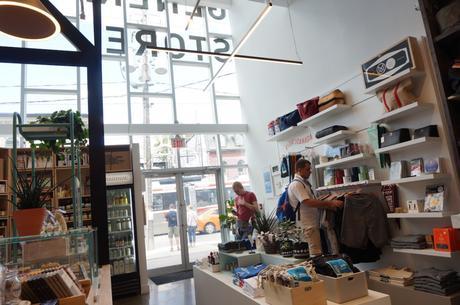 SELFIE STOP SHOP N°2 : Gravity Pope on W Queen W
Gravity Pope is a great alternative to mainstream multi-brand luxury options in Toronto such as Holt Renfrew. I was so impressed by the amount of European designer and niche brands that they carry in this massive two story store along with their own line that were very well made.
Many of their lines are locally made or Made in Canada but they don't limit themselves to MIC exclusively. Most of the shoes, for example, were Made in Italy! Their end of season sales are CRAZY good and if they had my size I would have brought home a pair or two!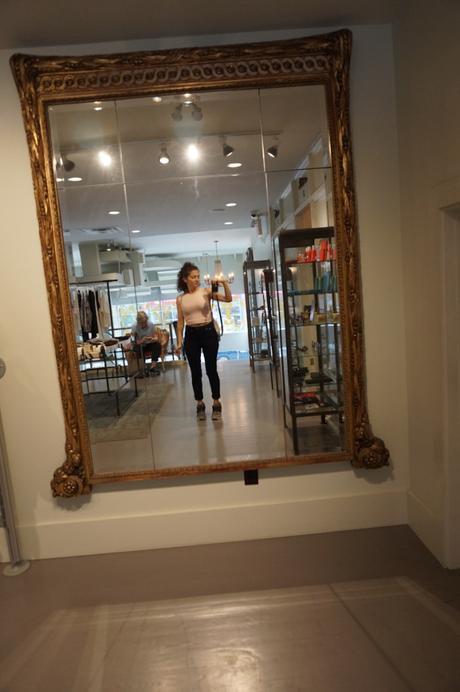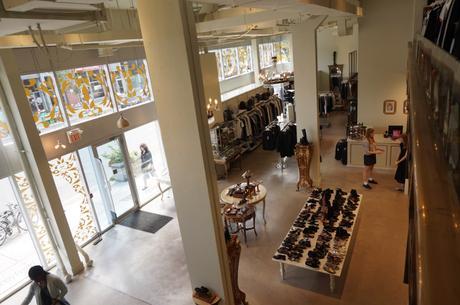 SELFIE STOP SHOP N°3 : MORBA on W Queen W
If only I could buy electrical items in Toronto and use them in Italy! I would spend a small fortune in MORBA every time I visit home. This place is where you'll want to go for the coolest in lighting, furnishings and collectible vintage items.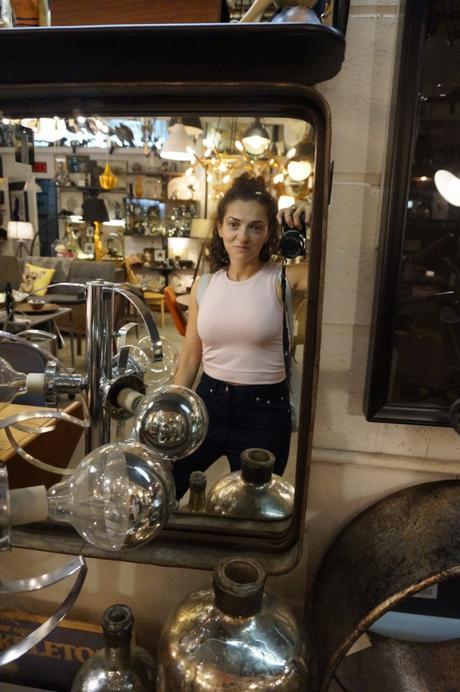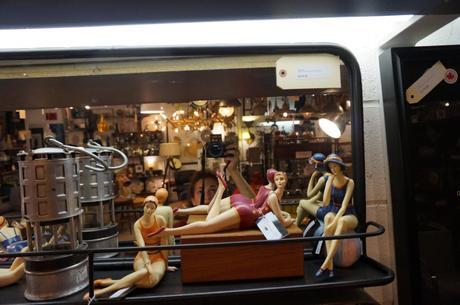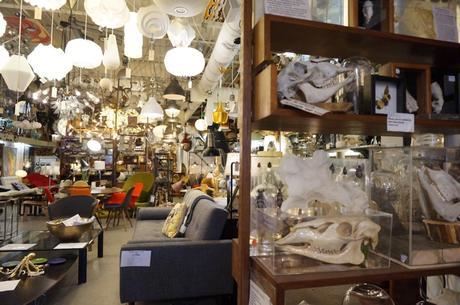 This blog is where I share my love of life with you. Have a great day and enjoy wherever you call home.
#REASONSTODRESS DRESS TO IMPRESS FASHION BLOGGER LINKUP
Welcome to the #REASONSTODRESS DRESS TO IMPRESS LINKUP for fashion and style bloggers!
This linkup is hosted by REASONS TO DRESS - An Italian lifestyle blog about an expat-Canadian married to an Italian leather artisan. Part of this new linkup is sharing up and coming style bloggers and we're always looking for fabulous co-hosts who will be interviewed and featured - email [email protected] for info!

SHARE YOUR POST ON TWITTER with the hashtag #REASONSTODRESS & you'll get a retweet!
REASONS TO DRESS - An Italian Lifestyle Blog About Fashion, Travel & Life in Italy
THIS WEEK'S BANNER / INSTAGRAM IMAGE :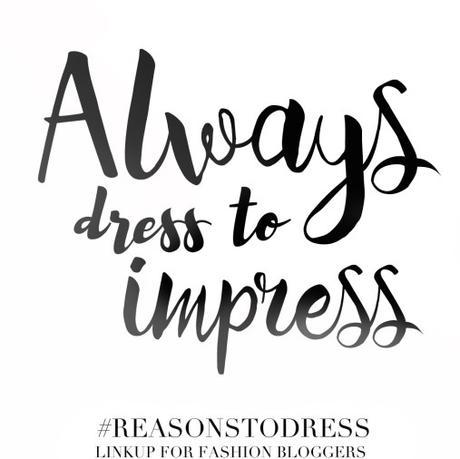 Grab the 200 x 200 version of this banner for your blog post with the code below!
PLEASE : Linkup your STYLE related posts, new and old! Or Linkup a FASHION related picture from Instagram with the hashtag #REASONSTODRESS
PLEASE: Add the badge or a link back to EITHER of the weekly hosts
PLEASE: Follow each host on at least 1 social network , we're friendly, social and generally over-sharers! Let us know that you've followed so that we can share the love!
PLEASE: Please be social and visit a post that interests you. Don't forget to use the #REASONSTODRESS hashtag to let people know how you found them!