Hey,

I personally find it really hard to know what to wear in Spring time. It looks warm, and then turns cold and then just rains, great.... It's just a complete nightmare! The ladies at Warehouse have complied a little guide of what to wear this Spring which I thought had some really cool advice and suggested dresses I would share with you guys. 
Spring may not yet be in the air at the moment, what with the snow and ice, but your thoughts should be turning to what dresses should be in your wardrobe ready for when the first green shoots of spring emerge with some March and April sun. Here are five dresses that will mark you at as an individual, but also someone who knows what the spring trends are judging by what's been going down the catwalks in Paris, London, Milan and New York recently 
1. Leather
Yep, you're reading this right! Spring-weather leather is going to be hot. It seems that the fashion houses can't get enough leather on the catwalks recently, and even if we have warm weather in spring, it's going to be leather-time. Forget flowery femininity, if you want to turn heads this Easter, then parade out in a badass black leather dress!  If you can't bear the thought of black in spring, then there are other colours, but take my word for it, leather will be everywhere soon!
2. Black and White
I know, I know, Spring should be for lemons and greens, pastels and hint of tints… but believe me black and white was everywhere recently on the New York catwalks. Some with more than a hint of 1960's retro, others with cutting edge out-there designs. But the two extremes of color (or non-colour if you want to be pedantic) will be all over the place this spring, like a checkerboard rash!
3. Peek-a-boo Dresses
By that I mean dresses where there will be hints of skin and flesh on show. Not too much, but just enough to make you provocative and sexy. Whether it's a slash, a split, a porthole, a diamond cut or some loose folds over a gap, you'll be flashing some bareness this spring. Whereabouts and in what style is up to you, but go check your wardrobe now, and if there's nothing that fits the bill, then shop now and flash the slash this March

4. Beads and SequinsAfter the 2012 Brocade fest, this year looks to mark an outing for beads, sequins and glittery sewn-on things in general. So whether it's Russia folk jewellery, Indian wedding paraphernalia, or rhinestone-arama, make sure there's some on your spring dresses. It doesn't have to be ostentatious and OTT- a little can be a lot of you get my dress-drift. Here's one you can wear for formal or informal occasions- a sequin and lace bodycon dress: 5. Animal/TribalYep, I know that there's almost no season that goes by when at least one of the big fashion houses isn't peddling dresses with African tribal or animal skin themes. It looks like spring is going to be awash with jungle-inspired dresses. Let's just hope the weather's going to be warm and that we won't all be shivering underneath our new spring acquisitions!I hope this has given you a glimpse of what's going to be vital-wear in the dress department this spring.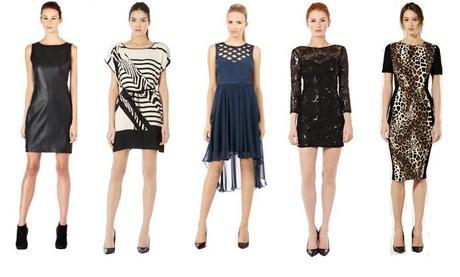 Happy Shopping!
p.s. I hope it stops snowing! :(
Jessie
xoxo