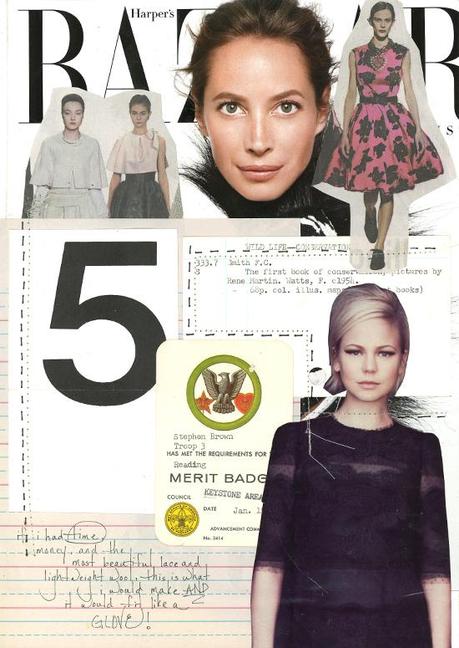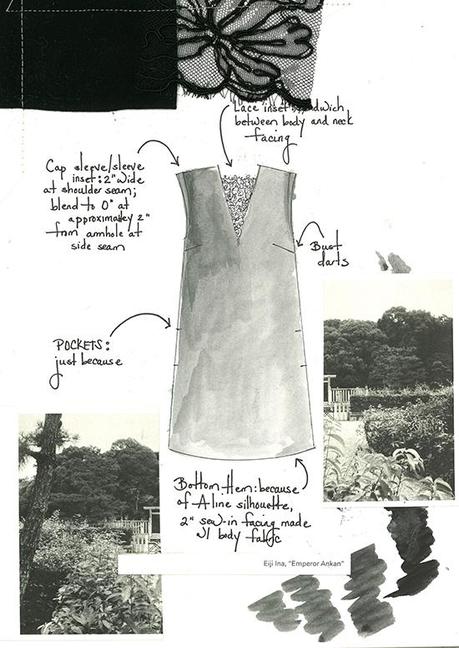 What do you dream of while your sleeping? Amy once wrote that she fell asleep thinking about the pattern shapes of garments, or underwear. What's on my mind when the "z's" hit is a little less technically and a little more inspirational. I think of the things I would make if I had all the time, money, and materials in the world. "Oh, I'd make that… with this fabric… and attach this trim… and sew this bias binding…." I imagine it all because, hey, it's my imagination and anything goes.
This imaginary creation (mood board is first image – sketch is second image) would be a simple A-line dress. Made with a lightweight wool (no, not cotton), it would have a cap sleeve and a lace panel inserted at the CF (for modesty, I'm not a cleavage type of girl). Pockets, of course, but other than that, that's it. Simple, simple, simple… Audrey Hepburn… that's what I am going for.
With all this pent up sewing mojo I have lately (I've been sewing up a storm!), I might get around to making this! Until then, I'll keep dreaming.