The writing of many of my stories mostly start the same way—they were inspired by stories while I was growing up and now they include stories from my expanded world as an adult.  Everything I have ever written, I think, are, in varying degrees, semi-autobiographical.
When I was asked to write the Insular Life kiddie financial literacy series, I thought the readers needed a realistic story they could relate to, whether personally or through a classmate who had had a similar experience. And so I sought to write about kids with real-life concerns.  As a five-year-old preschooler, my son Anton was of not much help with the questions I asked myself:  What do kids worry about now? How did they cope? In starting to write, one wonders where one must begin a story.  And the answer I've been getting all these years has been consistent. I realize that, for me, the best starting point for a story has always been myself—my childhood, my present circumstances, my thoughts and view of the world. I don't think it's possible otherwise.
The directions for the Insular Life series were pretty pat: no mention of Insular Life brand or their products, stories must involve and empower the child reader into taking pro-active steps in helping build the family wealth, and stories must be aimed at the middle reader (ages 8 to 12) so it was going to be a storybook, rather than a picture book.
Some projects practically write themselves.  As a little girl, I did have problems that had to do with my family's financial status, and from a young age, I had been sensitive to the differences in my family's financial status with that of my classmates', and this had been a source of my inferiority complex.  We didn't eat out (for the same amount, my dad said we could have a feast at home), we rarely went to the cinema, we were given clothes or books instead of toys at Christmas, etc.  On the other hand, I had a classmate named Marjorie who had a new watch every week, had a tin Barbie lunch box with Thermos that I envied, and who celebrated her eleventh birthday by bringing our whole fifth grade class to their family fishpond in Bulacan.  Marjorie and I were classmates from the second to the sixth grades; she was also my very first art patron as she bought the paper dolls I drew on the cardboard backing of our writing pads (at 25 centavos) as well as the dresses (5 centavos each) I made for them.  Marjorie had also once pitted me in a drawing match with Beatrice, a girl from the morning classes.  There was no money involved, though.  But looking back now, I can see how she was so proud to be my friend and how she believed so much in my talent for drawing.
So many of these snippets of details of my childhood memory found their way into The Luckiest Girl In the World, the first book. I had written down Marjorie as the name of the poor little rich girl in my drafts as a working name. I decided to keep it, however, because I thought it was perfect, and because the Marjorie I had created evolved to a completely different little girl from the inspiration—her mom was a nurse in UK (one of our classmates' moms was a nurse in the US) and so she lived with her lola (grandmother).
Growing up, I wasn't too crazy about my name. One of the names I fancied for myself was Carmina.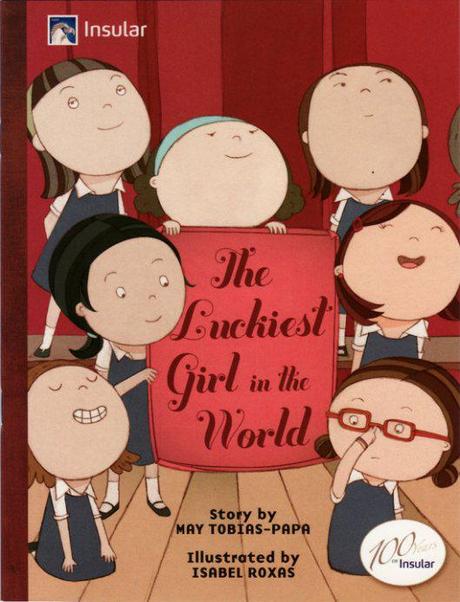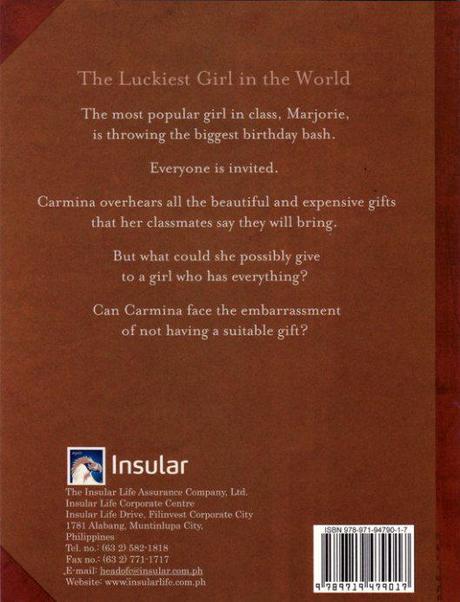 I got the project, my publisher Ani told me, because the client from Insular Life liked "Araw sa Palengke" which was illustrated by Isabel Roxas, art directed by Jordan Santos and published by Adarna House, and so they got the whole team back together again.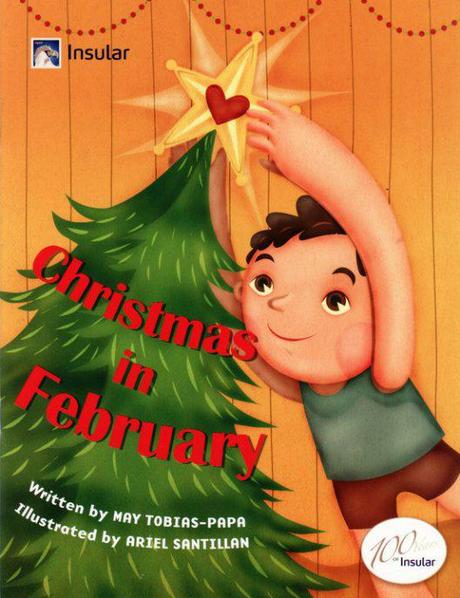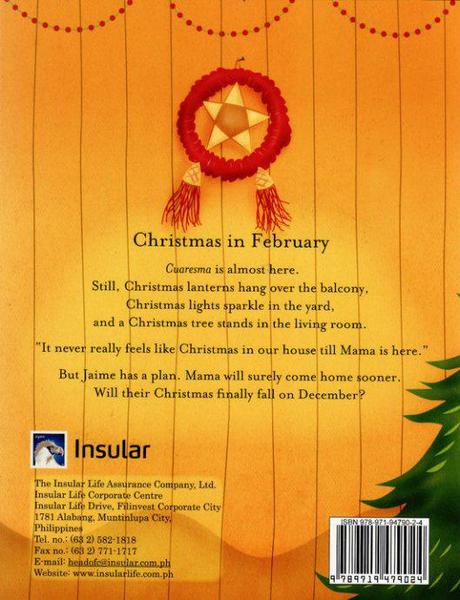 Christmas in February was loosely inspired by the stories from a friendship I'd formed over the years, first through Friendster and Multiply, then through Facebook, with a woman who shares the same surname as my husband.  She and her husband work in UK, and their only child, a very smart and precocious little boy, lives with his grandparents.  Her sharings of her insights on motherhood, on working abroad, on being away from her only child are so touching and inspiring.
Insular Life wanted a story which featured children of Pinoys who worked overseas, because they want these kids to value their parents' heroic sacrifice and consequently manage their allowances well.  Aside from this, Insular Life wanted the kids to realize that they can help their parents in their own little way by saving up so that they will be reunited sooner. Needless to say, Christmas in February was a bit more difficult to write, because I didn't have the experience of working abroad at all, and I haven't experienced being away from my child for a long time. But my parents, who were sketched as their younger selves as Carmina's parents in The Luckiest Girl in the World, reappear this time as inspirations for Jaime's grandpa and grandma who figure prominently in the story, with their sage advice on financial matters.
My parents came with me and my son to closing activity of the Insular Life Book Caravan at the 2010 Manila International Book Fair. Excerpts from the books were read as they were presented, and I saw how my parents turned both misty-eyed as they listened to Kuya Jay Menes. I was only too happy to show them that their stories and lessons all these years were not wasted on me, after all— because I listened.
Christmas in February was illustrated by the very talented young artist, Ariel Santillan.
Writing tip:  To form the outline for my stories, it helps for me to imagine the blurb on the cover of the book I want to write. I didn't write the back cover blurbs for the Insular Life books, but I think it's pretty much the way they would read if I had written them.  You must be able to pick out clearly the essential parts of your story and see how these contribute and flow into an integrated whole, so you will know where to take the story.