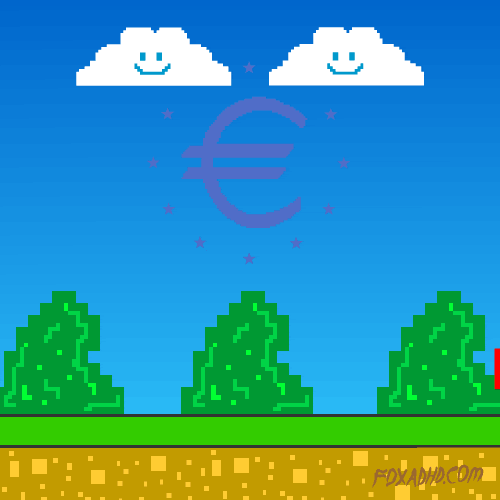 I've got Draghi fever, she's got Draghi fever
We've got Draghi fever, we're in debt
She's gone Dollar crazy, I've gone Euro hazy
Ain't no thinking maybe, we're in Debt
The ECB kept rates on hold this morning but that doesn't matter.
What matters is the unveiling of Mr. Draghi's mad plan to boost the EU Economy (such as it is) through a bond-buying program of AT LEAST $55Bn per month.  Anything less than that will be VERY DISAPPOINTING as the markets have already baked in some massive QE from Draghi and the ECB.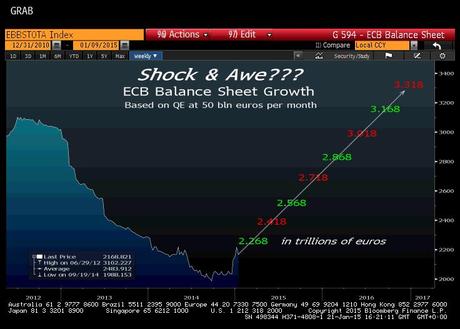 Realistically, there's almost nothing Draghi can do to "fix" Europe today or to meet the inflated expectations of the market.  
Sure we may get a pop on a nice program but it's not likely to last and we still have the Greek elections on Sunday, which can throw the whole Union back into turmoil next week.
As you can see from the chart above, Draghi is expected to annound a stimulus program that already puts the ECB's balance sheet back to where it was at the height of the Greek crisis (the 2nd one) and that's without (officially) a new Greek crisis – so it's a Hell of a lot of firepower spent just to fight the deflationary bogey-man.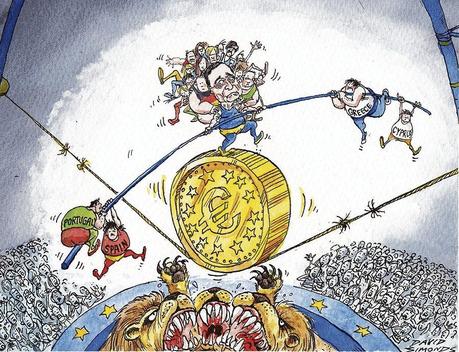 As noted by Bloomberg, Draghi still has to negotiate the tricky issue of buying government bonds at the negative yields currently prevailing across much of the euro zone. Paying for the privilege of storing money in, say, a three-year French bond effectively locks in a capital loss if you get back less than you paid.
A lawyer could argue that that constitutes "monetary financing" of governments, which is forbidden by the monetary union treaty. Draghi has already seen off one legal challenge to his power to buy bonds; that fight may be rekindled in the near future.
8:40 Update:  Draghi announces 60Bn Euros per month of easing ($70Bn), so 20% more than expected and it's through Septermber 2016, at least!  That sent our Futures up over our bullish target levels (see early morning Member Chat) and we'll stay long but flip SHORT on the Futures if the following levels fail:
Dow (/YM) 17,600
S&P (/ES) 2,040
Nasdaq (/NQ) 4,200 
Russell (/TF) 1,175
The Dollar is holding around the 93 level with the Euro at $1.157.  The Pound is $1.517 and there's 118 Yen to the Dollar at the moment.  Oil is $48.25, gasoline $1.34, Nat Gas $2.925, Gold $1,293, Silver $18.25 and Copper $2.58.  These are the benchmarks we'll be watching to see how investors are taking Draghi's announcement.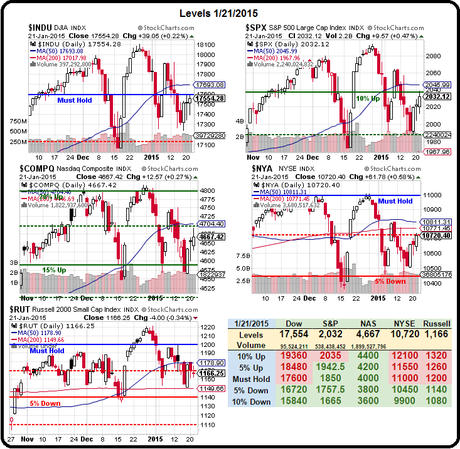 On the whole, it's not enough and it doesn't change a thing.  We'll get a short-term pop today (which we already played long) but we'll be flipping back to bearish into the Greek elections this weekend, not to mention the continuation of weak earnings reports from US and European companies. 
Don't forget, we're not even at a strong bounce line on the Russell until we hit 1,185 so I'm predicting we will fail it and head back down.  On the whole, this is a math formula and $70Bn a month is simply not worth more than 7 S&P points and we finished yesterday at 2,032, so 2,040 is likely to be our top (the line I predicted in our Live Member Chat Room 3 hours ago).
This is NOT enough stimulus to change anything and there are conditions on the lending that will piss Greece and other peripheral nations off so we're thrilled to hit the shorts off the Draghi news – tune in tomorrow and I'll tell you how much we made!  
Do you know someone who would benefit from this information? We can send your friend a strictly confidential, one-time email telling them about this information. Your privacy and your friend's privacy is your business... no spam!
Click here and tell a friend!