Northern Iowa's Terrell Sinkfield runs a blazing 4.19 40 at Minnesota's pro day

By Jay Busbee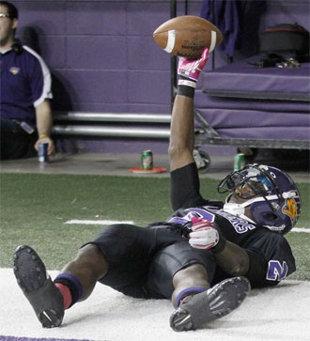 Terrell Sinkfield. (Via Cedar Falls Courier)It takes one heck of a fast 40 time to turn heads at combine time. At the University of Minnesota's Pro Day, Northern Iowa's Terrell Sinkfield unleashed one heck of a fast 40 time: 4.19 seconds.
The Titans' Chris Johnson holds the NFL Combine 40 record of 4.24 seconds. Sinkfield's first attempt was 4.27; his second is the one that's going to kick open some doors for him.
Despite his speed, Sinkfield didn't draw much big-school interest, so he enrolled at Northern Iowa. He made the most of his opportunity, leading the team in receiving in his senior year with 43 catches for 499 yards and four touchdowns.
For Sinkfield, having the combine at Minnesota, with scouts from 13 NFL teams in attendance, was a form of redemption: "I just feel like I deserved to be playing here," Sinkfield said of Minnesota. "It was kind of like a dream to play for the Gophers growing up. I pretty much came here with a chip on my shoulder. It was pretty much the plan since high school that I was going to come here (to the combine) and steal the show … Hopefully I opened some eyes and got some interest."
Our Doug Farrar offers up the following scouting report on Mr. Sinkfield:
"As a pure receiver, Sinkfield's speed does show up on tape — both long speed and short-area burst. That's not always the case with track-fast guys. Not only can he blast past defenders when running vertical routes, but he's also developed the ability to scream through coverage on slants and posts. In addition, he's surprisingly aggressive after the catch for a player with his slight frame — he generally gets free and looks for extra yardage once he gets the ball, especially on slants and quick screens. He also tracks the ball well and has the ability to jump over cornerbacks in close coverage. Sinkfield has learned to contort his body in order to catch badly-thrown balls while on the run. He didn't run the entire route package at Northern Iowa, and there will be some serious questions about strength of competition, but when NFL talent evaluators take that 40 time as an excuse to turn on his Northern Iowa tape, there will be some good things to see. Sinkfield could be especially effective as a rotational receiver in an offense where there are a lot of vertical passing concepts, and fades and long sideline routes are the order of the day."
Here's some finely-shot camera phone video of Sinkfield's record-breaker:

So there you go. Looks like the guy might have changed his entire life in 4.19 seconds.