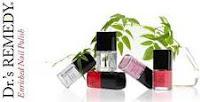 Dr's Remedy : Dr. Adam Cirlincione and Dr. William Spielfogel are well-respected board certified podiatrists who care about the products their patients use. Both doctors have spent years of study and training in the field of podiatry. Although, skilled surgeons, they realize a top reason patients come into their office is because of brittle, discolored nails, often times associated with the harsh chemicals in commercial nail polish.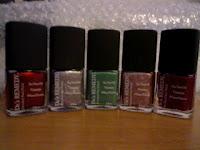 I was lucky enough to experience Dr's Remedy nail polish for the 3rd time. I have had tremendous experience with this company and their products! I love .. and I say love lightly..their products. They have so many amazing colors to choose from. I have reviewed Healing in Heather Grey, Revive in Ruby Red and Desire in Dark Brown - Review. And I also had the amazing experience to review Dr's Remedy in the fall collection - Review.  And now I get to review a few colors I have yet to try in the Seasonal Shades! from Left to Right -  Revive (Ruby Red), Serene in Silver Glitter (NEW), Essential in Emerald (NEW), Resolution in Red Glitter (NEW), and Passion in color Purple (NEW).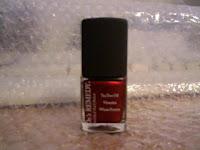 Revive - Ruby Red Every time I look at this color from Dr's REMEDY I fall in love with it all over again. Its so bright and exotic. It makes me think of Dorthy from the Wizard of Oz melting down her glittery red shoes and turning them into nail polish! this is the perfect polish for Christmas with this glam color.  Sexy and Warm.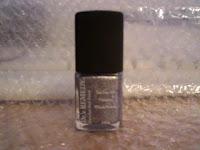 Serene - Silver Glitter looks like little micro diamonds melted down into nail polish with a hint of blue and red stars. This is a beautiful color for any occasion or just to give your nails a glammy look. If I could name this nail polish to make it my own I would name it Surprise Party! It's a fun and flirty glitter polish perfect for any age. I love to decal my nail in glitter polish to give it a young and perky look, and this nail polish will make you be seen a mile away.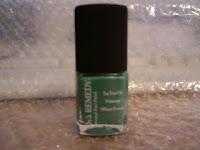 Essential - Emerald I'm not a fan of green by any means. But the Essential in Emerald took my breath away! it's bold green wtih a splat of silver is mesmerizing. I would strut my stuff and be proud wearing Essential. This polish would go great with any outfit I would wear and would take the spotlight. It's bold color would wow any one, and turn heads in an instant. Not into green?..Would would change your mind in a heartbeat. And make it pitter patter.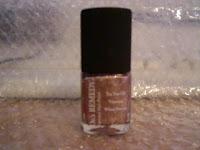 Resolution - Red Glitter i'm in AAWEE ..With this color! It looks like a frofty pink in the picture, but it's actually a light glittery pink with a splat of a brighter pink swirled into it and mixed with love! Yes, it's true as you can tell I'm a super freak when it comes to ..Sigh..Pink! I go GAGA over pink .. It's my trade mark in life. If I could re-name this glitter concoction of love..I would name it Birthday Party, Birthday Cake.That's the vibe I get when I see this pink glitter bottle of fun! This is my favorite. It's almost too pretty to use..Almost!.. You would have so much fun with this one! ♥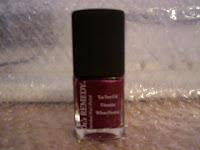 Passion - Purple  I don't know how to explain this purple bottle of goodness..Other then so pretty. The creamy purple shouts Grape Tart. The pretty shimmery purple is so inviting and warm, but also playful and peaceful. This color would make a great statement for any romantic dinner night with Hubby. Or a sexy piece to a long work week. You can use it to spice up a boring outfit or just add color to your already colorful outfit. You won't be disapointed with this bold choice of color.
You can find Dr's REMEDY on Facebook - Here
You can find Dr's REMEDY on Twitter - Here
♥ I receive no monetary compensation for this review.  I was provided Dr's REMEDY to try and give my honest opinion.