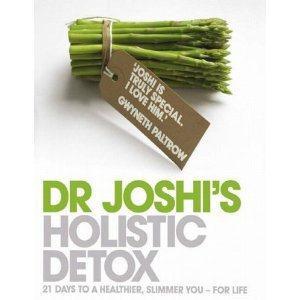 Dr Joshi's Book.
If you'd asked me 2 weeks ago if I was going to do a detox anytime soon I would have just looked at you kinda funny. I had no intentions of doing this! But you know, things happen.
It all started last week when I decided to do a dairy elimination. The whole idea of it makes me want to cry quite frankly because, well, cheese. But, I get eczema and it has been around on and off throughout my life. It was pretty much gone when I fell pregnant but has come back in full force since the birth of Monkey which is uber annoying. I kept thinking that sooner or later it would go away again but no such luck.
Lately, with the warmer weather especially, it is been quite aggravating. So I figured since I got rid of Monkey's eczema by eliminating dairy then maybe I should put my money where my mouth is and have a crack at it myself. So that was last Monday. All good. 
Meanwhile I'd also decided to cut the booze for awhile (1-2 months) and while I was at it ditch the sugar. Sounds like so much fun, right? Wanna come hang out?
Then I saw the acupuncturist last week about a few things and she suggested I cut gluten and citrus fruit too and by then I just thought well hang on, this is sounding like that detox I did a few years ago. I might as well just do that. So I'm doing it.
I actually really love this detox. It has FOOD which is a stand out feature.  It's also effective even if you don't take detox supplements so I'm on board with that. It goes for 21 days and then a further maintenance period where you reintroduce the banned food. I ignored that period last time and just went out drinking and smoking and eating cheese the very day I finished but this time I'm actually really interested in what this reintroduction of eliminated foods might tell me so I'm going the whole hog.
The last time I completed this was 7 years ago and amazingly, there are some features of this detox that still linger in my diet today so it would appear that I did actually learn something. Now that I'm interested in being more healthy on an ongoing basis I'm really interested to see what else I can keep with me as the years move forward.
Things I kept from last time were:
Using Rice Milk as a dairy replacement for cereals and cooking
Eating breakfast daily
Using Tamari instead of Soy Sauce
Using brown rice instead of white
Lemon hot water each morning (this I only manage sporadically but my mom does it every day through my detox advice – go figure)
Not a bad start really.
The purpose of this detox is to rebalance the PH levels in the body. We are meant to be more alkaline but we are actually more acidic through the foods we eat. And acidic foods are sneaky. Things like nuts don't look acidic but when they are processed by your body they are actually acidic. Conversely, lemon, which we all know to be acidic, is actually alkaline once processed by the body. Fascinating stuff.
Despite this the detox list still contains some acidic food. You aren't trying to eliminate the acidity completely, simply to reduce.
Dr Joshi does allow you to include treats if you must; for example a gluten free, dairy free cake, but reminds us they are full of calories and chemicals and most probably sugar which is on the no list. He also says if you must drink booze have vodka and soda with a fresh lime in it. It's the cleanest alcohol out there.
So what's on the naughty and the nice list? NOT CHEESE. Boo. Here are the lists:
Foods to avoid
• Fruit drinks such as orange, grapefruit and orange juice.
• Alcohol, especially wine, champagne and beer.
• All fruit (especially citrus) except ripe bananas.
• Processed, fried and spicy foods, baked beans and pizza.
• Low-and reduced-fat foods – these are usually loaded with sugar, carbs and chemicals.
• Bread, pasta and other wheat and gluten products.
• Dairy foods such as cheese, milk and butter.
• Fizzy drinks, tonic water and carbonated flavoured water.
• Nuts, except pine nuts and seeds.
• Potatoes, aubergines, mushrooms, cucumbers, courgettes, tomatoes, peppers and avocados.
• Red meat – lamb, beef, pork, ham, sausages.
• Shellfish – prawns, mussels, crab, lobster and shrimps.
• Sugar, sweets, chocolate, cakes, biscuits, croissants and muffins.
• Tea and coffee, except green tea and herbal teas such as camomile, rosehip and peppermint.
• Tomato ketchup, vinegar, mustard, sauces and chutneys.
• Yeast and yeast products (check the labels on food products such as soy sauce and pickles).
Foods to increase
• Brown rice.
• Buffalo mozzarella (occasionally as a cheese alternative).
• Dark green vegetables (except avocados which are acidic).
• Eggs (no more than three or four times a week).
• Fish (especially oily fish such as sardines, but not shellfish, tuna or swordfish).
• Freshly made vegetable juice.
• Freshly made vegetable soup.
• Gluten-free oatmeal made with rice milk or water.
• Gluten-free and wheat-free bread and cereal.
• Goats cheese, ricotta cheese, cottage cheese.
• Honey.
• Live yogurt.
• Olive oil.
• Pulses, lentils and chickpeas.
• Salad (excluding tomatoes and peppers) and steamed vegetables.
• Soya and tofu products.
• Soya milk, rice milk and goat's milk.
• White meat-chicken and turkey.
• Salt and pepper allowed in moderation.
It's actually not too hard to cook within these parameters these days but I did need to get my head around the whole thing and look about for recipes. As such, I'll do food diary each week for anyone who need inspiration.
And interestingly enough my eczema is starting to calm down. It's still there, but it's much calmer. The absence of something is obviously doing it but who the hell knows what when I'm excluding things up the whazoo. I'm really interested to see what the coming weeks will bring. Not to mention the weight loss. I'm down 2 kgs since starting the elimination last Monday. Can't say I'm unhappy about that.
As I post this it is day 4 of the detox and I have 2 things to say:
1. I'm getting sick of carrot.
2. There's only so much chicken a person should eat. Must buy more salmon.
3. Sorry, I clearly can't count but there's one more thing: I don't feel as shit as last time I did this. Perhaps I'm less toxic as a baseline? Boo yeah!
*****************************************************
I post Tuesdays and Thursdays so come by and check me out. Woooo!