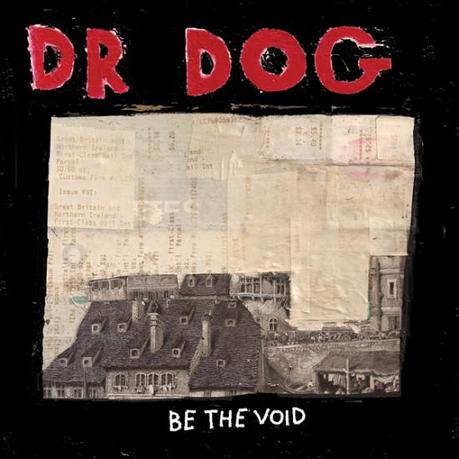 Be The Void, the sixth studio release from Philadelphia's Dr. Dog (@drdogmusic), is trying to prove that old dogs can indeed learn new tricks. Most bands with a discography as strong as theirs have attained footholds in the "indie mainstream", but despite the band's consistently high quality, they've managed to remain just below the radar. Be The Void, though, could be the springboard they need. Jumping back and forth between their Mersey beat psychedelic roots and a more contemporary trash-pop sensibility a la Beck, Dr. Dog is clearly trying to pull in new fans with this release.
Usually more acutely focused on the song than the sounds that create it, Dr. Dog has split their attention on this album, relying more on collages of sound to get their point across than 2008's more precisely architected Fate. The band is right to self-describe Be The Void as "reckless and bold"– they are crashing through these songs with a "who cares" kind of abandon and, most of the time, they're successful. Each track has its own angle on the baroque psych pop they've become known for, though in trying to bring themselves into the in vogue fashions of today's indie mainstream, they focused too much on creating an updated soundscape and not enough on creating songs that have power unto themselves.
Don't get me wrong, Be The Void is a solid album. Dr. Dog's harmonies are as heavenly as ever and Scott McMicken's lyrics are full of folk-tale wisdom. Standout tracks include "These Days", with one of the most hopelessly catchy hooks that's come out in the past few months, "Get Away" a song that sounds like a happy high-five between Fleet Foxes and Fruit Bats, and album closer "Turning the Century", a droning beauty with Indian leanings. That said, while Be The Void is another good release under the storied belt of Dr. Dog, I don't think it will have the same staying power as their earlier albums. Still, nobody can doubt this old dog still has a few good tricks.