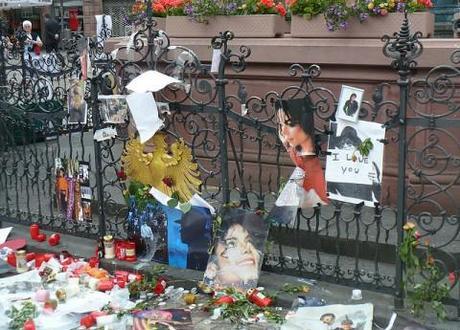 Tributes to Michael Jackson. Photo credit: Buridan, http://flic.kr/p/6B4P6K
Dr Conrad Murray has been found guilty of the involuntary manslaughter of Michael Jackson. The King of Pop died in June 2009, weeks before he was due to embark on a comeback concert tour. The prosecution claimed that Murray, who was paid $150,000 per month to act as the star's private physician, had administered a dose of a strong surgical anaesthetic to Jackson hours before he died.
'Obscene experiment'. Andrew Gumbel reported for The Guardian that the lead prosecutor in the trial described Murray's treatment of Jackson as "an obscene experiment" and said the doctor had betrayed his patient's trust. Murray's defence team claimed that Jackson himself had administered the final, lethal dose of propofol: "The defence did not dispute that Murray was responsible for propofol being in Jackson's home. And they did not dispute that Murray left Jackson alone after administering a dose of it on the morning of his death – even though standard medical practice insists on an anaesthesiologist or qualified technician remaining at the patient's side at all times," wrote Gumbel.
The Associated Press published a detailed profile of the jury who unanimously found Murray guilty. The report contains information on each juror's age and ethnic background, and whether or not they are fans of Michael Jackson.
No bail. Murray was taken straight into custody after the trial. According to The Los Angeles Times, the judge decided to withhold bail on the grounds that the doctor posed a "threat to public safety".
Jubilation. David Gardner and Jennifer Madison reported for The Daily Mail that the verdict was greeted with cheers from Jackson fans outside the court. The Jackson family also welcomed the verdict, they said: "Family matriarch Katherine Jackson said she was confident this would be the outcome of the trial. 'I feel better now,' she said. Jackson's father, Joe, said as he left the courthouse with her: 'Justice was done'."
Paddy Power are taking bets on whether Dr Conrad Murray will serve time in prison; the current odds of the doctor ending up behind bars are 4/5.
Jail time? According to Alan Duke at CNN, Murray's lawyer said the doctor was "confident" he would win an appeal against the verdict, but that their focus for now was on his sentencing, due on 29th November. The maximum penalty Murray could receive is four years in prison. But Alex Dobuzinskis at Reuters suggested the doctor is unlikely to spend much time behind bars: "Legal experts said involuntary manslaughter is not considered a serious felony in California law and carries a stipulation that only 50 percent of any sentence must be served behind bars. Because of jail overcrowding, officials could release him after only months," he said.
Broken. The BBC's David Willis wrote that Jackson's 2005 trial for child sex abuse had left him "a broken man", even though he was acquitted – and that this had caused the insomnia that eventually led the 'Thriller' singer to employ Murray and start taking propofol. Willis suggested that Jackson was too trusting: "Those who knew Michael Jackson well all seem to agree on one thing. Gifted though he was as an entertainer – and, at times, as a businessman – as a judge of character his skills frequently left something to be desired," he said.
According to The Telegraph, Jackson's estate has become a 'money-spinner', generating $310 million by the end of 2010.
Titillation.  David Robson wrote in The Telegraph that Jackson had become a victim of celebrity culture: "We make these people ridiculously rich and famous and in return we treat their lives as an entertainment – a fairy story, a horror show, a source of gossip and amusement, sentimentality and easy moralising; something not to be taken seriously," he said.