Hey everyone!
I was very luckily sent some dr Bronner's products this week. I was sent the 18 in 1 makeup brush cleaner and the magic naked organic balm.
A Bit About Dr Bronner's
Dr Bronner's is a brand that prides itself in being
100% organic
and Fair trade - which makes me want to do a little dance inside. There are no artificial
anything

's
in any of the products produced by the brand.
All of the products have
18 in 1 uses
, literally! You can use these amazing products to brush your teeth, as shower gel, on your hair, on your units, on your pets and even as a makeup brush cleaner.
Celebrity fans
of Dr Bronner's include Gwyneth Paltrow, Lady Gaga, Drew Barrymore, Natalie Portman and Sandra Bullock. With so many people loving this brand, its hard to believe the brand is so
affordable
.
Let's take a look at the products i was sent.
18 In 1 Hemp Green Tea Pure-Castile Soap
Made with organic oils.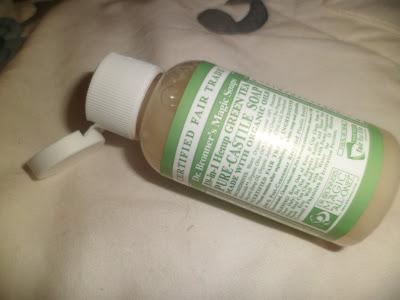 The bottle, as you can see, looks really green and organic, which makes me feel like im actually doing some good when i use it. The bottle is
100% biodegradeable
and it has 18 in 1 uses, like i mentioned above. With that said, this soap is designed to perfectly clean your makeup brushes, and it really does.
Normally when i clean my brushes (once a week) they feel as if they've lost a little bit of their
condition
. Most of my brushes are synthetic, which is probably why, but this Dr Bronner's makes them feel soft and most importantly, clean.
The ingredients in this are
really simple
.
Water, organic coconut oil, potassium hydroxide, organic olive oil, natural green tea, organic hemp oil, organic Jojoba oil, citric acid, tocopherol.
...It smells divine!
Onto Dr Bronner's & Sun Dog's Magic Nake

d Organic Balm
For dry/chapped skin or tattoos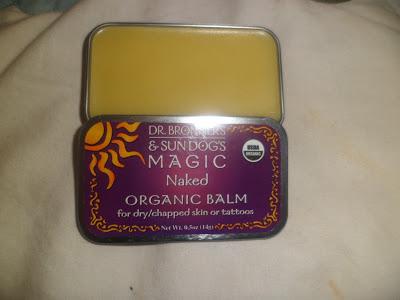 This bad boy is my new 'beauty staple'. I

adore

this balm
This smells of

beeswax

and literally makes me weak at the knees with the amount of love i have for it. You can apply the product anywhere, and it basically is a skin savior. My skin was really dry - Thanks Scottish winter! and i applied this before i went to bed, and in the morning i had

no more dry skin!
My sister applied it to her nose, because she had a cold a couple of weeks ago and her nose was all chapped and it was healed overnight. Now im using this on my ears - my ears get really sor

e and chapped and this has fixed it right up. 
Genuinely, i am going to

buy a few more

of these and sta

sh them away just in case they ever decide to discontinue them.
Again, the ingredients are super simple. All that is in here is jojoba oil, beeswax, avocado, hemp oil and natural tocopherals.

Genius

.
Do you have any Dr.Bronner's products?

am i missing out on anymore? 
ps - you can buy Dr. Bronner's

here