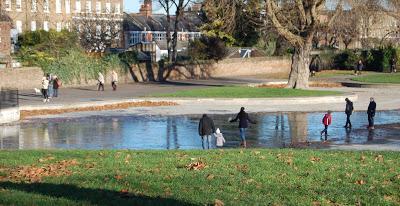 Enjoying Downshifting - Walking on thin ice in the park and life?
THE.PAST
:
"MUFF Why are you boxing so infrequently and why stop for a couple of years in your prime? What about the perks, the stature of it all?MUFF: "I want to spend some time with the children while they are young, life is no longer chasing the next fight to prove my credentials. I need some time out to look after the family, reflect, relax and keep in shape.
THE.FUTURE:
"I'm here! I'm here you yellow bellied son of a *****!"

MUFF follows the blog A Good Day To Live and his latest post Downshifters in Australia – Interesting Case Study has inspired MUFF to have a look at his own downshifting in the last year and all of the joys and calamities along the way. What did MUFF learn and could these new skills benefit work in the future. All is revealed below:
For newcomers to the blog try here is a post on our Financial Independence journey - Muff Family Financial Freedom in 7 Years! and benefits and budgeting to downshift -
Father MUFF a Financial Frugality Case Study of Bringing Up Baby
MUFF is a 36 year old professional dad of 2 children (1 and 4 years old) having downshifted from the corporate world one year ago. This was not because of ill health or any major dislike for the job (there are always going to be some gripes) but because our well laid plans to move to France and exorbitant cost of childcare where we live and which are covered here on this blog.
After working solidly for 13 years and having a strict savings routine for the past 7 years it was time to become very frugal. Could we as a family be better off financially and happier with MUFF at home taking over the childcare duties at the end of Mrs MUFF's maternity leave? So what has happened in the last year, has downshifting worked for us?
Downshifting MUFF
MUFF had at least taken an active role in the upbringing of our eldest child making sure MUFF was around at evenings and weekends while Mrs MUFF was on a full year of maternity leave.
When Mrs MUFF had to go back to work our child started full time nursery she did the morning drop off and MUFF rushed home before the creche closing time at 6 pm.
With the arrival of the second putting both in nursery was too expensive so MUFF downshifted to become the children's full time carer whilst Mrs MUFF went back to work.
Looking after the Kids
With the perhaps limited experience of looking after the eldest, now both were my responsibility. MUFF a corporate conditioned bloke, full time with two kids. What is all that about. Could MUFF hack it?
To ease the transition we had a couple of plans in place. MUFF took parental leave so if it was not going well at least the old job was there. Alternatives were a new higher paying job or part time. We had lists of nannies, child minders and nurseries should we need them.
The first few months went smoothly, it was heading into spring, the 6-month old baby slept and rolled around. Our eldest still had a couple of days a week in creche. So good, so far, right? MUFF on the other hand was wiped out with....
Work Withdrawal Syndrome!
No more hour long commute to work in the morning in the car on the motorway through lots of traffic.
No more predefined routine
No more boring business conversations
No more work stress
No more kissing a***
MUFF knew it it would be coming and it happened - MUFF became sick. A cold and chest infection that lasted for two months. MUFF sometimes got a cold whilst on holidays after hard stressful work, so this was nothing new.
Work withdrawal syndrome
- MUFF's body was expelling the stress of work and detoxifying his body.
THE.FUTURE
:
"Got ya! You can't survive without the buzz of the ring"
With the concerns on workload, appraisals and not letting anyone down were lifted from the shoulders MUFF could relax. Actually do something he wanted to do in a weekday afternoon with the little angels in bed for their nap. Result!
After a couple of months we were in spring. MUFF's office was now a park instead of a cubicle. Meetings were in the playground instead of a corporate, white, bland boardroom. AND continuous exercise for all!
The need to have a snack or a coffee was gone. Food for the family is now my responsibility to take time to make. It needs to be healthy for the kids - time to get out the kiddie recipe book and beat some eggs with one kid bouncing on my knee with the other wondering what the plug socket is.
Did MUFF miss work? Of course he did (a bit) in those early months. How could he keep the brain ticking over? All those years of hard work and education. Must use it! A strong psychological war was raging in MUFF's mind.
THE.FUTURE
:
"MUFF what a waste, what are you doing, what about financial security, shiny status symbols? You will loose all of your friends!"
So what did MUFF experience with the kids and learn from them during the year? - please read on:
Awesome to see

T

hem

G

row Up
All this time the kids were growing and developing at an astounding rate. The baby was no longer a baby but a toddler spouting first words finally after all those nappy changes to get there 5 a day for 9 months = 1350 nappies! Our four year old writes the names of all the family members, learning how to manipulate Mr and Mrs MUFF (and failing miserably) and worst of all lying - so young!
What did MUFF learn from Bringing Up Baby? 
MUFF is really enjoying the experience of bringing up the kids

. Each week has its new challenges. These are

dealt with head on - here are some of the skills that have been developed through full-time fatherhood:
Healthy eating (and shopping) - cooking as much as possible from scratch (to be thrown on the floor

, or placed on the table then back in the bowl?)

Budgeting - children are expensive from nappies, food, milk, furniture, toys, books, buggies, car seats and clothes. Keeping a lid on unnecessary spending is a real challenge when you want to do the best for them. MUFF must look really odd stood in the baby section comparing prices and umming and aarring about what flavor of rice cake to buy
Comforting an unwell child- last nights Exorcist vomiting episode was very impressive reaching me from at least a meter away!
Listening to them attentively - you need to to try to understand what goo go ga ga talk is about!
Encouraging them - this is a bit of a sore point in the household as MUFF will encourage them to get up and get on with it after a fall (unless it is serious) instead of over playing it.....
Safety - easy to take for granted in work but try it at home with the kids! We have had problems from stairs, sockets, tables and chairs to name a few. Those little fingers can get everywhere (door hinge - ouch), climbing on chairs and falling off (bruising), slipping on socks and blankets (a bloody nose) and eating the cat food (yuck!)
Play - It is so important in MUFF's opinion that unstructured play is provided for them. Some of the creative games and drawings my eldest comes up with surprise me with how imaginative and unique they are (I can say that as I am the biased devoted loving dad...!). The drawing of a monster in the park being chased by the bunnies into the dungeon is surreal for a four year old.
Exercise - Running around after them and picking them up all day long - first it is easy to put your back out (just ask Mrs MUFF). Up and down the stairs for all those nappy changes. Where have they gone in the park sprints. Dragging the scooter and bike around the neighborhood - MUFF never considered seeing himself looking so Dad.
Routine - Whiteboard to the rescue and mobile phone alarms set (or one might forget to pick the little one up from school on time - fortunately this has not happened...yet)
Socializing - Mummies everywhere talking mummy shop and MUFF is the only bloke in the room. What to talk about fortunately kids education, the British weather (a favorite in our country), lots of questions what are you doing here - and you chose to do this are you mad!!???? (and what a great thing to do;)
All of these are fantastic life skills and some are really invaluable in the work place as well. Just think about the skills you need in work:
Network building
- check
Communication skills
- check
Stamina
- check
Influencing skills
- check
Patience and Perseverance
- check
Multitasking
- check, check, check!
THE.FUTURE:
"You think a few measly skills learnt outside of the ring will be useful when you rejoin the fight. You could have learnt them in the ring with me - I would have pounded them into you"
Papa Time
MUFF still needed to stay in the grown-up world. Playgroups are great and interaction with grown-ups is refreshing and a great way to meet so many interesting people with hugely diverse backgrounds. MUFF needed to do something grown up as well. So a few things were considered
MUFF had wanted to blog for several years here it is.
We have our plan to move to France - lots to research, think about and discuss as well as make it happen (for another day).
In order to downshift spending had to be even more tightly controlled that it already was. Significant savings were found and made.
Investment research and choice of investments takes up several hours a week
Having a family
Being a stay at home dad or just taking time off from work to look after them has a whole load of benefits. Are you a dad? Are you considering taking some time off? What is stopping you?
Other people's
opinion
- Yours is the most important! You

r

famil

y'

s happiness is what matter

s

- work will be there when you get back to it.
I could never look after the kids, I don't have it in me - how do you know if you don't go ahead and give it a go

?
Go Ahead and Consider

D

ownshifting
W
e are living in the most affluent times ever known to man. Society has morphed into to a show of wealth being "happiness". Pop stars, sportsmen and

celebrities

are worshiped instead of doctors, astronauts, scientists, social workers, teachers, perhaps even engineers like MUFF! Is this a real picture of life? Is their consumption real to the average

J

oe? Not it is not. The average

J

oe cannot and should not be influenced

.
Down

shifting may mean that
the expensive car, golf membership and exotic high life 5* holidays are no longer open to the down shifter or financial independence seeker. On the flip side what does the down shifter get in return? Less work stress, variation in the daily routine, time to spend with family and friends or on education and most likely a more active and healthy lifestyle. 
Have you ever considered downshifting? What would it look like for you? where would you live, what would you want to do? What is stopping you THE.FUTURE?
Peace and to the good life!
MUFF
Further reading from the Australian Institute:
Downshifting in Britain
perhaps they should interview MUFF :)
Welcome New MUFF Readers!
Take a look around.
Find out who MUFF is
or
Start at the first article
, browse the
all posts
or just go for a
Random Post
. Please feel free to play with the FREE planning tools and checklists.
Keep in Touch:
  RSS Feed, follow MUFF on
Twitter
or
subscribe to posts by email: